How Apartment Virtual Tours Are Changing the Game in Multifamily
by McKenna Hogan, on Jan 29, 2020 8:30:00 AM
Fact: 14% of people would rent without seeing an apartment in person.
Thanks to 2019s NMHC OPTECH Conference, we learned just how many renters rely on technology during the home search process - and the most sought after digital tool on the market currently?
Well, virtual tours of course.
Below we'll dive deep into how multifaceted apartment virtual tours are, and why multifamily marketers should leverage them as part of their 2020 strategy.
First off, what are virtual tours?
Apartment virtual tours are interactive 360 walk-throughs that allow renters to navigate communities and model units from the comfort of home. Using 360 photography, this tool provides unique perspectives with high-impact results.
Commonly mistaken with 360 videos, virtual tours actually allow renters to navigate an entire community at their own pace. This includes interior, exterior, and even amenities.
Often leveraged on listings, renters are increasingly opting for communities that provide a virtual tour and not just photography for a multidimensional experience.
Click here for apartment virtual tours that will make you rethink your leasing strategy.
Who do they benefit?
Well, pretty much everyone - but for the sake of specificity, out of state prospects, working individuals, renters with physical obstacles, and students have shown to benefit the most.
Since they are so immersive, virtual tours are capable of providing prospects with extensive amounts of information about a given community.
What makes them so efficient, however, is how they serve as a 24/7 open house - working with renters, and not against them.
In fact, two-thirds (67%) of people want more virtual tours, according to Google. So regardless of what your target demographic is, there's a pretty good chance they'll appreciate this informational feature.
| Related: 9 Virtual Tour Statistics You Need to Know in 2019
How can I work them into my marketing strategy?
Reaping benefits left and right, virtual tours are changing the way multifamily providers lease out their units.
Below are six ways multifamily marketers can leverage apartment virtual tours into their 2020 strategy to yield the best results.
1. Embed them on your website
Thanks to our recent case study, we know that virtual tours have shown to increase page views by 31%, and increase conversions by 20%.
This study, looking at LCP360s Panoskin virtual tours effectiveness on various multifamily websites over the span of 3 months, has concluded:
On average, this study found that Panoskin virtual tours improve engagement on the gallery page, reduce the initial need to schedule a tour, and ultimately lead to an increase in website form submissions."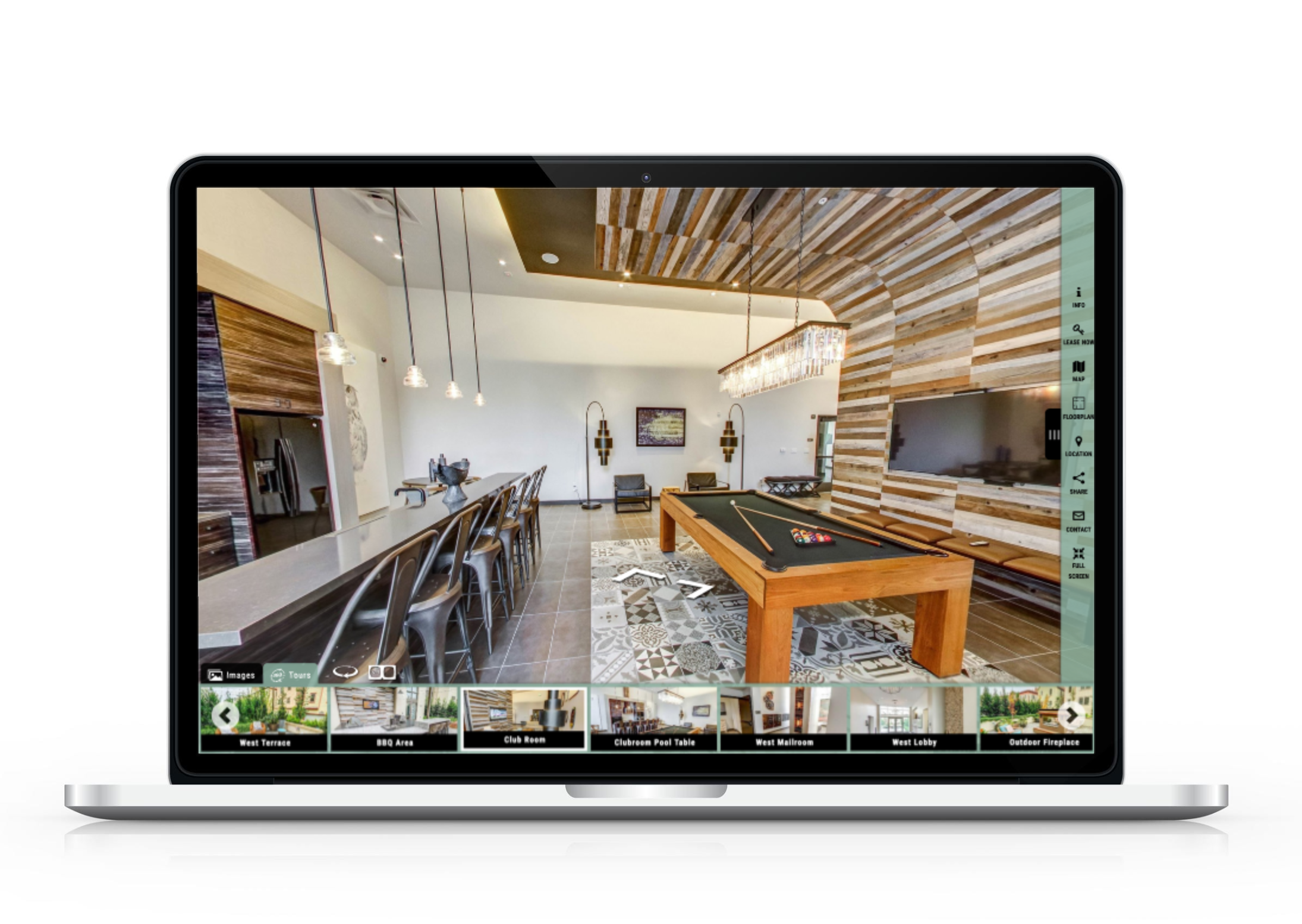 And if you're not impressed with these numbers, just know that people spend 5-10X longer on websites with an embedded virtual tour than those without.
2. Host virtual meetings
One disadvantage of virtual tours is the lack of personal connection with a community that in-person tours are able to provide.
Apartment renters desire informative and impactful experiences when touring a new community, often desiring the ability to ask questions and understand the community a little better.
Queue virtual hosting.
Hosting is essentially a scheduled digital meeting with sales and leasing agents that takes you through a virtual tour.
This allows prospects to gather information and become familiar with the community through online interaction. And since 69% prefer to tour with a community representative to ask questions, hosting is the perfect tool for delivering an informative and personalized experience.
3. Post them on your social media
Probably the easiest to execute, leveraging apartment virtual tours through social platforms can build interest and awareness immensely.
This is especially beneficial for providers that incorporate a shareable link on virtual tours for a seamless transition from platform to service.
With millennials making up a vast majority of modern-day renters combined with their affinity for social media, this is an excellent way to target renters in the research phase. And by adding a LinkTree or any clickable link to your social media bios, it'll be easier to track and connect to leads.
The great thing about social media in the uniqueness of it - curate your brand with virtual tours and digital content to make your community a trailblazer within the industry.
4. Leverage virtual reality
Immersive virtual reality in real estate has unsurprisingly become the hottest new trend.
In fact, by 2022, the VR industry is set to reach $209.2 billion.
By leveraging Google Cardboard or a VR headset, property managers can give prospects a virtual tour of their community without being at a physical property.
Virtual reality is not only insanely immersive, but it also provides a unique selling point that can separate your apartment community from others.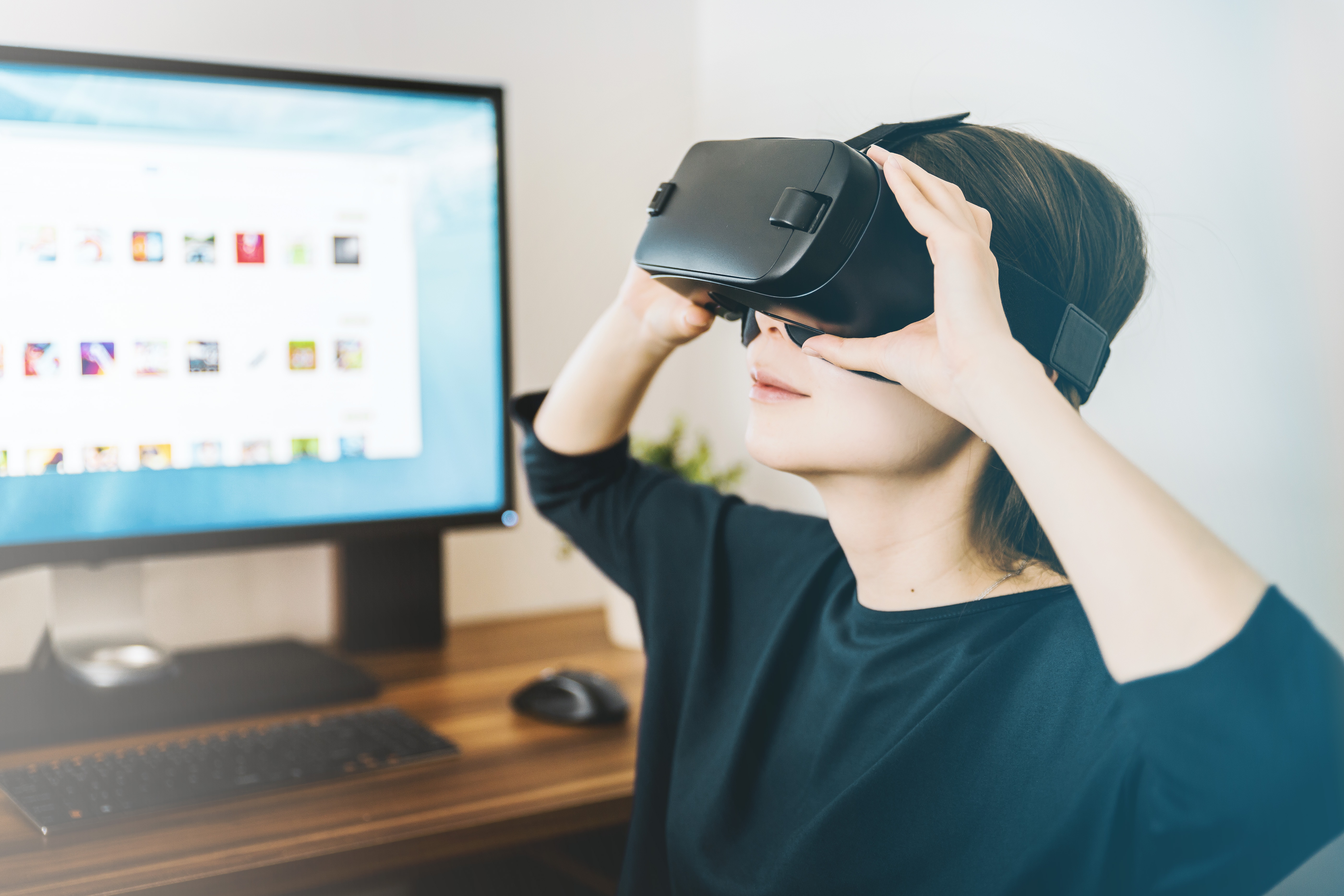 One of the greatest benefits of VR, according to Design Blendz, is the ability to save money. Implement virtual staging to tours or show future renovations without actually investing in either.
Overall, virtual tours through VR save time and money, all while boosting interest with this unique strategy.
5. Link them to emails
Just like with social media, leveraging virtual tours through direct marketing will work wonders in building awareness.
The ability to hyperlink a tour in an email makes the process of showing clients a specific community super efficient and data-driven.
Sales and leasing agents will be able to assess how well their virtual tour is doing as well as provide an easily accessible resource for clients to reference during the home search.
6. Use them to communicate
With 51% of residents expecting to see management responses to all online reviews, an open client-manager relationship is mandatory these days.
However, responding to tenant issues and complaints can become time consuming when management needs to visit a property every time something comes up.
Virtual tours and virtual reality have the ability to streamline the communication process by providing visuals of tenants current home and using them to answer simple questions - in half the time.
Whether it's locating Smart Home features, or figuring out which door needs repairment, save time and face when responding to issues within your community.
Take advantage of the diversity of virtual tours
Unfortunately, in the current era of multifamily marketing, communities won't be able to slide by with only embedding virtual tours to a domain.
These digital tools were engineered to create a seamless and informative resource to leverage during the research process, so make the most of this advanced feature with its many capabilities.
To request a demo, click here.