Are Self-Service Tools the Future for Multifamily?
by Caitlin Golden, on Dec 13, 2021 9:00:00 AM
Renters have become more comfortable with the idea of self-service tools in the last few years. Self-service tools can consist of self-service leasing or do-it-yourself tools that promote a more convenient lifestyle. The pandemic alone is one reason why this trend has grown in popularity so quickly. Not only do renters look for contactless solutions simply for the sake of social distancing, contactless solutions have proven to provide a level of convenience that can't be beat.
According to one study, more than 80 percent of U.S. renters said they would embrace a self-guided tour if it was available to them, and only 17 percent said they wouldn't like to tour without an agent.
Self-service tools are nothing new to the multifamily industry—they've simply become more of a necessity.
Tools like virtual tours, web-based document platforms, and chatbots are easy and affordable tools to add to your leasing flow, while self-service maintenance features and amenities create a more desirable living experience for renters.
So, does that mean that self-service tools are the future for multifamily? How do self-service leasing tools benefit your team and renters?
Building designs, smart home technologies, virtual tours and interactive maps all help play a role in promoting a better leasing and lifestyle experience for renters. Below we dig into each one of these elements.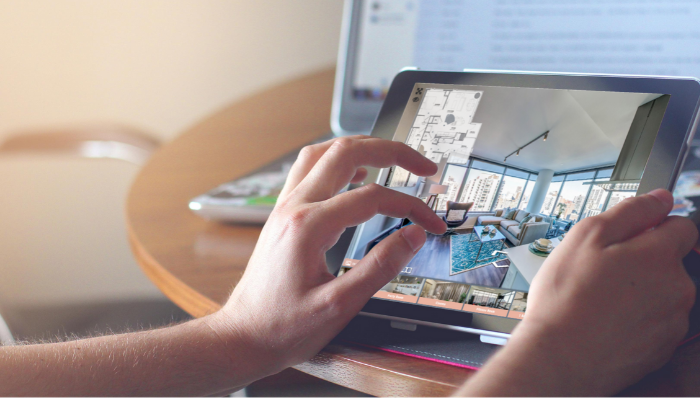 Virtual Tours Have Taken the World by Storm
There are many types of technology available to help optimize the idea of self-service leasing tools, especially for apartment communities. Virtual tours are just one of the many examples that can help things run smoothly during the leasing process.
With virtual tours, prospects can walk themselves through a virtual tour online, from any location. These types of tours are often embedded right on a community's website or rental listing. In some cases, virtual tour platforms allow agents to guide renters on these virtual tours remotely, similar to a conference call.
Self-guided virtual tours allow for prospective renters to view the property on their own schedule and at their own pace. Nowadays, people are looking to do business in a way that is most efficient for their schedules and makes the leasing process smoother. For renters who are out of state or have busy work schedules, a self-service leasing tool like a virtual tour is a major win and ensures that your leasing team won't miss out on any leads.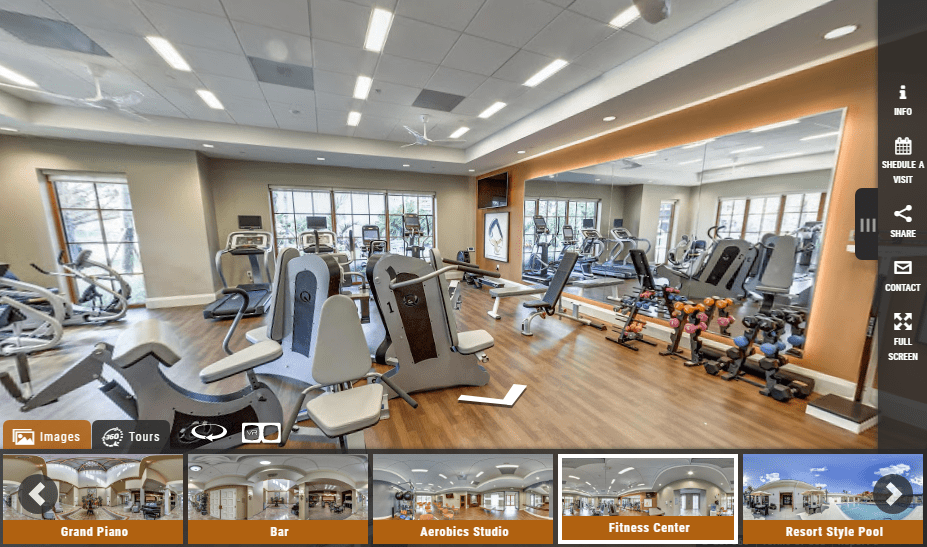 Interactive Mapping Paves the Way
Interactive maps are an important tool for those wanting to engage in the self-guided virtual tour process. Interactive maps can be used on a community's website to give renters more in-depth information, or they can be in the form of touchscreens on-site. A tool like this can show which units are ready to be leased, what type of floor plans are available, parking details and amenity types.
Interactive maps can also provide answers to pricing-specific questions and even guide renters to inquire or schedule an in-person tour. This provides that extra tool to make self-service leasing an easy possibility for apartment communities. Simplified Building Design
Not every renter is looking for the latest and greatest amenities in an apartment community. Part of the reason prospects may be more interested in self-service leasing is because they are looking for simpler amenities.
Amenities like pools, fitness centers and pet parks require on-site staff to help maintain those spaces and because of the extra staff, rent prices increase.
While luxury amenities are great for some renters, apartment communities are also finding prospects who enjoy the option of a simpler lifestyle. Not having to navigate other amenity areas make a self-guided tour easier for prospects. When you don't require the help of the one-site team the post-leasing process becomes more cost effective and can be more enticing for renters.
Technology-Enhanced Living
On the other hand, many renters are eager to find tech savvy amenities during their home search. That can include digital solutions for areas like maintenance, parking and package delivery. These are some areas where communities have found that renters enjoy the concept of minimal contact or do-it-yourself features.
Proptech advancement like self-service packages and locker rooms have invited more renters to want to view that property for their next home. Self-service maintenance for easy tasks is also quickly gaining popularity for renters and leasing teams to help save time and resources.
Giving your renters the option of not just self-service during the leasing process, but also carrying that idea into their everyday living experience at your apartment community is growing.
If you are interested in learning more about virtual tours and how they can help enhance your prospects journey, contact our sales team today.
LCP360 is a National Digital Marketing company located in Chicago specializing in photography, virtual tours, 3D renderings, video animations, virtual staging and floor plans. LCP360 offers multifamily, seniors living and many other real estate industries a creative and innovative way to showcase space. By combining the best technologies from web marketing and panoramic photography, LCP360 has developed a best-in-class virtual tour web application that lets renters virtually tour a property from any location.