16 Stunning Apartment Virtual Staging Before and After Photos
by McKenna Hogan, on Jun 15, 2020 8:30:00 AM
Although businesses are starting to open up across the U.S., it's likely you won't be finding an influx of renters flooding your inbox asking for in-person tours just yet.
In fact, a direct result of COVID-19 is businesses going completely digital—some for good.
Because of this, virtual leasing services are now a part of real estate's go-to marketing strategy. And one of the virtual leasing tools that has shown to yield results in recent months is virtual staging. In this blog, we'll cover the do's and don'ts of virtual staging, as well as share some great before and after photos from LCP360.
Virtual Staging: What You Need to Know
According to Chicago Agent, staging a home decreases the amount of time a home is on the market, selling up to 67% faster. Not to mention, staged homes also tend to sell for more money.
What's more, virtual staging statistics show it actually cuts down more time due to the fact that there's no need to commission a professional interior designer, or physically move in new furniture into a model unit.
Virtual staging allows real estate professionals to showcase the look and feel of their community for a small fraction of the price of traditional staging. It also cuts down time immensely, and it caters to social distancing precautions that encourage strictly online business operations.
Below is a list of 'do's and don'ts' of virtual staging that guarantee these stunning results.
Do's
Use high-quality images
Clean your space thoroughly before a photo shoot
Capture images at different times of the day to see which looks best
Create a mood board to plan out the aesthetic of your staging
Do research on providers beforehand
Get to know your target demographic(s)
Think about staging the same room in more than one way
Don'ts
Use a blurry or low-quality image (avoid smartphone images)
Leave anything lying around your space during a shoot
Go overboard with furniture and decor
Just go with the first thing you see in a virtual staging library
Now that we've covered the basics, we want to share some virtual staging before and after photos that followed these result-driven guidelines.
Virtual Staging, Before and After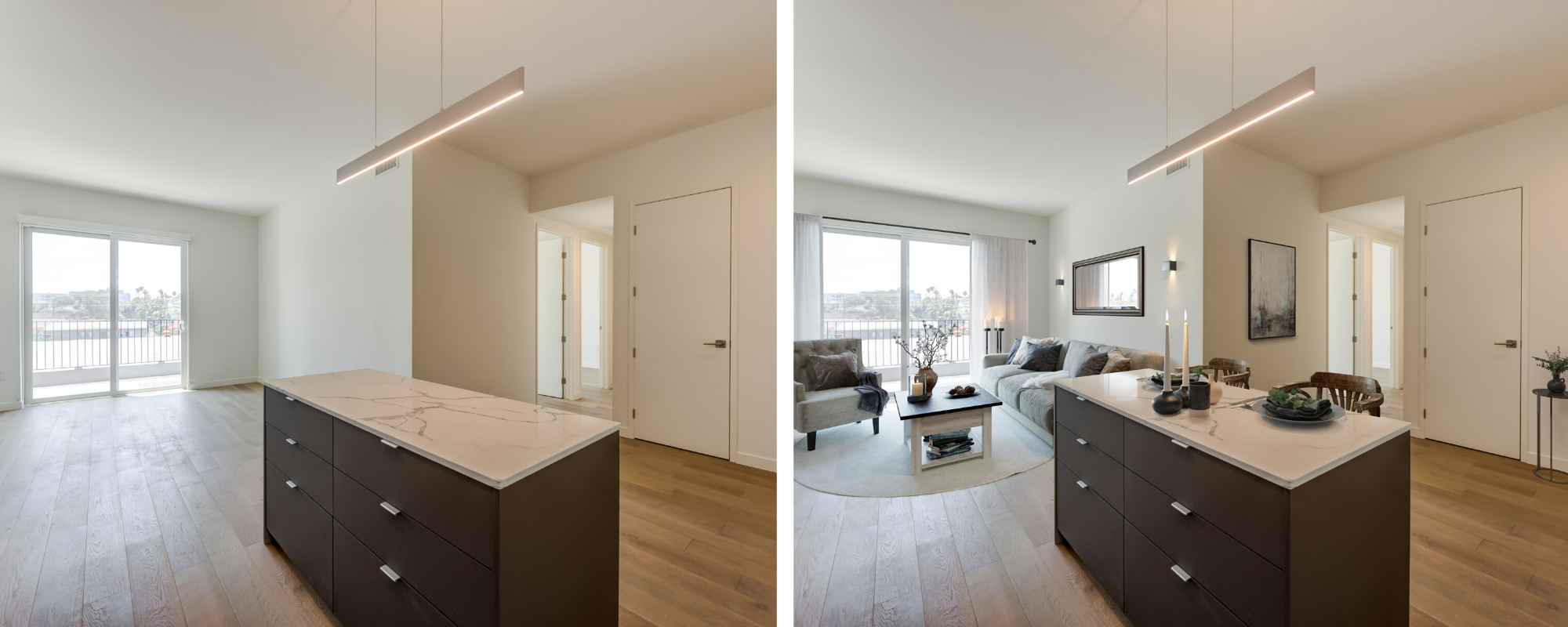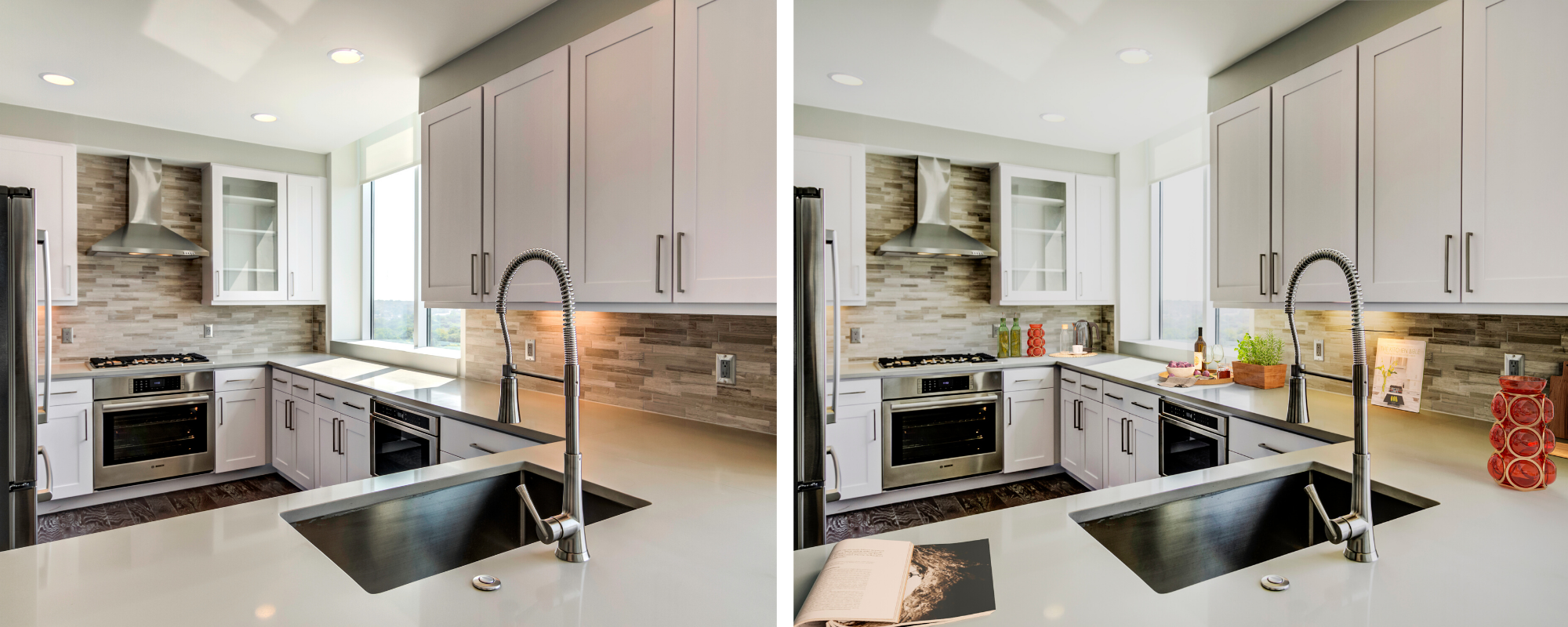 Notice how these before images are completely clear of any stray wires and are completely spotless. Staging preparation makes it easier for a 3D artist to realistically place digital furniture and decor into an image.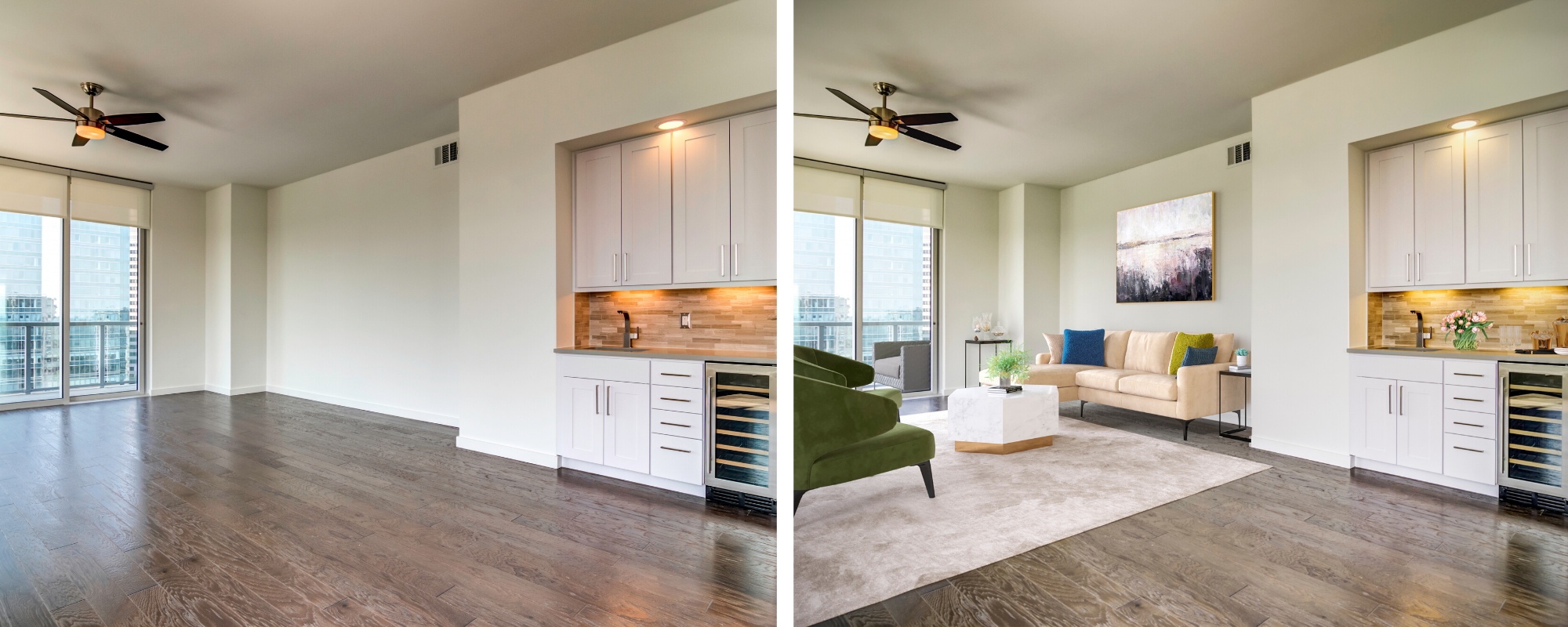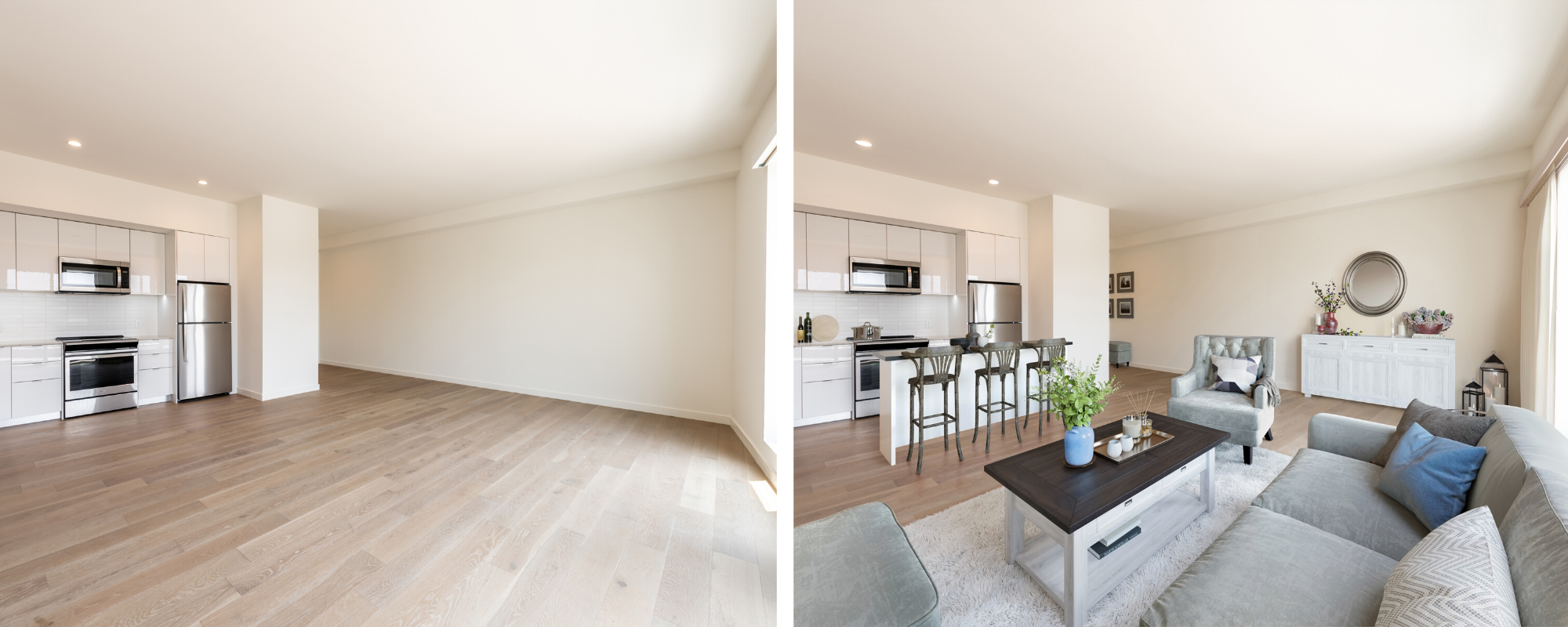 Lighting is key to capturing a quality image. Images should be light enough so prospects can actually see the virtual staging, but not too bright to where a 3D artist can't accurately portray the lighting onto furnishings.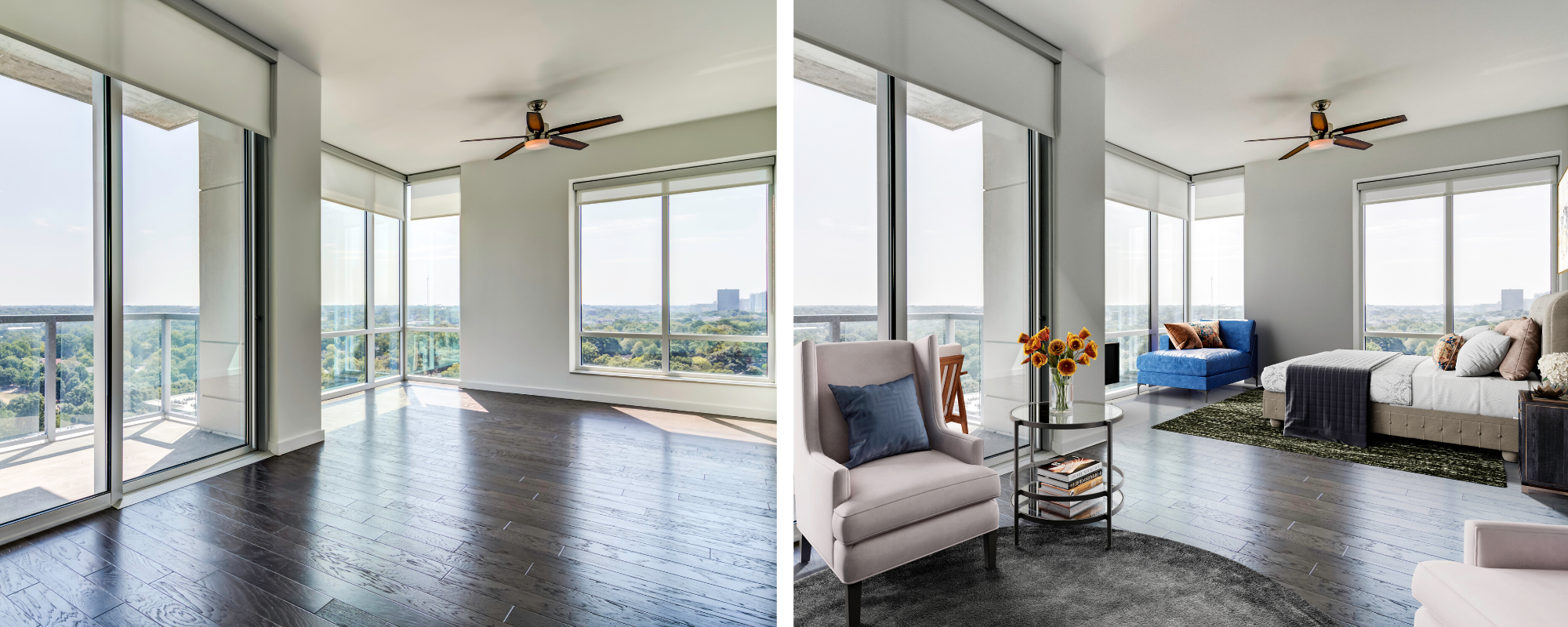 Consider staging the same room from different angles to provide prospects with a complete view of your apartment unit.
| Related: Luxury Virtual Staging Examples You Will Love
Remember: the simpler the better.
Just because you can add expensive looking decor or unique paintings doesn't mean you always should.
Virtually staged units should appeal to a wide demographic, so keep that in mind when creating a mood board for your apartment community.
Make Your Apartment Community Shine
Of course virtual staging allows you to create a personality for your apartment community, but in doing so, it also makes it stand out among competition.
Leverage virtual staging into your 2020 strategy to cater to current renter trends as well as yield overwhelming results—all for a budget friendly price.
Learn more about virtual staging services.