4 Lessons in Apartment Virtual Tours to Read Up On
by Kyna Garrett, on Jan 10, 2020 9:00:00 AM
In today's rapid digital age, being in the multifamily sector means keeping up with all the latest trends and technologies. Apartment virtual tours are the latest marketing trend, giving prospects the opportunity to explore your community before deciding to take an in-person tour or even signing sight-unseen.
There are a lot of lessons to be learned in these apartment virtual tours, everything from how to use them to where you should embed on them on your website.
What follows are four key lessons in apartment virtual tours you should definitely know.
1. Show your audience you have a virtual tour. Don't let them search for it.
I've actually stumbled across businesses that have virtual tours, and I had zero clue they even had them. For instance, while researching for wedding venues once, I came across a space that was a couple hours from me. I didn't want to take a trip to tour yet another venue, but come to find out during my discovery call, they had online virtual tours at my disposal.
The problem was, I didn't know it.
I couldn't find the tours anywhere on their website. It took a lengthy call with the coordinator for me to discover they even existed and to send me links.
Okay, I get it. Virtual tours are major marketing tools to push along interest and ultimately close the sale. That's what they are for. But we also need to start treating virtual tours as discovery tools, otherwise you might as well just leverage FaceTime tours instead.
They need to exist openly on your website, either with a clear call to action in your website's navigation or yes, dare I say it, embedded right on the homepage. While virtual tours can close the sale further down the funnel (as the marketing coordinator had tried to do with me), virtual tours are also important qualifying tools.
You'll get far more qualified rental leads by putting your apartment virtual tour front and center on your website.
What's more, the majority of today's renters aren't willing to search for a virtual tour. They aren't really looking for one, but if they happen to stumble upon it, it can win you major points.
Take a look below at how 77 H Apartments in Washington D.C. shows off their virtual tour. It's not on the homepage, and that's okay. There is a clear call to action in the top corner that leads to a full page embed of the tour. I know immediately that they offer a tour, and I'm encouraged to click to check it out.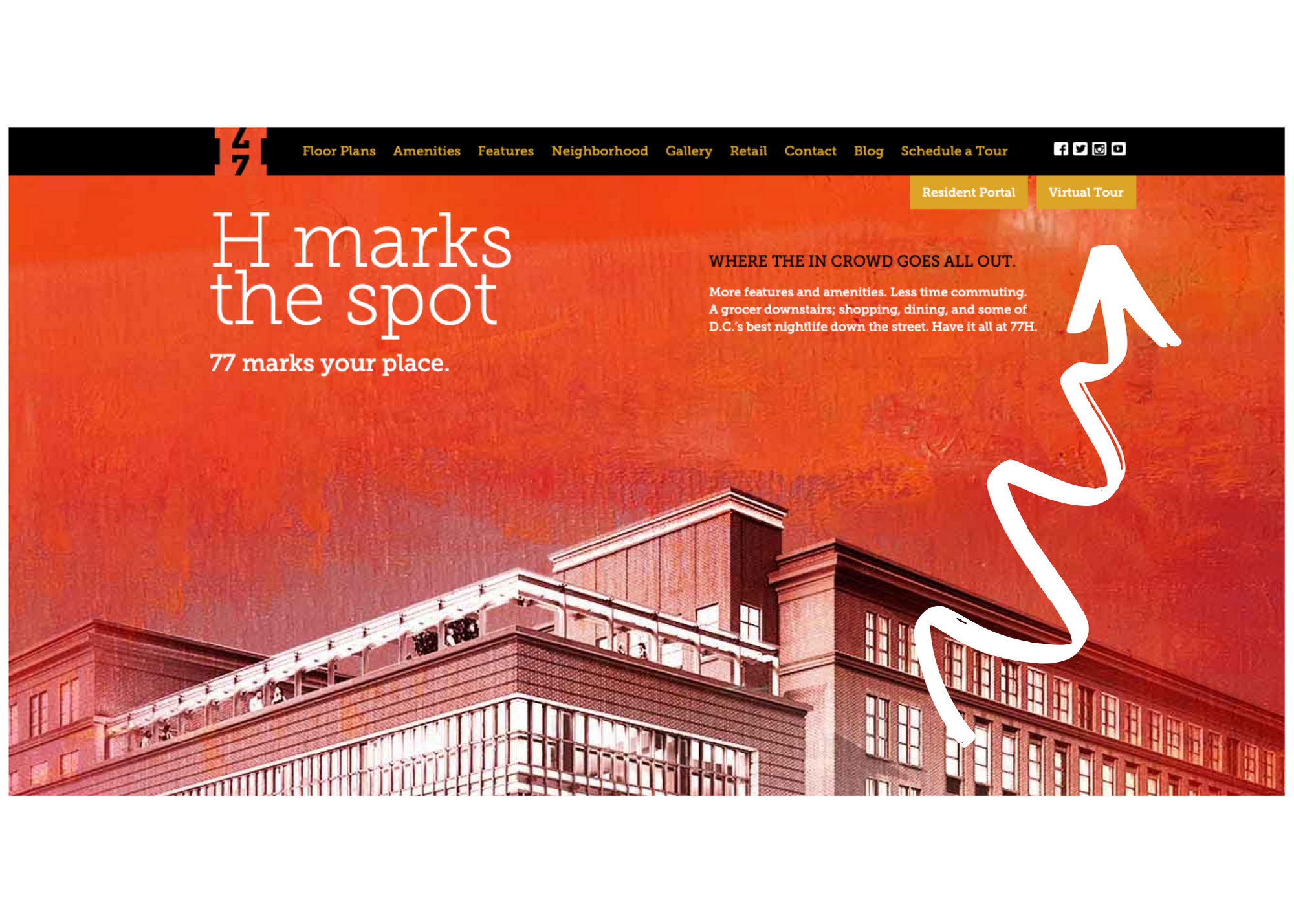 The ultimate lesson here is to not let your audience look for a virtual tour. Show them that you have one at the top of the sales funnel, during that essential discovery phase of their renter journey.
2. Don't settle on just any apartment virtual tour software. Consider cost, functionality, and even human elements.
There are A LOT of virtual tour software applications out there. The tech industry has adopted the importance of virtual tours, and now real estate providers are seeing the value.
The thing is, not every software is apples to apples. There are many apartment virtual tour applications out there, but each one is unique and has special offerings. It's finding the one that fits your needs and your budget that matters.
It's important to consider costs, such as how many photos and 360s come with your virtual tour, how photo shoots are handled, and the development of the virtual tours themselves. Most free or cheaper software applications will require you take the photos yourself and build the virtual tour from scratch, a skill that often takes a professional photographer or developer touch.
Ask yourself, "Is the virtual tour provider taking the photos for me? Or am I expected to take the photos?" Also consider what comes with what you're paying for. Is it just a virtual tour, or is there more to the application? Are there calls to action? Can you easily embed the virtual tour?
For instance, LCP360's virtual tours live on Panoskin, a Google virtual tour overlay that has a full user dashboard, analytics section and virtual online hosting for prospects. This allows leasing agents and property managers to give off-site tours online, from any device, which is especially useful for long-distance prospects.
Apartment virtual tours shouldn't just be a frontend application - your marketing team needs to be able to use the data that comes from these digital tours and apply to marketing efforts.
3. Virtual tours aren't video. In fact, they are something else entirely.
There is a common misconception that virtual tours are video. A video is an automatic, digital moving picture - like a movie.
A virtual tour, however, is a linear walk-through of a location.
A virtual tour requires interactivity, while prospects can sit back and enjoy a video without any interference. Because virtual tours require that interactive element, it can really pull in the user and help them remain on your website longer - something that search engines recognize.
Don't get us wrong, both virtual tour and video are incredibly important marketing tools for real estate, especially in the commercial and multifamily sectors. It's actually beneficial to offer both, whether it's drone videography or testimonials on your site in addition to a walk-through virtual tour that puts the control in your audience's hands.
4. Apartment virtual tours can actually boost sight-unseen leases.
Virtual tours are still used today as an addition to the digital content on an apartment's website. They've almost become kind of a staple in the multifamily world. But it's time we really shift the focus from "just another digital application" to something that can really convert users for the better - especially for those prospects that are long-distance.
According to Zillow, millennials are actually moving more frequently than previous generations. Of course, they're moving for jobs, more money and more experience. In fact, many millennials are moving cross-country for higher paying jobs.
The thing is, you can't just take time off work for a few days to travel across several states to apartment hunt. That's a lot of logistics, scheduling, planning and travel involved and trust me when I say this: no one has time for that.
I know of a few 20-somethings that have moved from the midwest to the west coast and needed to find an apartment in a matter of days due to a job. That's kind of hard to do.
Thanks to the growing rate of apartment virtual tours across the web, it's now easier than ever to hunt for that perfect apartment right from your couch.
We're also quickly seeing less people afraid to rent sight-unseen. With a high-quality virtual tour, more and more people are putting their trust into these digital walk-throughs. They're intuitive, painless, and most of all, convenient. No scheduling needed, no travel required. And if a prospect does want to hop on the phone with a leasing agent, they certain can - and even better, a leasing agent can take them on a guided walk-through where they control the tour experience from their computer.
The ultimate lesson in virtual tours: it's time to make the apartment hunting process easier
If there's on thing to take away from this article, it's that apartment virtual tours have been built and designed to make the rental process much easier. It's yet another convenient tool that lets prospects explore and discover your community, and they can do so from anywhere and from any device.
What's more, virtual tours are incredible tools to give your team the marketing data they need, whether it's how popular an amenity space is or what unit type is the most desired.
Apartment virtual tours are quickly rising in popularity, and it's only a matter of time before they change how people apartment hunt for the better.