20 Multifamily Marketing Ideas [Updated for 2020]
by Kyna Garrett, on Jan 3, 2019 8:30:00 AM
As the multifamily market continues to shift and evolve, strategizing your multifamily marketing efforts each year becomes a new challenge.
Demographics shift, technology advances and the economy can of course bring uncertainty.
What was once a short-term living solution has now become a way of life for many, especially for young renters who are looking to make their next apartment their future home. Naturally, that makes the industry a competitive one.
So strap in — here are 20 multifamily marketing ideas for the new year that will put your community or new development on the map for future renters.
1. Invest in your apartment website
First and foremost, your apartment's website should be a priority. This is, after all, the place where most renters will schedule tours or reach out to your property managers for more information.
Create a clean site that not only uses striking visuals, but also allows your future renters to easily navigate
2. Have a mobile-friendly website (really, it's 2020!)
Sites that are not mobile-friendly will easily miss out on valuable leads because Google either won't rank the site, or visitors won't stick around on your mobile site very long if it's non-responsive.
Keep in mind that Google now docks and penalizes websites that don't meet their mobile-friendly standards, so not meeting this criteria hurts you in the long run.
3. Hire professional photographers
Multifamily properties benefit immensely from professional multifamily photography. Multifamily photography is almost like a staple in the industry. If you don't have it, how do you sell to renters or book tours?
Not only do professional photos showcase what a property looks like with high-quality content, but it shows your prospects that you care about your property, its cleanliness and the overall environment of the space.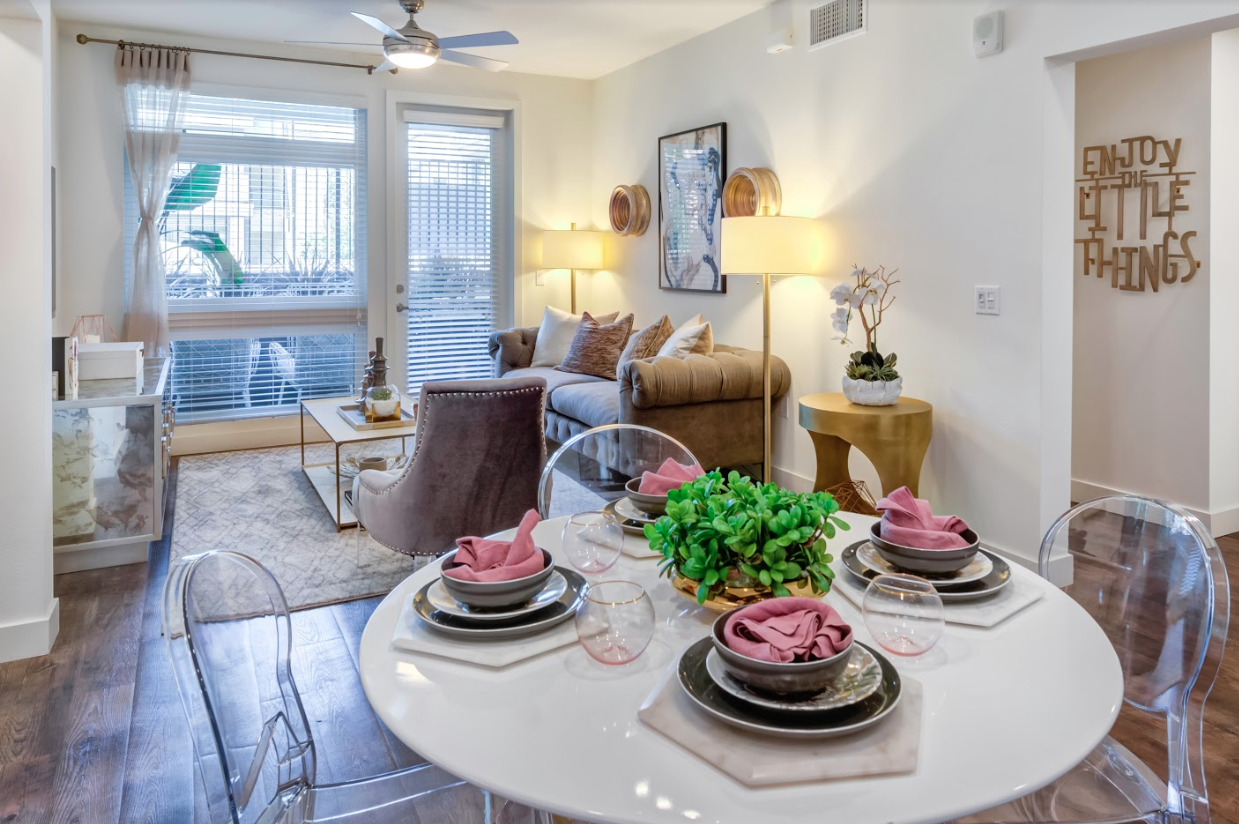 Professional real estate photographers come equipped with the best technology and experience to capture your space for beautifully-stunning photos.
And there are countless channels to share photography of your apartment property for maximum exposure, too. Update your Google listing with the latest photos, your website, social profiles and print material.
4. Market to distant customers with a virtual tour
If you're looking for unique apartment lease-up ideas, interactive content can play a big part. For example, consider your out-of-state prospects. To make the decision process easier for these leads, consider a 360 virtual tour that lets distant leads virtually explore your property.
Clients can walk through a space from a device at home (desktop, tablet or mobile phone) and even have a leasing agent walk through the tour with them over a virtual meeting.
5. Create a virtual web assistant for marketing automation
There's only 24 hours in the day, and with so many leads with questions, how do you answer them all? One of the biggest complaints from future renters is that sometimes no one seems to be around to answer phones in the leasing office.
You may only have one leasing manager on site at a time who is giving tours. Enter the chatbot.
Chatbots are more of a middle-of-the-funnel marketing approach, but they're certainly helpful to guide leads through the marketing funnel as they continue to explore their options. While your leasing managers are away from the phone, why not give prospects the option of chatting with a bot to answer their questions?
Leads can even book meetings or tours through chatbots, so no phone is required.
6. Send personalized notes or thank you emails
After leads have toured your property, whether in person or virtually with you over the phone, don't let them walk out that door for good. Make sure that you're top of mind with a personalized thank you email, a handwritten note or perhaps a personalized revised offer (especially if you haven't heard from them for a certain period).
Consider this: 79% of consumers say they are only likely to engage with an offer if it has been personalized to reflect previous interactions the consumer has had with the brand.
An extra personal touch in multifamily marketing goes a long way. After all, they're considering your property as their next home.
7. Extend your leasing hours during peak season
Want a big leasing push? During peak season, consider extending your hours and notifying your contacts with email, direct mail and social media announcements.
With so many tours scheduled during peak season and so many people who work nine-to-five jobs, it's difficult for future renters to take time away from their busy lives to tour your apartment.
8. Be active on social media (really active)
There's no doubt that when future renters are considering your property, they'll likely do some snooping on social media to see what it's like there.
If you're hosting numerous resident events a month, show off the fun within your community! That's where Instagram, Pinterest and Facebook are extremely beneficial for community photos. This lets future renters get a sense of the community and the types of events that take place there.
What's more, you can even show off the neighborhood with quick snapshots or videos to give future renters a feel of what their new area could look like.
9. Get creative with your renewal reminders
Finding new creative apartment leasing ideas can be challenging.
When it's time for a tenant to renew his or her lease, obviously it's important to keep that tenant. Sure, a renewal email is a nice reminder, but take it a step further to really secure that tenant for another term.
Get creative with doorknob reminders or offer a small gift along with a renewal note. One of our favorites: a small pack of gourmet popcorn with a note attached: "Pop in to renew!"
You can even personalize or handwrite renewal reminders. It shows the renter how much you care and have appreciated their time there. It's those personal touches that really pull in and retain your customers.
10. Leverage renewals for more honest reviews
When your leasing managers notice that a tenant renews, why not have them send an email to ask for some honest online feedback? This is one of the most optimal times to ask for reviews because there is clearly a reason that the person has renewed.
The more reviews, the better. It builds credibility of your apartment community and helps other renters in their decision-making process.
11. Invest in 3D floor plans or virtual tours for a new development
Multifamily marketing can be the most challenging when you have a new property in development. How do you spread the word beyond a poster hanging outside the construction site?
With high-quality 3D residential renderings, you can increase sight-unseen leases. Photo-realistic 3D virtual tours and renderings of your space help future renters understand what the space will look like, even before it's completed.
12. Clean up your Google My Business listing
Your apartment's Google My Business is the first place most future renters discover during their search. Whether it's a direct search of your property or an organic one, your GMB listing is likely to show up.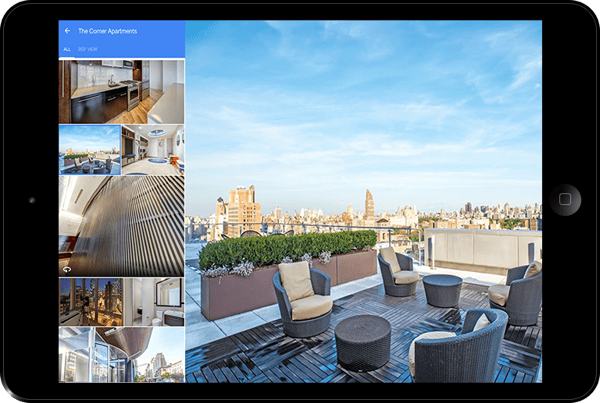 No doubt they'll be scrolling through your photos and 360 photos to take a look at your property.
Low-quality or irrelevant photos can be a turn-off. So consider a Google virtual tour, add new photos and make sure your listing information is up-to-date and easy for visitors to digest.
13. Partner with local companies to promote offers
Partner with local restaurants or shops that can hand out fliers with orders or purchases of your community offers. If you're offering the first month free to new renters, work with your local businesses to see if they'll pass on the information.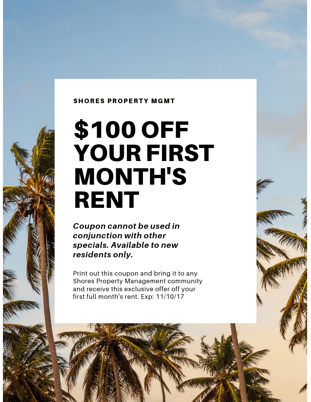 In return, you can offer coupons in move-in welcome packages to those small businesses. This also demonstrates your community involvement.
14. Give away free merch in welcome packages
Spice up your welcome packages with thoughtful gifts along with branded merchandise, like free t-shirts, koozies, keychains or bags. These are low-cost items that make a big impact on your multifamily marketing efforts. It's nearly free advertisement!
15. Create a community blog
Hiring a professional copywriter is one thing, but you may also consider the necessity of a blog. This gives you a myriad of options to market your apartment, not to mention, it strengthens your website's SEO.
You can highlight residents, resident events or even write about local business to localize your community online. Some examples might be: "Top 10 Pizzerias in Charlotte, NC" or 5 Fun Summer Activities in Charlotte, NC."
The opportunities are truly endless with a blog, even if only updated weekly.
16. Create Instagram Stories for amenities or renting tips
Instagram has become a powerful multifamily marketing tool, and within the platform are several unique features that take your content even further. Use Story Highlights to showcase amenities around your apartment building or share tips and tricks for moving.
Just remember to stay active on the platform. Once you have more followers, keep them interested with an influx of unique and helpful content.
17. Use Facebook events for your open houses
Open houses are a great way to get an influx of interested renters through the door. Leverage the power of Facebook's event reach and let people know about your open house events.
Of course, this can draw in a lot of guests, so make sure your open house is equipped to handle a lot of renters who are interested in touring the property and receiving more information.
18. Follow up with leads through your CRM
So you've sent your lead a thank you note for taking a tour, but you still haven't heard from them on their decision. Use your CRM to keep track of follow-ups and conversations you've had with leads.
This not only helps your property managers stay organized, but ensures that leads aren't ignored during their research and decision process.
19. Stage model units to make it feel more like home
Model apartment units with no furniture hardly make a statement. If you're going to show an empty apartment, why not show off a furnished, staged model unit as well? This gives your prospect an idea of what their future home could look like.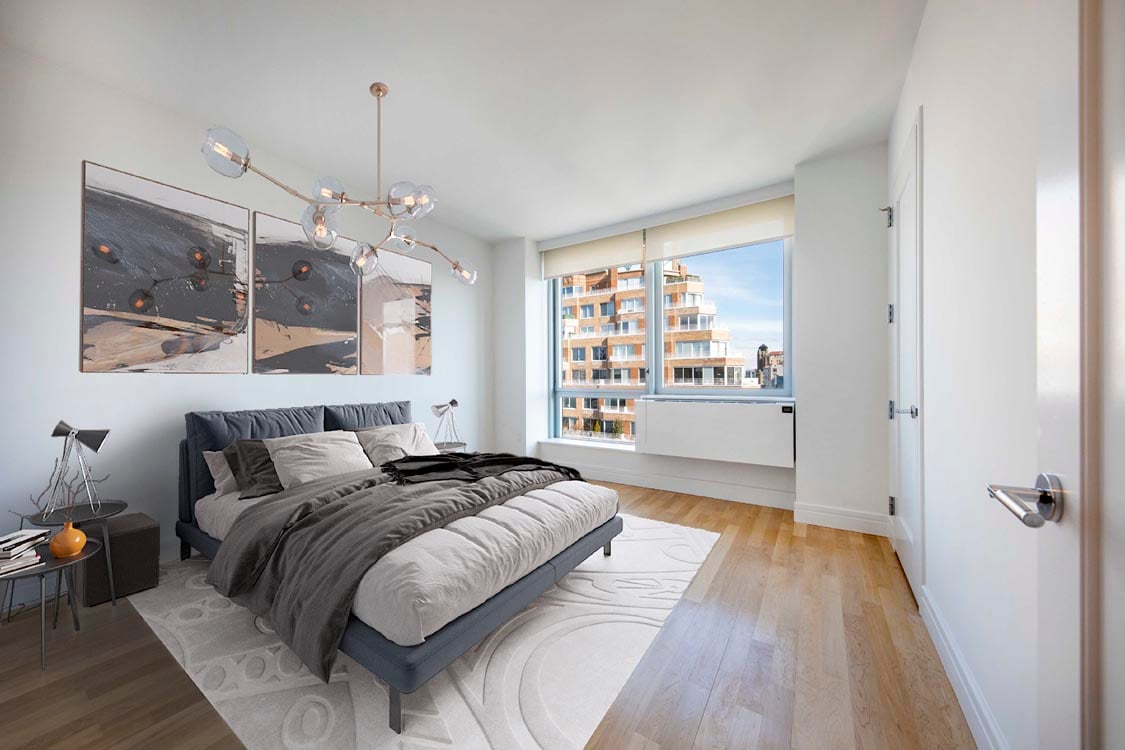 And if you have photos of empty units, consider 3D virtually staging, which can add photo-realistic furnishings and decor to empty apartments to make them more home-like.
20. Finally, create a sense of urgency with interactive tools.
Multifamily, as we all know, is a competitive industry. As more and more developments line the sky, competition only gets more fierce. It's time to invest in technology that not only benefits the user, but also marketing efforts.
A newer technology that has become more popular in real estate and multifamily are stacking plans. These interactive digital tools are similar to virtual tours, but instead give users the ability to tour available floor plans.
Check out a live version of a stacking plan here.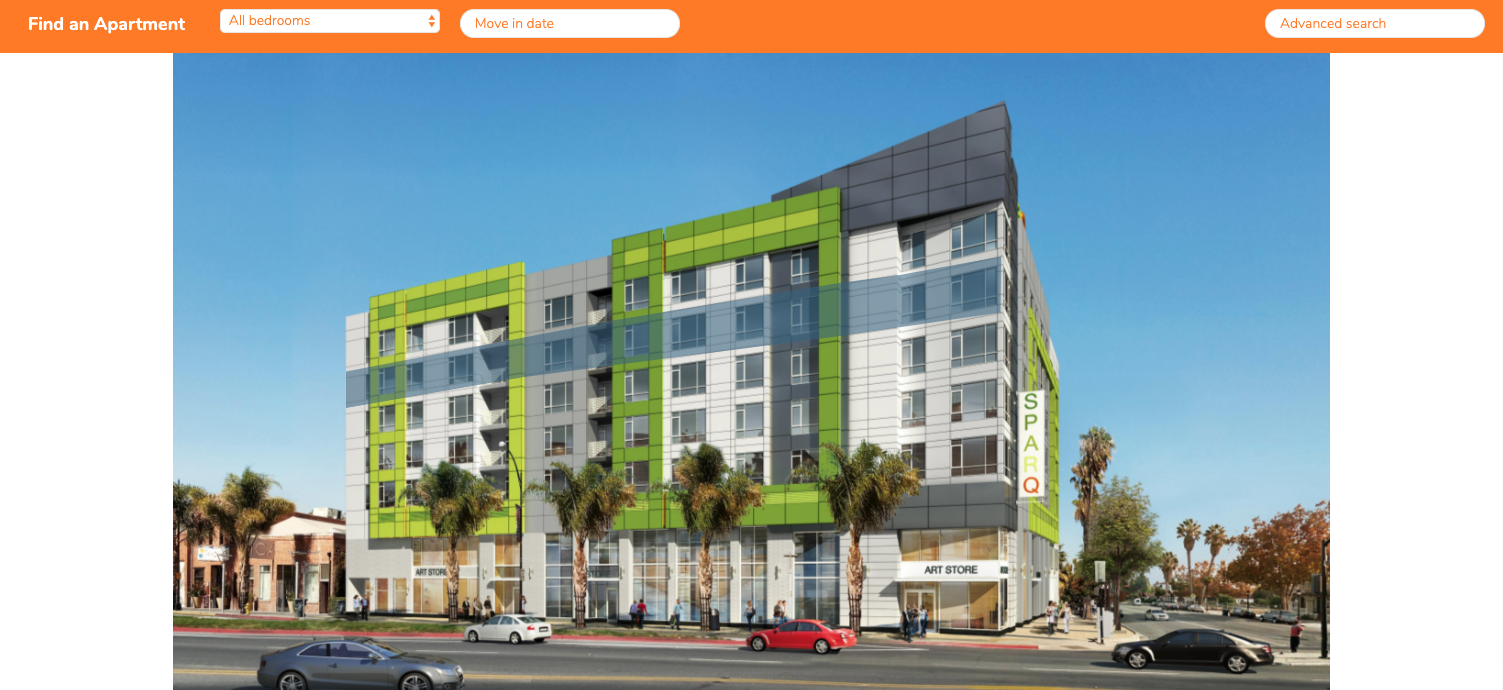 A stacking plan lets web visitors explore the exterior of your building floor by floor and see available floor plans in real-time. Not only is this more insightful to the user, it creates that sense of urgency.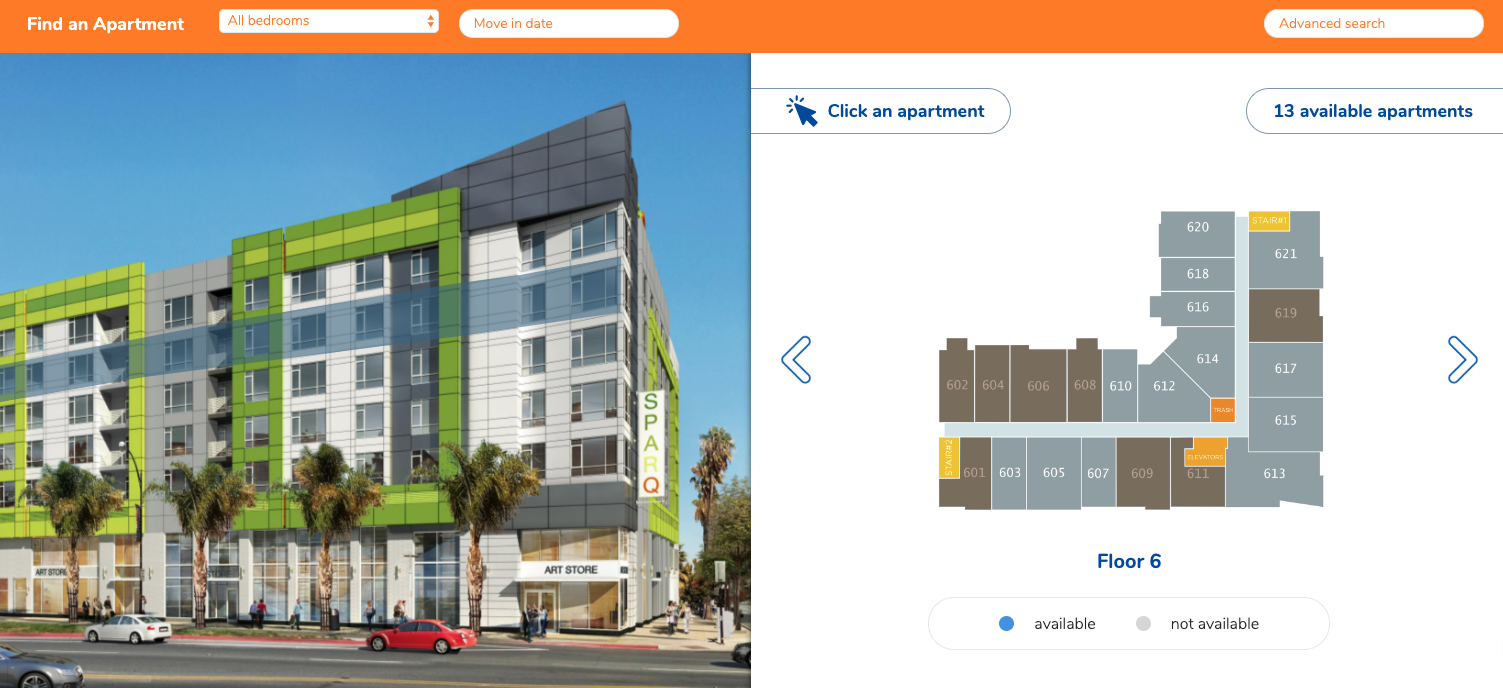 Say a user is interested in a corner unit on the fourth floor, but returns the next day to your website to discover it's now unavailable. A sense of panic ensues. Well, the corner unit on the fifth floor is fair game... it's a win-win for both your sales and marketing as well as the future tenant. They can transparently see available apartment homes, while you increase your sales cycle and fill more units.
Stacking plans integrate with property management systems to make sure they are in real-time, so that when an apartment becomes available there's nothing your staff needs to do. The apartment immediately opens up to claim.
There you have it. Multifamily marketing ideas to kick off the new year the right way.
If you need help with your multifamily visual marketing efforts, contact us today!
Have a multifamily marketing idea that we didn't include? Let us know in the comments below!