Why 3D Renderings Are the Driving Force for Pre-Leasing Efforts
by Rayhanna Guillen, on May 20, 2019 9:00:00 AM
There is no better feeling than having signed tenants for your new community prior to its completion. To make that a reality, property owners must embrace 3D residential renderings as the backbone of their pre-leasing marketing efforts.
At the end of the day, the goal is to have tenants commit to a rental unit during this crucial stage in development, and real estate renderings are making that happen for multifamily and senior housing providers.

The harsh truth is that pre-leasing is going to make or break the early stages of your community, but starting out on the right foot will set you up for long-term success.
Let's break down the challenges that can slow pre-leasing efforts:
Increase in competition in the neighborhood
Prospects hesitant to sign sight-unseen or reluctant to place deposit
Community too new or not established enough
These are just a few common challenges most communities face, but thankfully 3D residential renderings have the power to boost your pre-leasing marketing strategy.
Related: How to Capture More Deposits in the Lease Up Phase of Senior Living Construction
3D Residential Renderings and Their Role in Pre-Leasing
Interactive 3D Solutions Will Increase Pre-Leasing Velocity
3D renderings that immerse users into a virtual space are much more likely to increase velocity of sight-unseen leases. This may include a 3D virtual tour, 3D virtual reality or a 3D interactive site plan.
Let's break these down:
What is a 3D virtual tour? It's a 360 walk-through made up of 100% renderings. Rather than a virtual tour built out of real panoramic photography, a 3D team will build your community in an immersive marketing and sales tool that lets prospects navigate through your new community.
What is 3D virtual reality? Similar to a virtual tour, 3D virtual reality is a VR experience made up completely of renderings. Users can navigate through a virtual space with a VR headset and literally walk the tour and possibly even interact with 3D objects.
What is a 3D interactive site plan? A site plan (or stacking plan) is a real-time availability tool that highlights available floor plans. Users can interact with the multi-level tool to understand the complete layout of the new development, view floor plans and request more information.
Each of these 3D rendering solutions are ideal for different use cases. For instance, a 3D virtual tour is a great asset for your website, a 3D virtual reality experience will draw traffic to a temporary pop-up leasing office, and an interactive site plan is a powerful leasing tool to view units available in real-time.
To have these pre-leasing tools working in unison is the ultimate 3D dream team. These renderings will give users a holistic and realistic experience of a community, helping prospects understand space orientation and the overall feel of your community.
Below is an example of a 3D virtual tour in action. You can experience the entire tour here.

In general, virtual tours have become much more popular in multifamily and senior living in recent years. They've even proven to boost senior living SEO efforts.
When it comes to increasing your online presence during lease-up, it may feel like you're at a bit of a disadvantage, but you don't have to be with 3D content. You're much more likely to engage and convert users with marketing tools that let prospects drive their own experience.
According to Realtor.com, listings with a virtual tour get 87% more views than listings without a tour. Think about the placement of your online listing for a moment. It's shuffled in with a multitude of pre-established communities. A 3D virtual tour of your community is going to increase clicks to your listings and push qualified prospects further down the conversion funnel.
What's more, the National Association of Realtors has found in their annual reports that 54% of buyers will not look at a property unless it has virtual images and 50% found virtual tours very useful in their decision.
So without 3D plan in your pre-leasing marketing strategy, you could be missing out on capturing valuable leads and converting those leads into deposits.
3D Floor Plans Will Convert Users Faster
Two-dimensional floor plans have had their share of popularity, but with the advancements in 3D technology, 3D floor plans triumph in pre-leasing.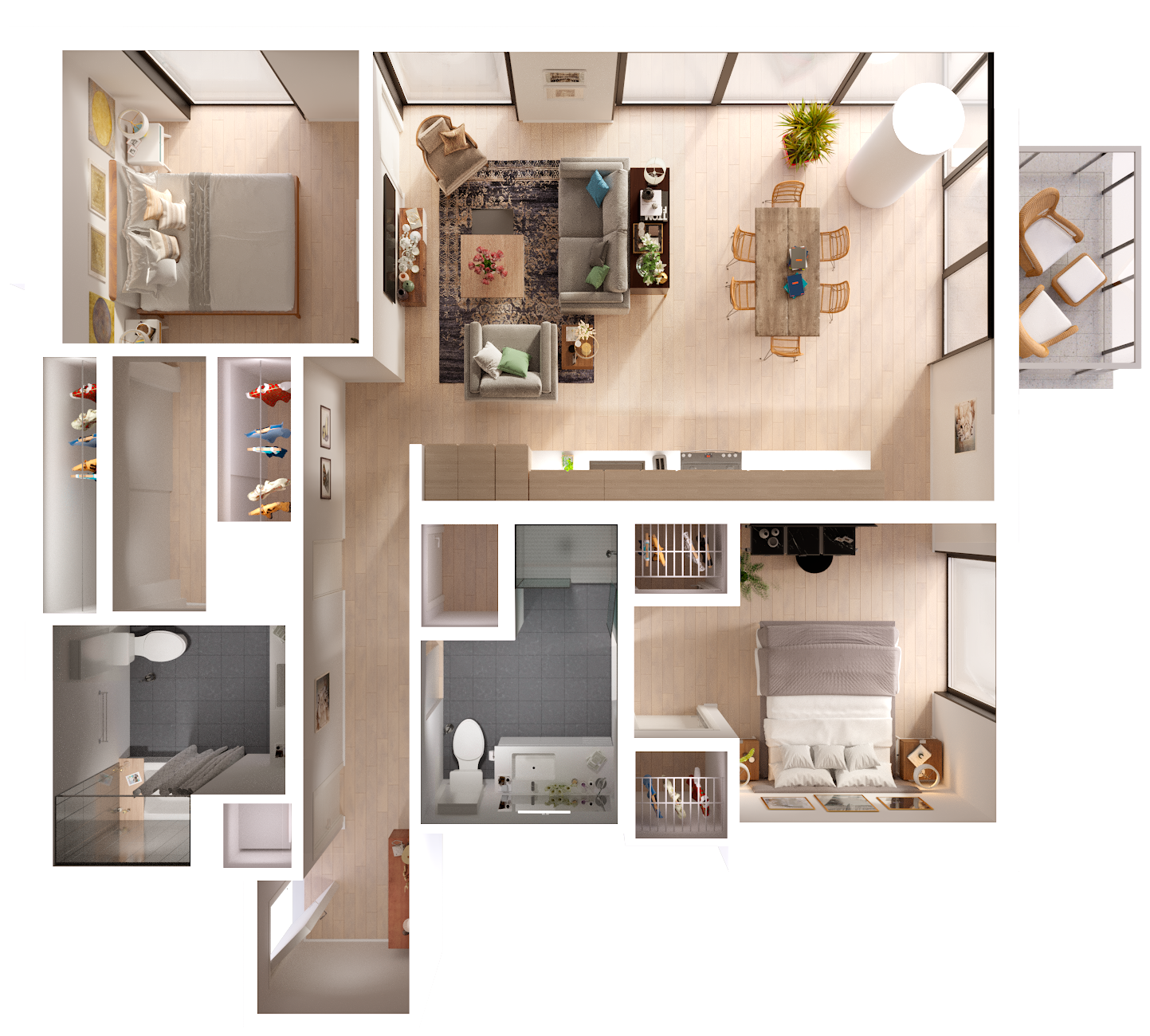 Because of today's high-tech capabilities, 3D residential floor plans boost better sales. Here are just a few reasons why:
Attract more attention: to put it simply, 3D is much more attractive than a flat 2D floor plan. 3D is going to use vibrant colors, decor, realistic furnishings and detail to build an alluring top-view "doll house" perception of the unit. For that reason, prospects are more likely to engage longer with a 3D floor plan than 2D.
Strengthen your marketing collateral: 3D floor plans are sure to jazz up your marketing collateral. For the same reasons listed above, 3D will appear more complete and professional on brochures, ads and on your website.
Help your prospects understand the space: 3D floor plans are built with precision and attention to detail. Each room, closet and area is built to scale whereas 2D may sometimes miss the mark.
If your pre-leasing efforts don't include 3D floor plans, you're potentially missing out on engaging users when it matters most.
Engage Longer and Convert Faster with 3D Residential Renderings
With photorealistic 3D renderings in your pre-leasing toolbox, you instantly increase your credibility. Not only will you offer a truly unique experience to future tenants, you will increase your sales process to boost engagement and keep deposits funneling in before your community even opens its doors.
At LCP360, we specialize in creating photorealistic 3D visualization to help increase sight-unseen leases in multifamily and senior living. Contact us to learn more about how we can improve your pre-leasing efforts.