Assisted Living SEO Tips to Keep Your Community Top of Mind
by Kyna Garrett, on Apr 24, 2019 9:00:00 AM
With more seniors active online today, senior living communities are turning to internet marketing strategies to climb to the top of search results. That's why an effective senior living SEO strategy is one of the many approaches transforming the senior living landscape.
For assisted living communities specifically, an SEO strategy needs careful thought and planning to make the most of your time and resources. After all, an assisted living audience is much different than seniors looking for independent living communities or skilled nursing.
Put your senior living community on the map with our step-by-step Google My Business checklist.
Below are three key assisted living SEO strategies to incorporate into your internet marketing mix.
Making the Most of an Assisted Living SEO Strategy
Get Specific With Your Keywords
Based on your audience's needs and desires, you'll want to target specific keywords on your website that will be relevant to their search. For example, your assisted living community wouldn't target "independent senior community in Atlanta, Georgia." Instead, you'd probably target "assisted living community with 24/7 care in Atlanta, Georgia."
Because assisted living communities specialize in offering care services, your keywords need to tap into what sets you apart from other senior living options. At first, your keywords should be broad on your most central web pages, but as you go deeper into your community's website, start targeting more long-tail keywords that are specific to your services.
While a portion of your audience will search pretty broadly, there's that other portion that will know exactly what they want. Also, let's not forget that a majority of adult children are a part of the senior living decision. When children are searching for their loved ones, they'll often look to assisted living communities instead of independent.
At LCP360, we recommend the following keyword approaches:
Use local market terms like city and state to help localize your website.
Don't shy away from long-tail keywords, especially if you offer unique amenities and services that seniors may be on the lookout for.
Regularly monitor your community's keyword rankings and adjust accordingly. As the industry shifts, so do keywords.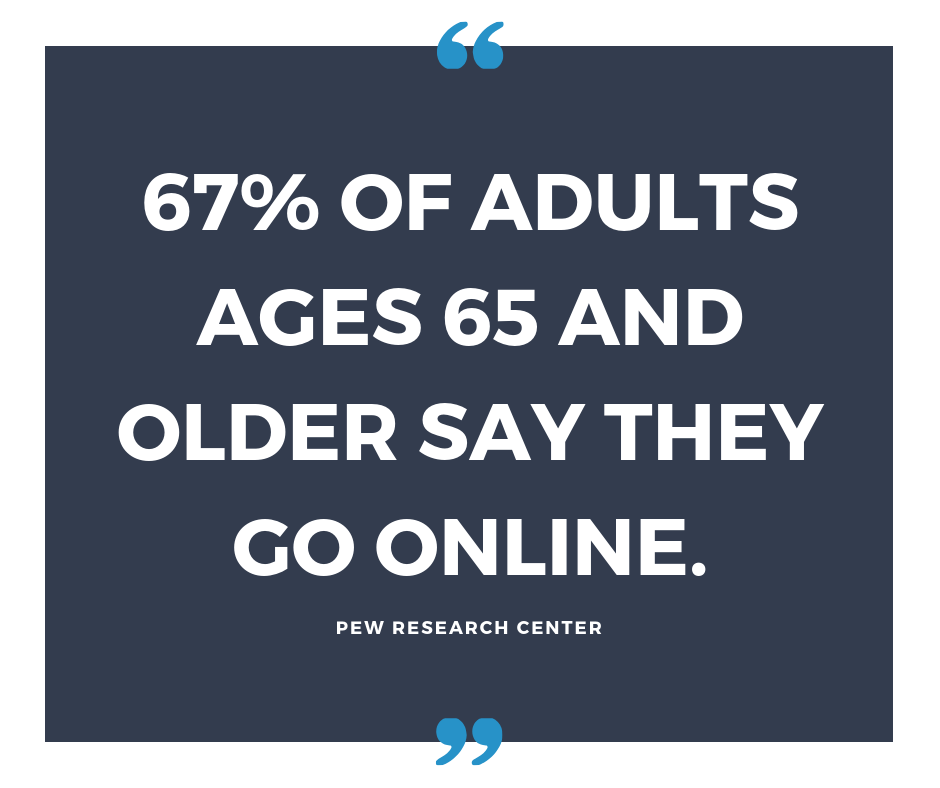 Focus Your Content on Your Audience's Needs
Marketers typically concentrate SEO strategies on strictly keywords and meta tags but forget about the one component that holds SEO all together: content.
While you can pack blog and newsletter content into your website, your assisted living community should have content that meets your audience's demands.
Think about your audience's pain points. What kind of challenges are they facing?
More and more seniors are either moving out of state or moving back home to be near their adult children. All that moving and decision-making can be stressful, especially after many years at a home they've grown to love.
Thanks to Google virtual tours, assisted living communities can facilitate the senior living decision by taking one more thing off their plates.
360 Virtual tours do a lot to boost website SEO, including higher engagement rates, longer visitor times, improved bounce rate and improved conversion rates. All of these improved metrics are packed into a much shorter sales cycle too, as virtual tours can help speed up the decision process.

Seniors simply access a virtual tour from a tablet, phone or desktop device and navigate through your assisted living community.
There are two different kinds of virtual tours you can invest in: a Google virtual tour or a custom virtual tour that is branded to your community. At LCP360, we photograph and build Google virtual tours for business listings. Then, if desired, we pull that Google tour into a fully customizable virtual tour viewer that can be embedded within a community's website and easily shared across social media.
Related: Can a 360 Virtual Tour Increase Your Senior Living SEO?
Optimize for Website Conversions
Far too often, SEO strategies focus on increasing relevant website traffic but neglect to convert that traffic into leads. Seeing your traffic numbers increase is good, but not converting that traffic isn't so great.
To optimize your assisted living website for conversions, once again you need to know your audience. In this case, you may be targeting seniors who are not mobile or have some form of disability. Therefore, your website should be easy to navigate with clearly marked online forms, phone numbers and emails to contact. Having a form in your footer is a great place to start. Or, consider adding a chatbot to your assisted living website.
Chatbots for seniors, especially in assisted living and memory care communities can be of huge benefit to prospects and management. A chatbot is a guided communication that records everything the user has selected or typed. While a chatbot is a powerful lead generation tool, it's also a helpful robot-companion for patients with Alzheimer's Disease. And humans can jump in at any point, too, so that human contact isn't lost.
With interactive digital content, consider adding calls to action that will improve conversion rates. With virtual tour content, you're already engaging users pretty actively. This is your chance to push them down your sales funnel with "Book a Tour" or "Request More Info" calls to action.
For better conversion optimization on your assisted living website, consider the following:
A smooth and understandable navigation
Clear calls to action and contact forms throughout your website
Chatbots that guide the user through your website
Utilize content that converts, such as interactive floor plans or virtual tours
Assisted Living SEO Goes Deeper than Google Search Rankings
When it comes to marketing an assisted living community, focusing all your attention on the SEO and not the consumer can be damaging. After all, the decision to move to a senior living community is an important consideration everyone must make at some point in their lives. Your SEO strategy needs to hone in on your target audience.
Ask yourself: how is your audience researching senior living communities? What kinds of technology will help make that decision easier? Your assisted living SEO requires content that is both engaging and optimized to convert. To do this, be sure you're providing your audience with helpful, quality content.