Planning Ahead: 4 Ways to Audit Your Digital Assets for 2021
by McKenna Hogan, on Oct 20, 2020 8:30:00 AM
The end of the year is quickly approaching, and many real estate professionals are already preparing for the new year.
To help with future strategies, below are 4 ways to audit your digital assets for 2021.
Digital content in the new year
It's no secret that digital assets were a key component in helping real estate businesses through COVID-19—but those same tools won't go away as soon as the clock strikes midnight on January 1, 2021.
In fact, if there's anything we've learned, it's that technology and virtual leasing will only increase in popularity due to the immense benefits they provide to both renters and real estate professionals.
Because of their significance as well as their promising future, we put together a guide to auditing each of your digital assets to stay updated and relevant in the new year.
1. Audit your listings
For those that are integrated with some type of property listing, it will bode in your favor to audit these in preparation for 2021.
As most listing services will regularly update their software to serve new renter trends, it makes sense that real estate businesses do the same with their content.
So, whether it be Zumper, Apartments.com, or LoopNet, by following the points listed below, your listing will not only maintain visibility, but also streamline the leasing process.
Update photography
Make sure all descriptions and contact info is up-to-date
Integrate your virtual property tour
Add links to associated platforms (i.e. website and social media)
Include all informative digital content
Your property listing is the virtual door to your website, which means providing all informative tools and resources for renters to further inquire about your property's availability.
Auditing your property listing with the areas above will guarantee leasing success from the very start of the new year.
2. Review Your Property Website
Thanks to a study by Yardi, we now know exactly what renters are looking for as soon as they enter your website.
Since the onset of COVID-19, real estate professionals were given the tools to maintain regular business, and now is the time to fine-tune digital strategies to come out ahead in the new year.
What Yardi dubs as your "virtual front door" is an excellent place to start when auditing your website. Below are the areas renters are actively seeking during the home search by percentage.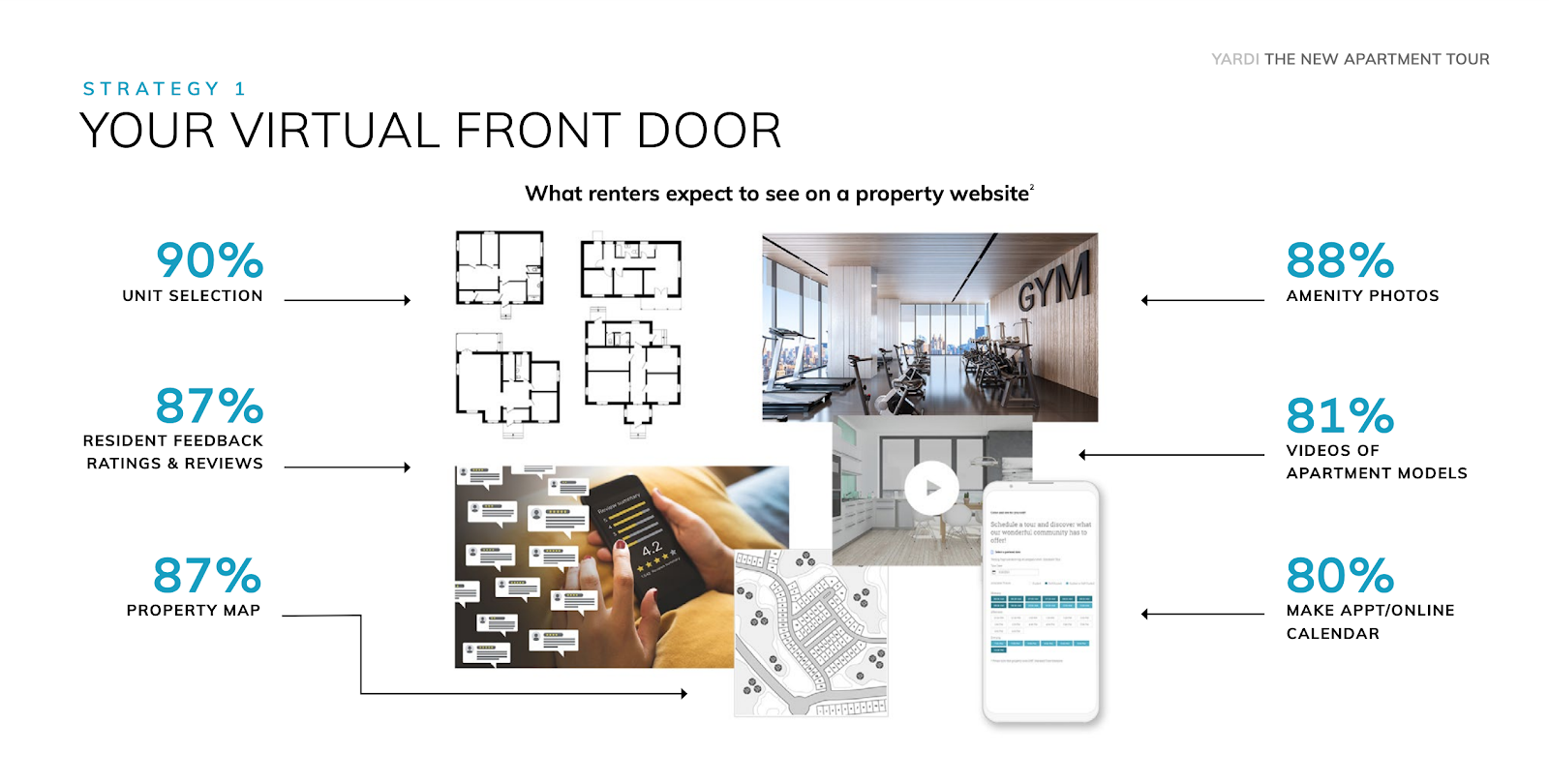 As you can see, auditing your website depends a lot on placement as well as the correct content.
Below are a few tried and true ways to audit your website aside from providing the right content within your virtual front door.
Do an SEO audit
Check for visual content (i.e. photos, virtual tours, floor plans)
Check page speed
Make sure your site is optimized for mobile use
Ensure accessibility for your site as well as virtual tour
By leveraging this data within your 2021 strategy, you'll not only be properly prepared, but you'll also ensure renters have all of the resources they need to make an informed decision, ultimately speeding up the virtual leasing process.
3. Review where you stand with virtual tours
Virtual tours become a vital piece of your website, and also require regular audits.
Perhaps you have obtained new assets or undergone recent renovation, or maybe it's as simple as realizing your virtual tour to your property's brand and tweaking some custom features.
There are copious amounts of ways you can audit this tool that will take your virtual tour to the next level come 2021. For Panoskin users specifically, there are many ways to modify and refine your virtual tour to align with current trends and your property's needs.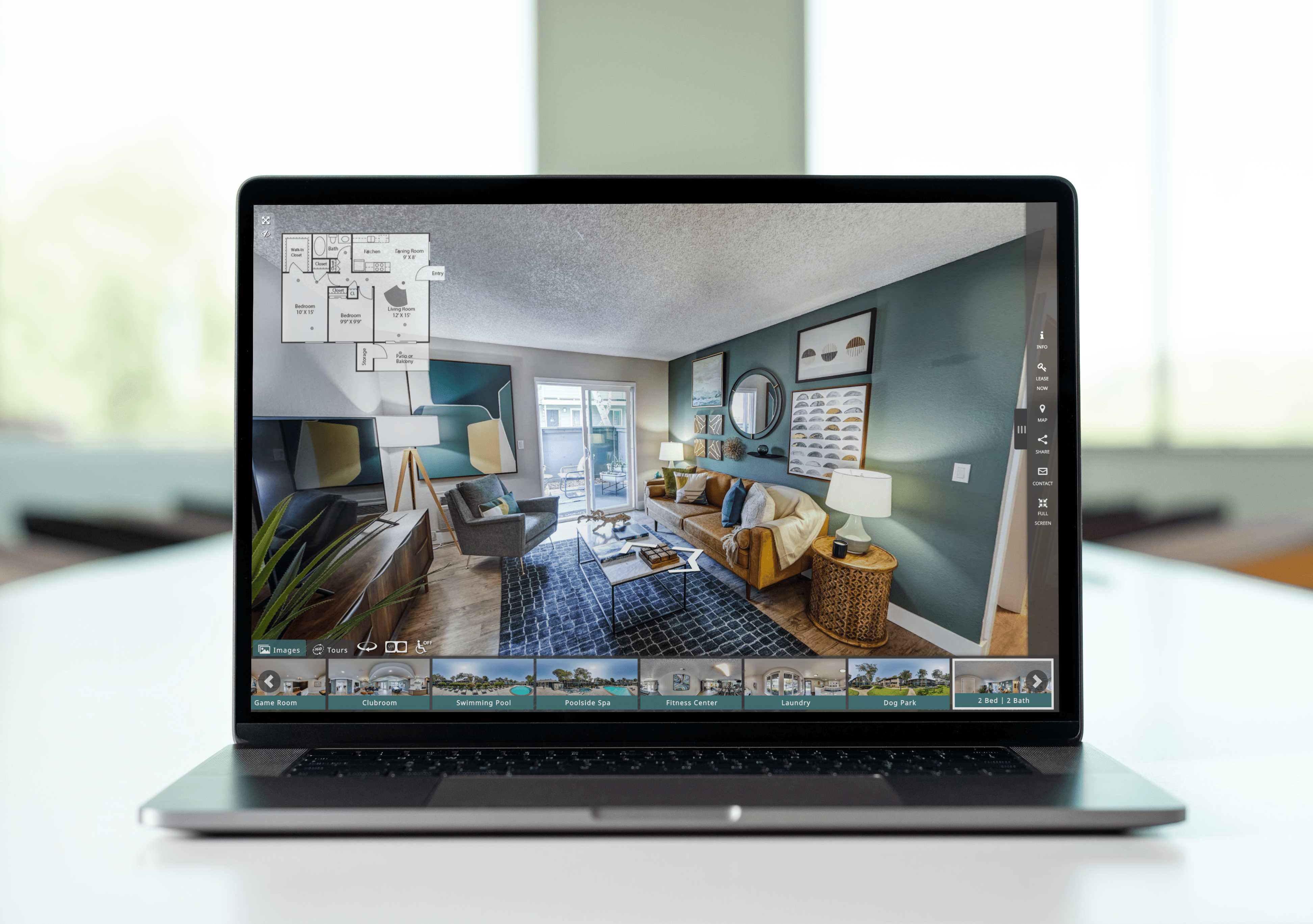 A few ways we suggest auditing this digital asset are listed below.
Add all new property photography
Integrate floor plans
Link to a scheduling landing page
Add video content
Customize colors and thumbnails
Leverage a virtual staging slider bar
Although these are all excellent ways to audit your virtual tour, the first step will be to attain these assets.
If you don't currently have additional assets, or need more information on Panoskin virtual tours, click here.
4. Audit your remaining technology assets
Auditing both new and existing technology assets for the new year can be easy and effective. Below are a few common tools and how you can optimize them in time for 2021
Chatbots
Chatbots are already amazing tools due to their ability to assist renters 24/7.
By auditing your websites chatbot, you can essentially streamline the entire virtual leasing process within a single domain.
How is this possible? By integrating your virtual tours with your chatbot.
This strategy is an excellent way to optimize your advanced technology because it can generate leads, engage prospects, and overall, get more signed leases with only a few clicks.
Widgets
Having widgets live on your website is an easy and effective way to provide quick info or important links.
See below for our recommendations for auditing your widgets.
Have a widget to schedule a guided tour on your home page
Provide a "contact us" widget for when people view digital content
Add an email signup widget to receive important news updates
Integrate photo widget on floor plans that people can easily view
Let people know you're active on social with widgets linked to your platforms
Overall, widgets are designed to inform.
By adding relevant information in the form of a widget so that prospects don't have to search for it, ultimately, you're streamlining the property search process immensely.
Floor plans
As stated above, floor plans are pretty much a necessity nowadays. So in order to stand out, you'll have to audit unit selection with the best technology out there.
Our recommendation? Virtual staging for 3D floor plans.
Virtual staging has become extremely popular in recent months due to the fact that it's budget friendly as well as photorealistic.
By leveraging 3D floor plans with virtual staging, you can provide renters with an accurate representation of a unit or room to better visualize and plan setup.
Stacking plans
Similar to floor plans needing an audit in the new year, stacking plans could use one as well.
Stacking plans are real time availability tools that allow renters to filter by floor plan, level, move-in date, and more.
To audit stacking, we suggest integrating those updated floor plans mentioned above as well as any site plans/community map to accurately represent any new developments.
| Related: Real Estate Budgeting for 2021: technology trends to look out for
2020 was for integrating digital assets—2021 will focus on how to optimize them
To stay ahead of competition during this continuously evolving digital age, it will bode in your favor to plan ahead. However, that doesn't necessarily mean attaining new assets.
By auditing the digital tools and assets that you already have, you have the opportunity to stay relevant, remain up-to-date, and to keep renters informed as well as engaged.