How to Keep Your Senior Living Community at the Top of Search Results
by Kyna Garrett, on Apr 8, 2019 9:00:00 AM
As a senior living provider, you're always looking for innovative ways to stand out to prospects. You know that seniors have been quick to become active internet users and by 2050, the population of individuals who are 65 and older in the U.S. is projected to double.
Unlock the steps to optimizing your senior living community's Google My Business with this free checklist.
For that reason, you've put a lot of energy into increasing your online presence, but staying at the top of results and top of minds has become more and more demanding.
The reality is that SEO requires frequent fine tuning to stay relevant and on trend. Refining your senior living SEO efforts with innovative approaches can do wonders for your website rankings.
To help your community stay at the top of search results, we've compiled five senior living SEO tactics that will be most impactful.
1. Know Your Target Audience
Before you can fully dive into you search marketing efforts, you should have a strong understanding of how your audience is searching for care and senior living options.
According to Google search data, clicks for senior living terms showed 27% growth from 2015 to 2016. Younger boomers searched more for costs, payment options and care services while those above 65 searched for things like amenities and lifestyle options.
Remember that seniors aren't the only ones looking for senior care options either — their loved ones are, too. Seventy-three percent of senior care decisions involve the adult children, according to a study by Care.com. This target is more likely to be dependent on mobile devices, immersive content and social media.
Google has found that when boomers are searching for themselves, they're often looking for 55+ active communities. When a user is searching for someone else, it's typically a search for skilled nursing or assisted living. This kind of information helps to better position your community in front of internet users. If you're an assisted living community, it's likely that adult children are looking for your community, while a boomer is more likely to search for an independent living community.
That kind of information will help immensely if you're trying to boost your assisted living SEO.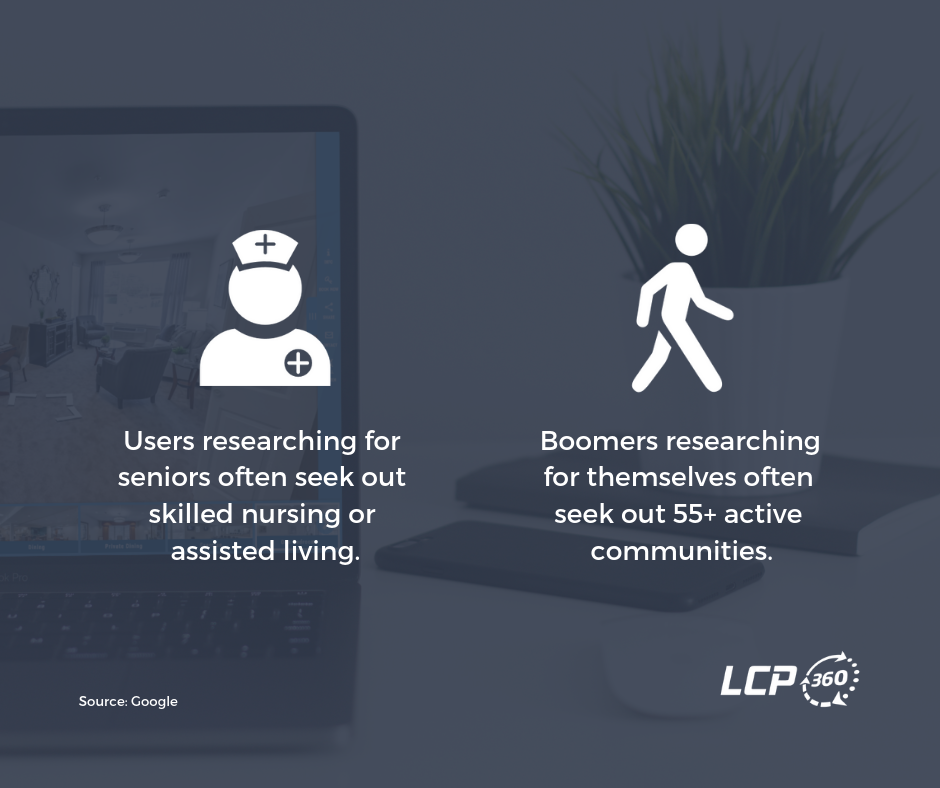 Having a healthy focus of both audiences across your senior living SEO efforts, particularly as it relates to digital content and social media, will no doubt strengthen your rankings.
2. Take a Long-Tail Keyword Approach
Long-tail keywords help you paint a much more complete picture of your community on your website. Given that 70% of all web searches come from long-tail keywords, not having them in your senior living SEO strategy can really hurt you.
As the market shifts, so do keywords. Long-tail keywords, however, can give your community a unique edge. Google's algorithm ranks content based on its usefulness. Long-tail keywords allow you to answer specific questions, provide more helpful resources and qualify prospects faster.
For example, a prospect may search "assisted living" on Google, but their research gets more detailed than that. The term "pet friendly senior apartments" has about 170 searches a month. You can get even more detailed with a search term like "pet friendly senior apartments for 55 and older."
Long-tail keywords are ideal for blog content or more specific pages deep in your website (i.e. a pet friendly amenity page). With long-tail keywords, you can offer some of your most helpful content by answering frequent questions on a blog, newsletter or specific webpage.
Here are a few examples of frequent senior living search terms with long-tail adjustments:
Best retirement communities for active adults (480 searches/month)
Best retirement communities for active adults with spa/salon
Best retirement communities for active adults with fitness center
Best retirement communities for active adults near the ocean
55 and older communities near me (2,900 searches/month)


55 and older communities near me with spa/salon
55 and older communities near me with assisted living
Skilled nursing facility near me (12,100 searches/month)
Skilled nursing facility near me with memory care
Skilled nursing facility near me that take medicaid
Skilled nursing facility near me with dialysis
As you can see, long-tail keyword possibilities can go on and on. There's a lot of opportunity to reach prospects who know exactly what they're looking for.
To get more long-tail senior living keywords, try out KeywordTool.io or download this free browser extension.
3. Keep Prospects on Your Website Longer with Helpful Experiences
When seniors are looking for care options and senior housing, the experience should be useful and helpful to their research. A virtual tour of your senior living community will give prospects a glimpse inside your community, its amenities, care options and more from a totally transparent view.
A survey conducted by Perkins Eastman found that 34% of senior housing providers feel technology in senior living will be extremely impactful in 2020, while 42% responded that it will be very impactful.
More specifically, 31% of respondents feel virtual experiences will be very impactful in 2020.
But what impact do virtual tours have on your website's search results?
According to Google, interest in a company doubles when the business listing has a virtual tour. Additionally, a virtual tour on your community's website keep prospects engaged longer. We call this "dwell time." This is how long a user stays on a website.
Google's algorithm monitors the interaction users have with each website. For example, if a user remains on your website for three minutes, then navigates back to the search results and views a competitor's website for only 30 seconds, Google recognizes this. Because a user had a meaningful interaction with your website, Google ranks your content more useful to the user.

And keep in mind that seniors and their families aren't just looking for housing options in their local areas. Seniors who are moving away from their adult children has increased over the last decade. They're searching for affordable senior housing, assisted living near their families or perhaps senior living options in warmer climates.
With mobility as the most common disability among older Americans, moving poses a pretty daunting task. In 2014, the federal U.S. government found that 40 percent of Americans over the age of 65 (about 16 million people) live with at least on disability. With so many senior living results on Google, being the most helpful is going to have the most impact.
When it comes to ranking higher for your out-of-state prospects, put yourself in their shoes. If there's one thing we know about moving, it's that it's stressful. From touring a community to making a decision, this can put a lot of unneeded stress on seniors looking to move.
Thanks to senior living virtual tours, this decision can be a bit more fluid, eliminating the need for a physical tour. Senior living virtual tours also promote unique interactions that increase dwell time on your website and increase rankings.
Boosting your community's visibility on Google is all about the user experience. Your prospects deserve a unique experience that keeps them interested and engaged longer. It's helpful to them, and to your Google rankings.
4. Upgrade Your Google Photography
According to the National Retail Federation, 67% of consumers say that the quality of a product image is very important in their buyer journey. That's 15 percentage points higher than the number of consumers who feel ratings and reviews are important.
In this case, your product is your community.
Great photography tied to your business listing pays off in the long run simply because content with relevant, high-quality images receive 94% more views.
One of the key challenges with your Google My Business listing, however, is that it's an open forum. Anyone can upload a photo of your community. That photo may be blurry or taken with a shaky iPhone. While that's something you can't prevent, there are ways to mitigate the damage from low-quality photos on your community's listing.
First and foremost: high-quality photos on your Google listing makes your result much more useful to prospects. Second, Google favors the highest quality images over poor photos and displays them first on your listing, which gives your brand a better face.
Content with high-quality images also see a much higher click-through rate than content with no photos at all.
5. Think Mobile First
On March 26, 2018, Google announced its Mobile First Indexing, which means that Google indexes your mobile website first, not desktop. According to a study by Blue Corona, it found that websites that didn't shift to mobile-friendly websites lost 50% of their traffic. That same study found that 70% of websites that appeared on the first page of Google were mobile-friendly.
Specific to senior living communities, Pew Research Center found that among seniors ages 65 and above, about 85% own a cell phone. Of those who own a cell phone, 46% have a smartphone. And that number is quickly growing. And with mobile search up year-over-year and 75% of smartphone users accessing mobile search first to address immediate needs, a mobile-friendly website is a must. (Yes, it's 2019 but some websites still aren't mobile-friendly.)
You can test the mobile-friendliness of your website as well as page load speed with Google's mobile-friendly test.
In general, 89% of people are likely to recommend a brand after a positive brand experience on mobile. That means your mobile page speed should go hand-in-hand with the mobile-friendly experience. Additionally, keep your website clean and easy to navigate on mobile. This provides a much more user-friendly experience that is helpful to the senior living search.
Climbing to the Top of Search Results
SEO is all about testing. These technical approaches are not the end-all-be-all to keep your community at the top of search results. Keep testing different long-tail keywords, offer helpful experiences and focus your efforts on mobile. No matter what you do, keeping up with market senior living trends and following Google's algorithm update will help you form the best SEO strategy to stay at the top of the list for seniors.