Can a 360 Virtual Tour Increase Your Senior Living SEO?
by Kyna Garrett, on Apr 11, 2019 9:00:00 AM
You have a wonderful senior living community, with great care and amenities, but how do you let people know?
A virtual tour is a powerful asset to add to your digital marketing mix that gives prospects a clear look inside what your community offers. As more and more senior living communities look to advanced technology, it's important to understand not only how a virtual tour can benefit your prospects, but also how it can support your internet marketing.

Put your senior living community on the map with our step-by-step Google My Business checklist.
Will a Virtual Tour Increase Your SEO?
One of the most popular questions surrounding virtual tours is whether or not it has an impact on your website's SEO. Google uses 200+ ranking factors, and virtual tours influence many of those metrics, including:
Behavioral Signals
Google My Business Signals
On-Page Signals
Review Signals
Social Signals
Let's take a deeper dive into how virtual tours impact your senior living SEO.
Google Virtual Tours Increase Interest and Drive More Clicks
According to Google, business listings with a virtual tour lead to a 100% increase in consumer interest. Business listings with interactive content see more direct phone calls, direction inquiries and website clicks.
Based on our Google case study involving apartment communities, we found that Google listings with a virtual tour had a 23% increase in direction inquiries.
Business listings with virtual tours also receive 40% more clicks than listings without virtual content.
With consumer interest doubled, this ultimately drives more traffic to your senior living website and leads to a higher conversion rate.
Virtual Tours Are Highly Engaging and Reduce Bounce Rate
Because few seniors know about their senior housing and care options, a virtual tour is a valuable educational asset. It will engage your prospects, help them get a better feel for your community and set you apart from the long list of options they have. Additionally, a virtual tour is a powerful sales tool that eliminates the need to travel for out-of-state prospects.
Because of their high engagement factor, virtual tours increase dwell time on websites, a factor that signals to Google the usefulness of your content.
When a user conducts a senior living search, dwell times can determine the ranking of a webpage. For example:
A 3-second dwell time tells Google that the content isn't wanted or expected.
A 3-minute dwell time tells Google that the content was useful to the user.
A 15-minute dwell time tells the search engine that the content was extremely useful and the user was invested in your content.
Virtual tours typically fall within the 3-minute dwell time or higher, which has a strong impact on your rankings. Additionally, the average bounce rate for a webpage with a Panoskin virtual tour is 15%. That means that only 15% of visitors are not engaging with the webpage content - 85%, however, are. To put that into perspective, an excellent bounce rate benchmark is 26-40%. With a virtual tour, you can achieve a much lower bounce rate, thus impacting your dwell times and improving SEO.
Google Maps Prioritizes 360 Content
While Google hasn't been forward about this, it's clear that the algorithm detects interactive content and ranks it higher than still images on Google Maps. Below is an example of a Google business listing that has both professional photography and a virtual tour.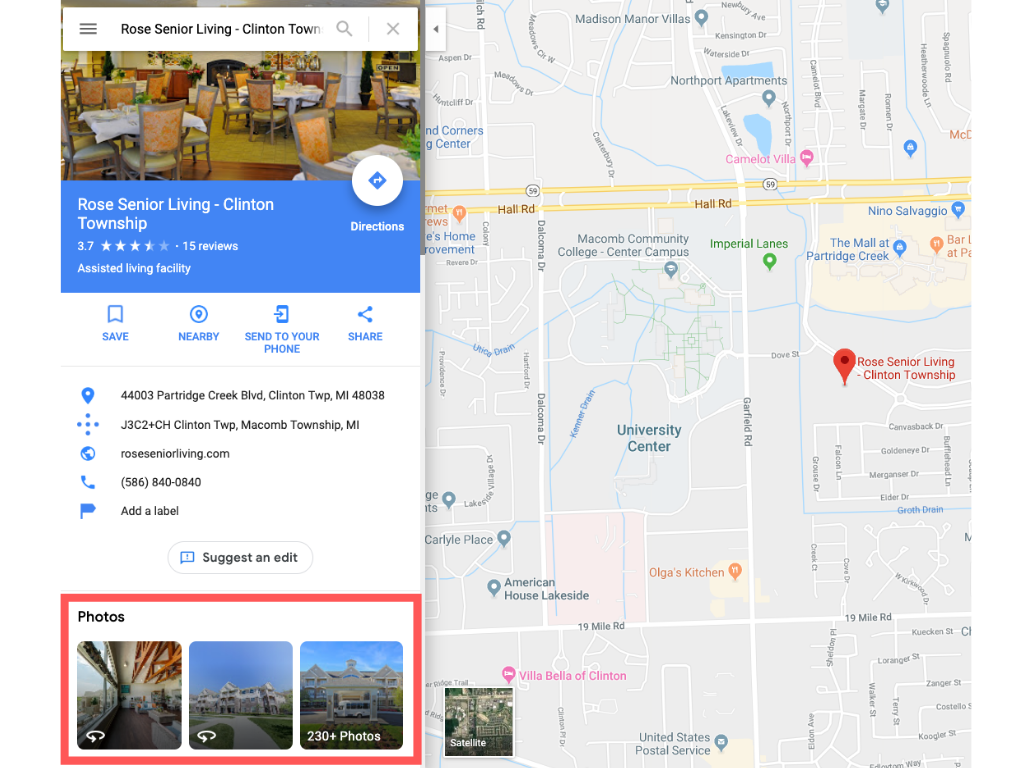 In map listings with a virtual tour and photography, you'll see that there is a 2:1 ratio of 360 thumbnails to photo thumbnails. That means twice as many clicks into a virtual tour versus the photography. Now, how this impacts your overall search rankings is another story.
The goal is to increase rankings on Google and click-throughs to your website, and then ultimately lead to more conversions. According to our Google tour case study, apartment listings with virtual tours saw a 30% increase in total actions taken on Google Search and Maps. Business listing views also increased 23% with a 22% growth in searches.
Making Your Senior Living Virtual Tour Work For You
Whether you're trying to increase your assisted living SEO specifically or simply raise awareness online for your independent community, capturing a virtual tour of your community won't be a magic switch for all your SEO problems. There are certainly some best practices to pay mind to when it comes to leveraging your tour.
Embedding a Google or custom virtual tour on your website will keep visitors on your page longer.
Custom virtual tours boost click-through rates and conversions with unique calls to action, improving lead to tour time and direct inquiries.
Virtual tours may be shared via social or email to drive more traffic through email marketing campaigns.
Boost awareness of your virtual tour by hosting a virtual meeting with prospects and shorten your sales cycle.
LCP360 specializes in capturing highly-engaging senior living virtual tours, with the ability to host meetings with your prospects and embed custom virtual viewers directly on your website. Contact us to learn more about improving your website's SEO with a virtual tour.