How Photorealistic Renderings and Virtual Tours are Changing the Way Senior Living Communities Lease-Up
by Klaudia Marzec, on Nov 1, 2019 9:00:00 AM
With all of the baby boomers expected to reach the age of 65 by 2029, senior living developers are pushing to meet this upcoming demand. By that point in time, seniors will make up more than 20% of the total United States population, so it is no surprise that many companies are jumping into these investments.
While lease-ups in senior living are exciting, they post a pretty huge challenge for providers, including:
It's difficult to establish trust with a fresh brand
Seniors can't tour their future home and there are no photographs to view
Families may be facing guilt of moving loved ones into senior housing; a construction zone may only add to the stress
Competition is strong with stabilized communities
On top of all that, getting the word out about your great new senior living community that has an expansive dining room, full salon and golf course while it's still a construction zone can be difficult when you are still building the brand.
So how does a senior housing community under construction meet such aggressive pre-leasing goals?
Since traditional marketing content like photos isn't the answer here, senior living providers turn to 3D renderings and 3D virtual tour walk-throughs ⁠— which can help address more than just construction woes. It allows you to create an experience that prospects and their families need to get fully immersed in the touring experience, even when there is no building to tour.
This gives people the ability to see into the future and get a feel of the environment. People want to feel the comfort and experience the luxury of the amenity spaces as it is just as important when making a decision.
Visual content is a great way to educate your prospects about a new community development, especially since there is no physical presence that can do that just yet.
3D tours help show off all of the benefits of your community in development, and it is a great way to build your brand and visual online presence.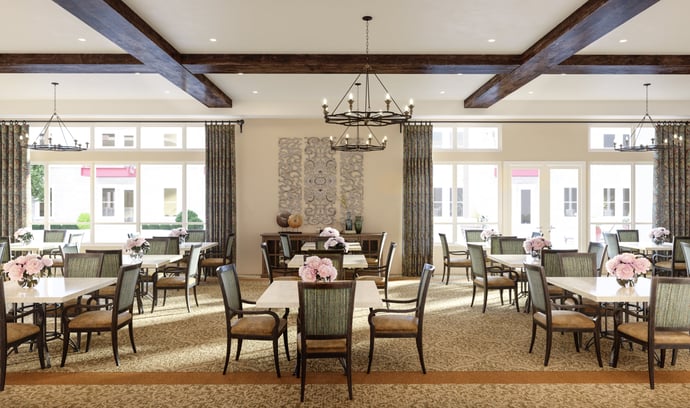 3D Tours During Lease-Ups Are Incredibly Helpful Tools
3D renderings essentially fill the gaps in your marketing and leasing plans during lease-up. And if you think that seniors aren't online and willing to use this kind of content, think again. Seniors are now more tech-savvy than ever, and the numbers are compelling:
More Americans age 65 and older are online than ever before, with 82% who have an internet connection at home
71% of seniors use the internet daily
42% have smartphones
45% are Facebook users
And if that is not enough, we cannot forget about the influencers in the lives of seniors.
Seventy-one percent of the time it is the adult daughter who is the one leading the search. With 91% of women online in 2019, you most certainly want to make sure you have virtual content for them to see if you're in the lease-up phase.
By leveraging a virtual tour complete with photorealistic renderings, senior living providers allow prospects and their families to explore the property in great detail as if it's already a stabilized property.
Touring a community virtually while it is in development can also open opportunities to prospective residents that are unable to come to the site.
This tool puts the leasing process back into the sales team's hands by allowing onsite team members to take the prospect on a guided tour. They can show every amenity that they are interested in as well as answer all of their questions on the spot.
Another tool that is available if you have a 3D rendered virtual tour of your senior living community is virtual reality. While you are set up in a temporary location, create an even where you give people a virtual reality tour of the community to get people more excited and build trust.
And since trust is a huge part of the pre-leasing process, it can become a very slow one if people don't know if they could trust you just yet.
In addition to the excellent experience you'll provide prospective residents, visual content can help you build a stronger SEO presence and even rank higher. Due to Google placing a higher value on sites that are optimized with useful content, senior living websites that leverage this kind of content during lease-up reap the most benefits.
Virtual Tours Cater to Long Distant Prospects
A virtual tour allows the user to explore the whole property in the comfort of their home.
This is especially significant if the senior is in a different state or further from family, which is now very common as the number of seniors moving to a different state than where they currently reside increased by 65% over the last 10 years.
Having the virtual tour will also allow the prospect to see everything that your community has to offer, which is not possible on an in-person visit of a development.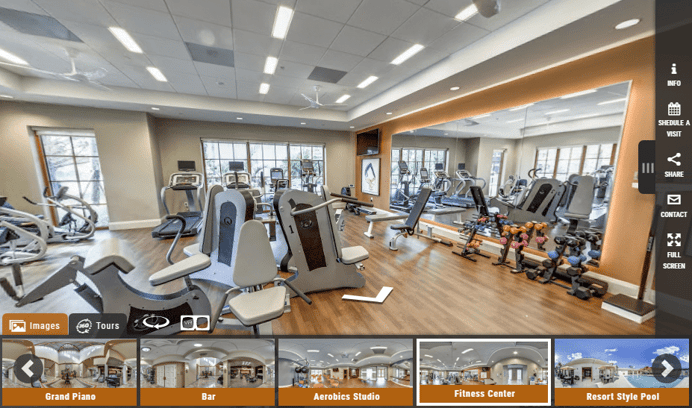 The virtual tour then completely changes the way that senior living community lease-up, as it speeds up the viewing process and opens up the doors of communities that are still breaking ground.
3D Renderings for Senior Living Communities
Not only are 3D renderings extremely helpful during the pre-leasing stages in senior living for prospects, but they can also offer a plethora other of benefits including:
More cost-effective
More visually appealing
Visualize the property more accurately
Meet aggressive lease-up goals.
It makes the process more cost-effective for the community due to the ROI that you can expect. First, you have the huge benefit of starting the lease-up period much earlier than without renderings.
By making this one-time investment, you can also increase your occupancy percentage before opening doors. By meeting your pre-leasing goals, you are sure to get your return on investment.
Additionally, once rendered, you do not have to worry about staging the spaces after project completion.
It extremely hard to sell someone on a space that does not exist, but with photorealistic 3D renderings, it almost sells itself. The visual appeal is key.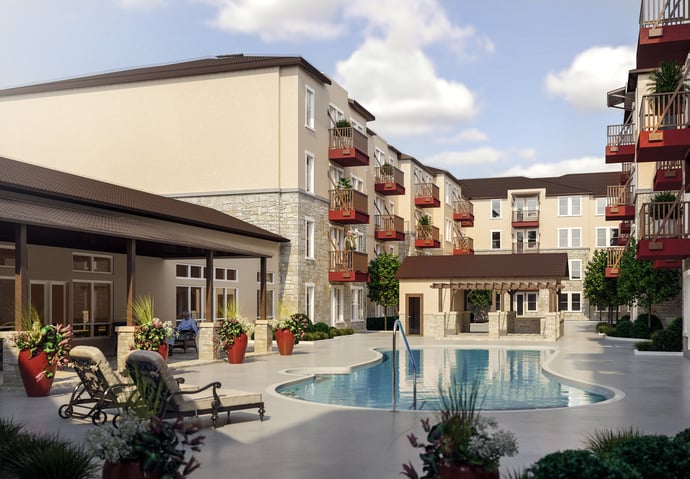 The photorealistic 3D renderings can help you reach your lease-up goals as it brings the space to life and helps your prospects visualize themselves living in your community. Since many people are visual in learning, having this marketing content during development is the best strategy to lease-up your community quicker and easier, even before the grand opening.
As you examine the ways that 3D renderings and virtual tours are already changing the way senior living communities lease-up, we are here to help with your next project.