How to Capture More Deposits During Senior Living Lease-Ups
by Kyna Garrett, on May 13, 2019 9:00:00 AM
With the ongoing construction boom in senior living, keeping up with lease up demands and making sure occupancy rates are met are just some of the challenges senior living providers are taking on.
Unfortunately, standard senior living virtual tours and great photography aren't going to solve the problems new developments face during lease up. To face these hurdles, senior living communities are turning to advanced technologies beyond traditional virtual tours and photography to improve sales processes.
So, Let's Set the Scene
You're a senior living provider, with multiple fabulous communities and a few more in the early stages of construction. You're trying to maintain your current communities, keep units filled and keep current residents happy.
On top of that, you're also monitoring the progression of your senior living developments - making sure construction plans are going smoothly with your senior living developer, preparing for the next influx of residents, and making sure sales and marketing departments are on their A-games to properly sell your new communities.
There's a lot on your plate.
So stop for a minute, and ask yourself: what if you could shorten your sales cycle during the lease up phase of your new developments using captivating digital content? It's hard to imagine (especially without a building to produce that kind of content), but there are plenty of ways to bring your new senior living community to life.
A developer has construction documents, landscape plans and finish schedules. Why not turn those documents into something beautiful that marketing and sales teams can leverage to sell your brand new community?
This is a reality that more senior living providers are investing in, especially given the new wave of senior living communities on the horizon.
What follows is a breakdown of 3D rendering solutions for senior living, built to improve your sales process and turn you into a lease up superstar.
How to Capture More Deposits During Senior Living Lease Up
Leverage a 3D Virtual Tour of Your Senior Living Community
The greatest challenge in a lease up is probably the simplest to understand: a senior living development doesn't exist yet.
A photographer can't walk his camera through your community and capture half-built walls and unfinished floor plans. You could chalk this up to a loss, or embrace the fact that you have tons of resources at your disposal to build beautiful, photorealistic renderings that are sure to increase deposits and sight-unseen leases.
Here's an example of a senior living 3D virtual tour in action. You can interact with the entire 3D tour here.

A 3D virtual tour provides a myriad of benefits during lease up:
Improved sales process: first and foremost, a virtual tour is a sales tool. From the front end of a virtual tour, prospects can navigate throughout your community and learn more about your brand and offering, while the backend provides a much more robust system for your marketing team to track analytics, understand what's important to prospects and sales can even host virtual meetings.
Virtual tours, if built with sales and marketing in mind, also guide prospects through your conversion funnel. With calls to action that allow them to learn more, lease, contact for more info, or book a physical tour, you increase lead to tour conversion and tour to application rates.
A 3D virtual tour sets you apart: senior living is going to get even more competitive as a large percentage of America enters retirement age in the next few years. It's even more imperative to stand out during the senior living search. If you have a new development with no content, no prospect or family member will consider your community.
A 3D virtual tour, however, lets prospects enter your community and explore all its offerings. You can embed a 3D virtual tour on your community's website, and even upload the 360s to Google to improve Google search rankings.
There's also a good chance that your competitors are leveraging 3D virtual tours, so it's a smart move to add to your marketing mix.
Address multiple senior living challenges with 3D renderings: with a 3D virtual tour, you address multiple challenges in one fell swoop.
Not only are you creating a beautiful experience for your prospect to learn about your development, many seniors today live with a disability and are unable to physically tour a community.
In other words, while a 3D virtual tour is built to increase deposits during senior living lease up, you're also providing a truly useful and catered experience to seniors and their families. Virtual tours can be built with hotspots to hold additional information, video content, floor plans and maps to help guide prospects through your up-and-coming community.
Add Flat Renderings to Your Marketing Collateral
Flat renderings are yet another 3D lease up solution worth considering in your senior living marketing mix. We aren't talking standard architectural renderings though.
Renderings designed for marketing purposes are built differently than renderings you see from architects. Architectural renderings can (at times) appear "cartoonish" or modular. That's because renderings from architects are typically meant to catch design and construction errors, though marketers may still use them simply because they have access.
But 3D renderings have become much more advanced than that. For instance, 3D can be photorealistic with exquisite detail and precision which paints a much clearer picture of the finished building. In most cases, the 3D looks so real, it mirrors what an actual image would look like.
Here is a side-by-side of an architect's senior living rendering compared to a 3D flat rendering designed for lease up.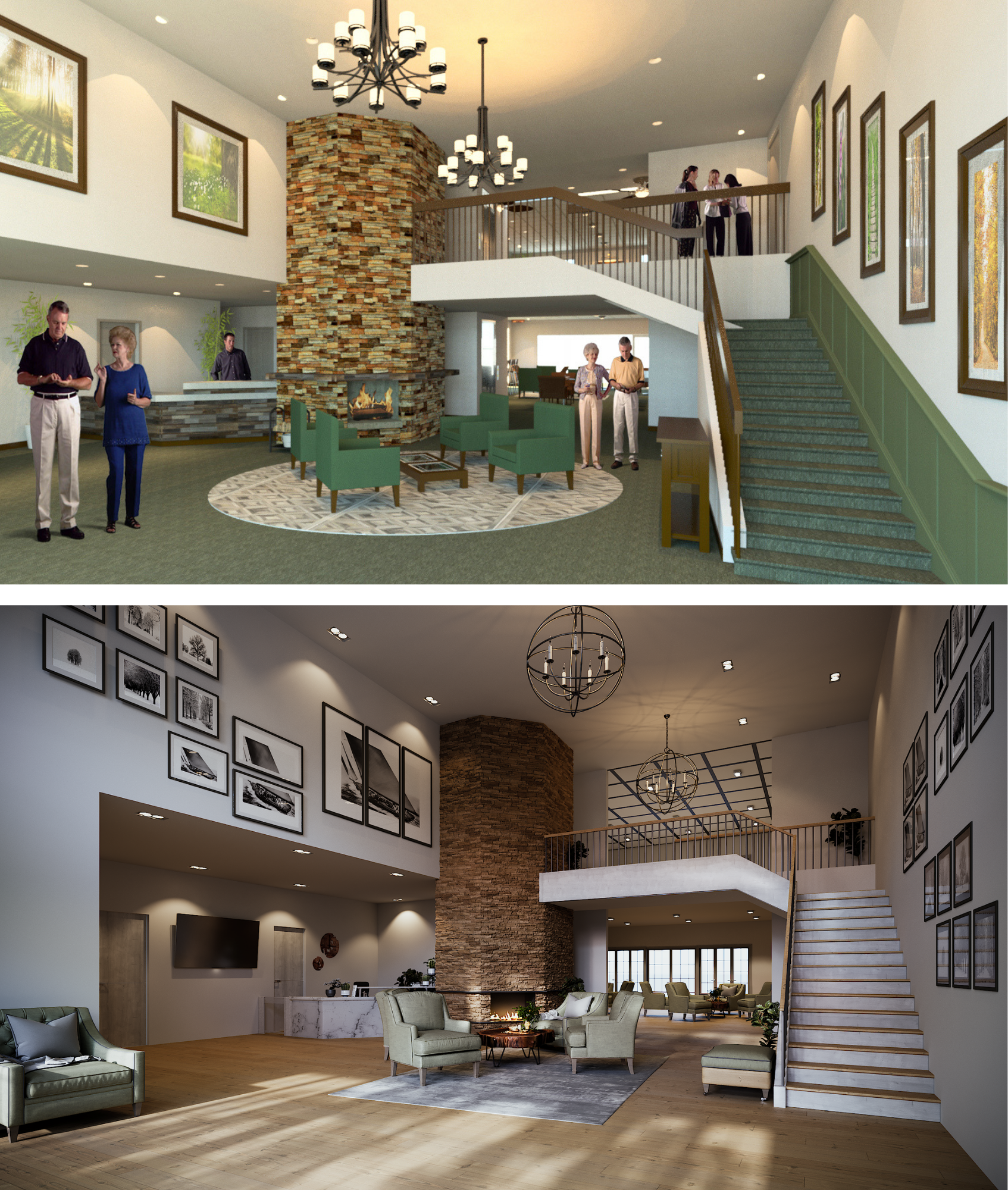 Which would you say is more compelling from a marketing standpoint? The differences are quite shocking.
Here are some more examples of photorealistic 3D renderings to put the power of photorealistic into perspective: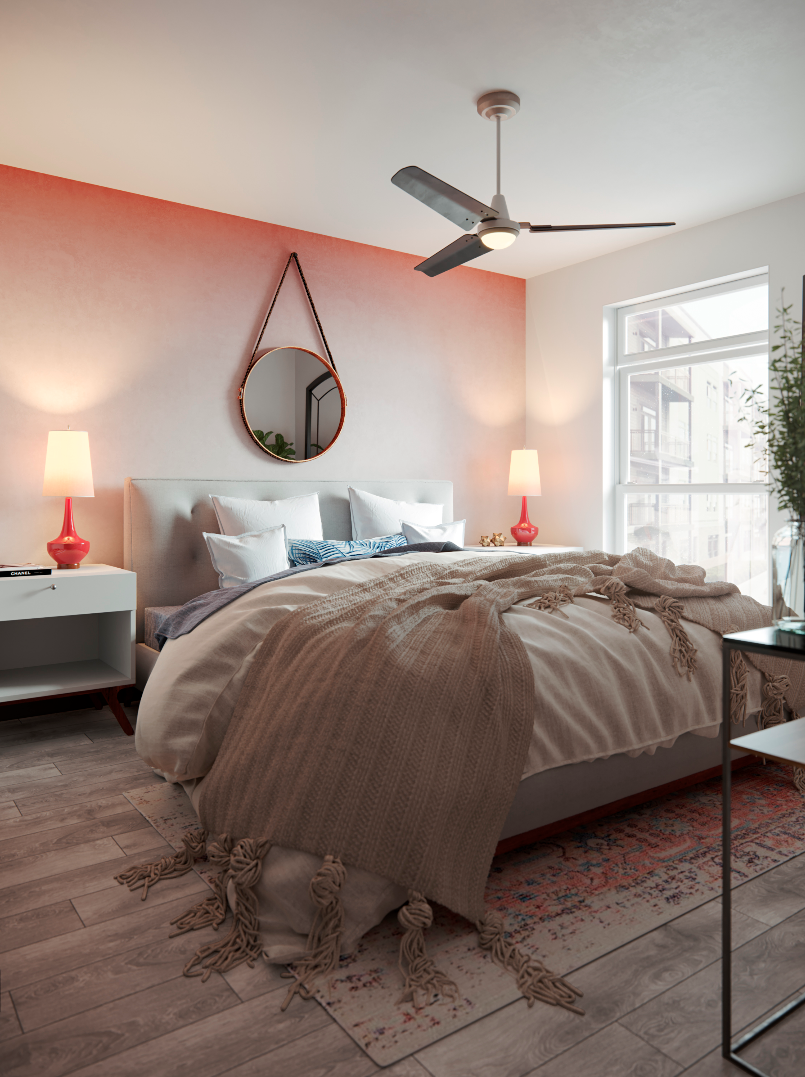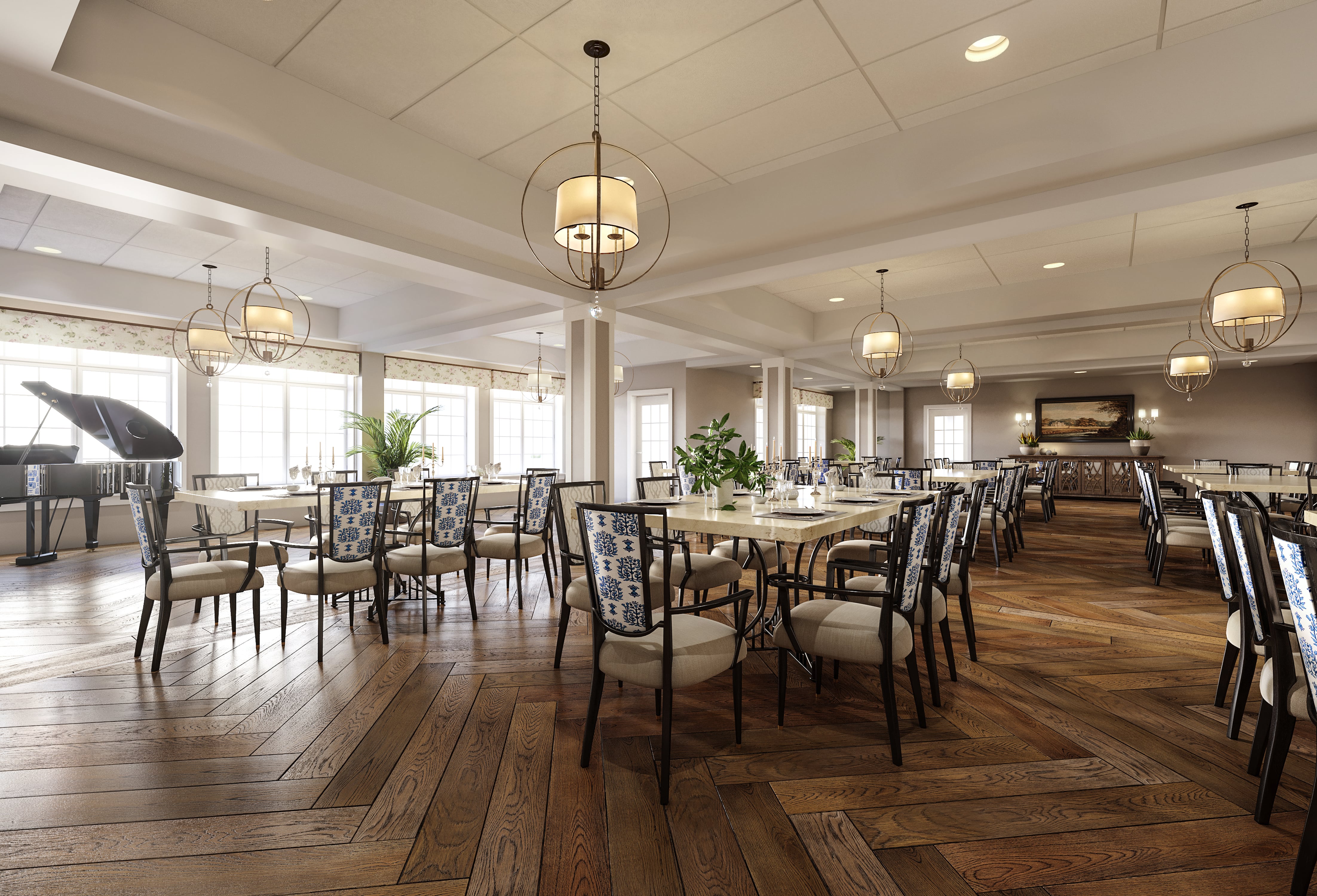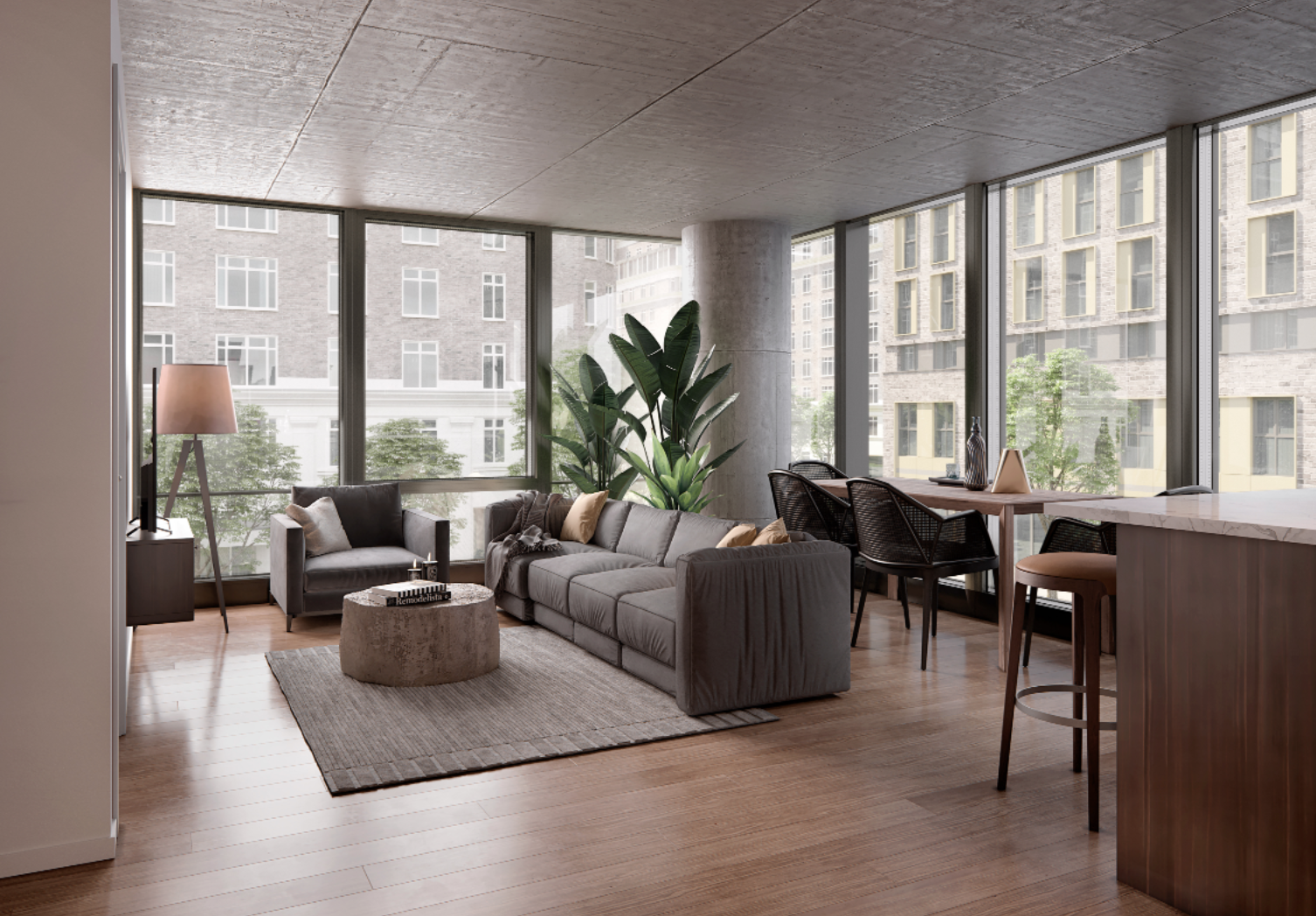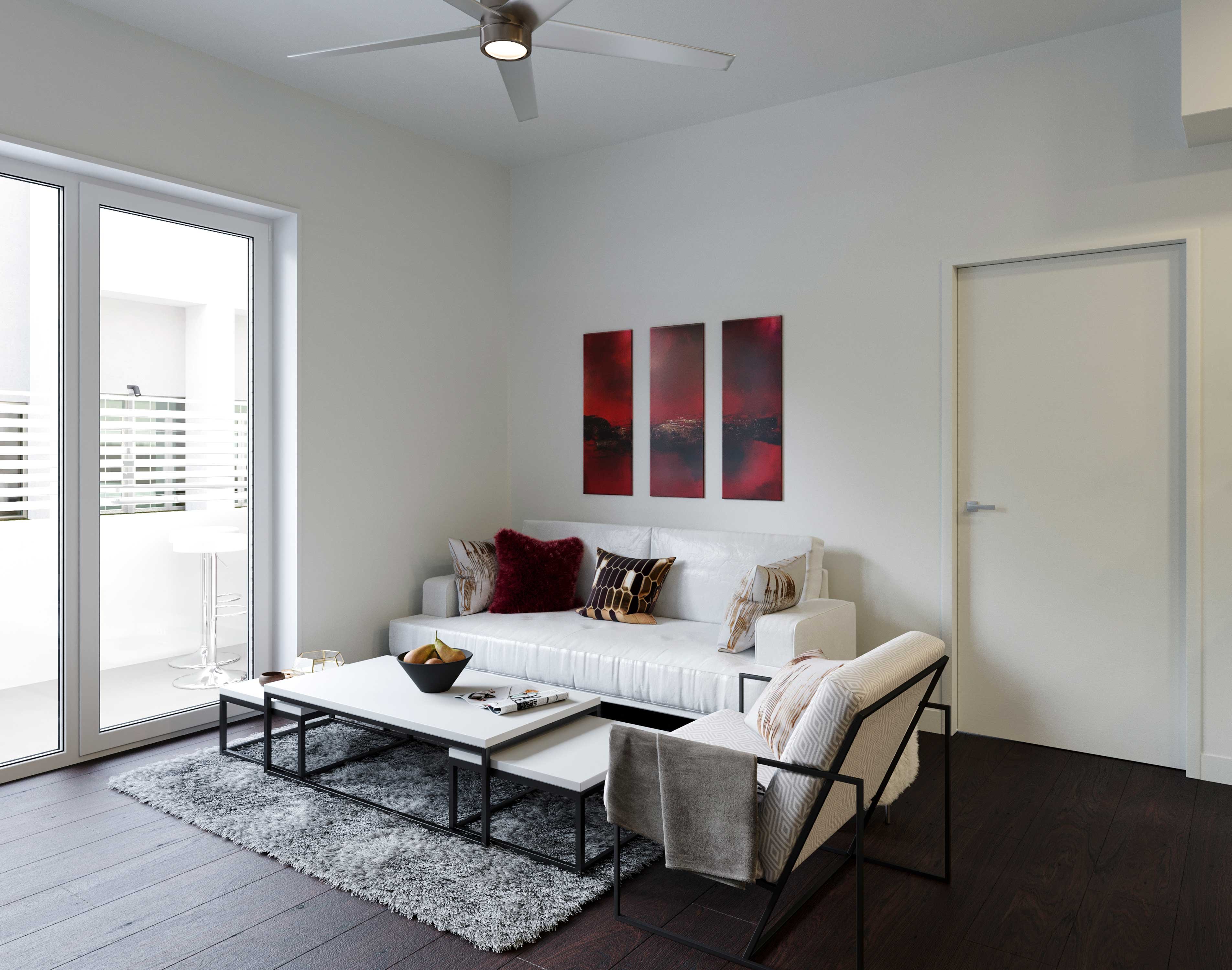 Sure, flat renderings aren't going to give you the same level of interactivity as a 3D 360 virtual tour, but they do qualify for several unique use cases:
Jazz up your website, brochures and banners: flat renderings are going to be your go-to pieces of content for any standard marketing channels. Showing off photorealistic 3D renderings of your new community instead of standard architectural renderings will not only say a lot about your brand, but also draw in qualified prospects because you're giving them a quality inside-look at their future home.
Add dimension to your follow up emails: 3D flat renderings are great pieces of content to add to your follow up emails. If you give a remote 3D virtual tour and then follow up with email, send over the virtual tour link to the prospect along with flat renderings. This provides another look into your community
Make Floor Plans Work For You
2D floor plans can be pretty uninteresting. They help the prospect see the space for what it is, understand the flow of the unit and ultimately decide if the space is a perfect fit. But what if you could make your floor plans exciting for the senior living search?
3D floor plans are a great place to start, but interactive site plans will do a lot more for the prospect and your sales process.
Here's an example of an interactive site plan in action:

An interactive site plan is a real-time availability tool, perfect for new developments to increase lease velocity. They can be built for existing communities or built in 3D.
All the information a senior living prospect could possibly need is inside an interactive site plan. What this does for the senior living lease up phase is ultimately give prospects and their families a clear view of the entire community, along with 3D floor plan integration. It puts the full experience in their hands. They can select a unit that fits their needs, request a virtual tour or put down a deposit immediately from the site plan.
Your community can even add a virtual tour link, specific calls to action and videos to improve the experience and give prospects everything they need to fully understand your brand new community.
Embracing 3D Renderings for Senior Living Lease Up Success
Let's look at this way: 3D renderings fill the gap between initial construction planning and the day your senior living community opens its doors. It fills the holes in your marketing so no time is wasted to bring qualified prospects into your pipeline.
What's more, you increase deposits when it matters most by offering truly realistic experiences to senior living prospects.
When planning construction for your next senior living community, consider incorporating photorealistic renderings into your marketing. Contact us to learn more about our 3D rendering solutions for your next senior living project.