7 Wedding Venue Marketing Ideas You Need to Stand Out
by McKenna Hogan, on Mar 10, 2020 8:30:00 AM
Very recently a colleague of mine told me that she and her fiancé almost booked a venue without even visiting it. Crazy, right?
Well here's the kicker: the aforementioned venue just so happened to have amazing digital content - specifically, a virtual tour.
Not only did this specific space stand out because of it, my colleague almost booked it sight-unseen by simply viewing the tour from home - which can offer a huge convenience during wedding planning for busy couples.
So we're here to provide you with some high-impact wedding venue marketing ideas that will leave a lasting impression.
7 Wedding Venue Marketing Ideas to Help Your Space Stand Out
We know it, you now know it, and soon, hopefully, potential prospects will know it.
Digital marketing tools in 2020 will be huge for wedding venues.
Whether it inspires trust, impresses prospects, or provides valuable resources, digital content is an investment that is without a doubt certain to make your business stand out (and garner much appreciation from stressed out couples).
Here is a list of seven wedding venue marketing ideas and how to execute them.
1. Promote high-quality photography
There's something about a business with low-quality photography that just makes it very… unremarkable. Which is not what you want newly-engaged couples to be thinking while browsing your venue's portfolio.
And, according to Wedding Spot, 86% of users who visit a venue profile on their site also browse the venue's photos. Let's be real here - most, if not all couples, are going to browse venue photos, and if they don't, they're seeing it in person.
But high-quality photography should be the first area of business if you want to make your wedding venue stand out from the get-go, especially since 60% of consumers say they give more consideration in making a decision to their local search results that have good images.
And, as White Stone Marketing states, brides want to see exactly how their wedding might look. Why wouldn't you? A wedding is a special day for the bride and groom, so you need to present your venue in the best light possible. Having low-quality, outdated photos on your listing or portfolio can be an immediate turn off for many.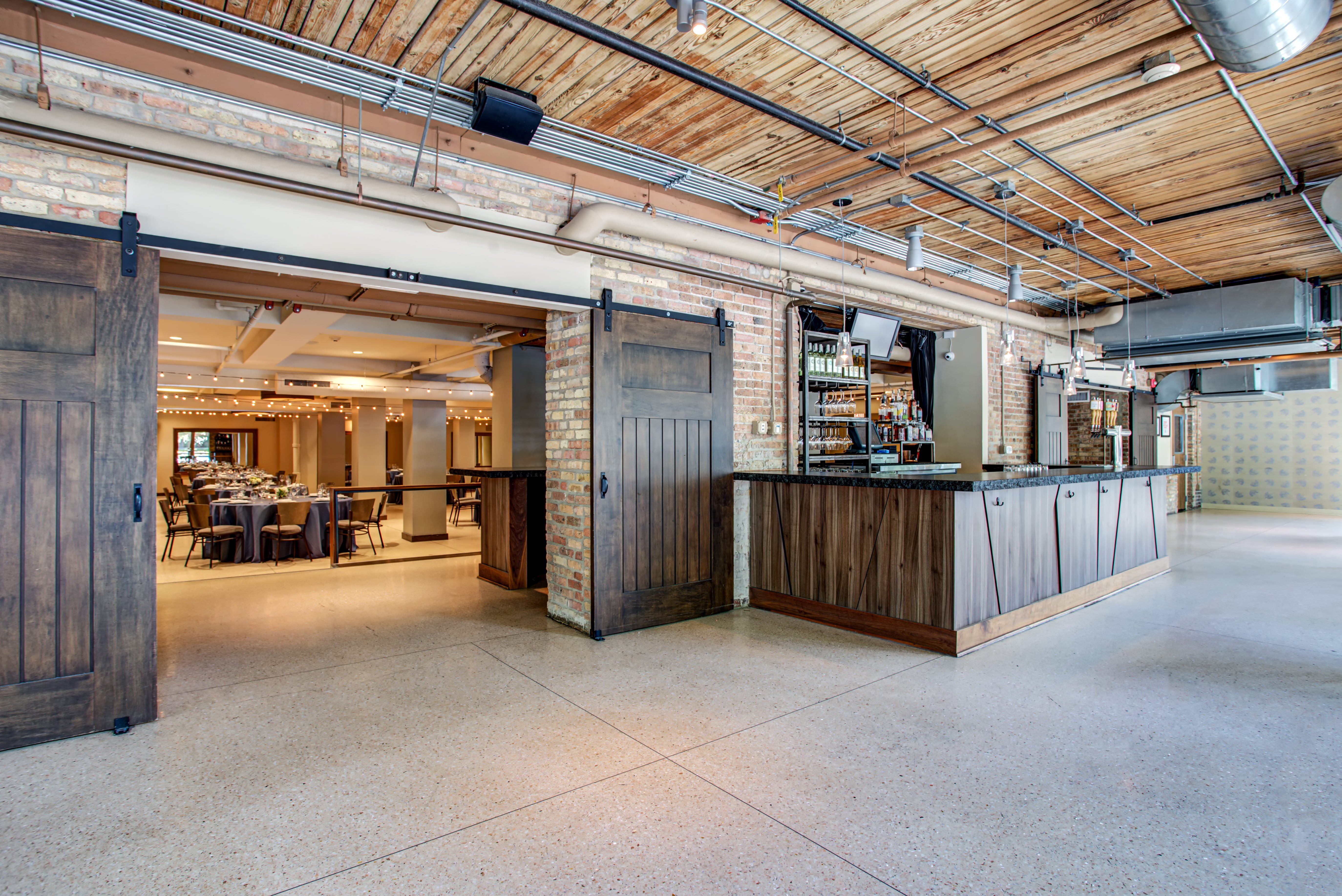 2. Invest in walk-through virtual tours (not just video)
My colleague's experience venue shopping is not an isolated occurrence.
360 virtual tours are not only immersive, but extremely engaging and informative as well. They are completely capable of taking consumers from the piqued interest phase of the sales cycle, all the way to making a purchase - and in a fraction of the time.
In fact, statistics show that 75% of people are more likely to use a business that leverages a virtual tour. So this wedding venue marketing idea is certain to attract inquiring couples.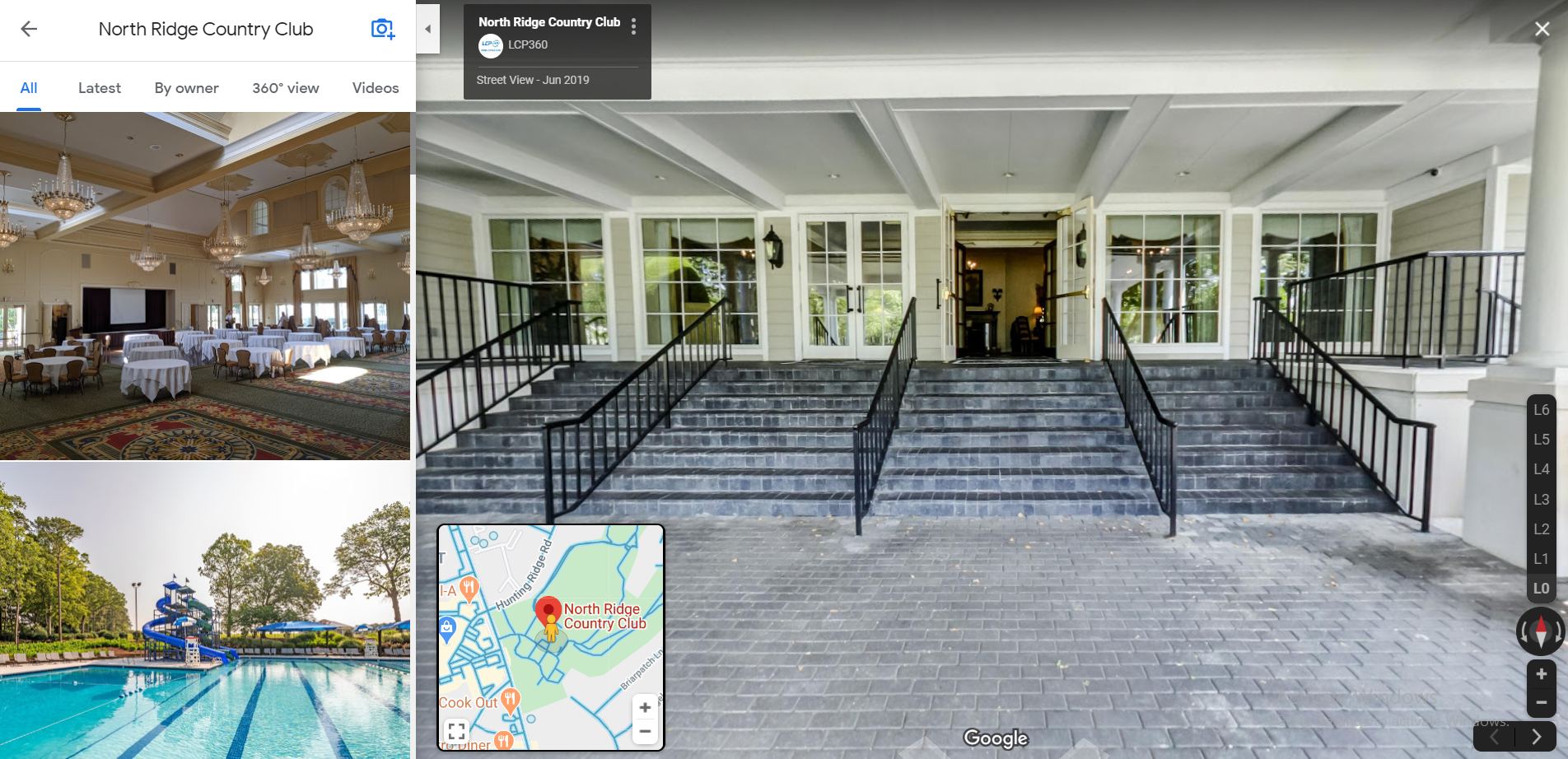 The best benefit for both parties, however, is the ability for wedding venue virtual tours to save time and money.
In the case of my coworker here, she had already visited several venues out-of-state and was burned out. Because she was looking out-of-state but had a busy schedule, this particular venue sent her a few walk-through tours of their available ballrooms which gave her a good feel of the space. Unfortunately, it was out of budget, but these digital wedding venue tours gave her a boost of confidence when considering signing or not.
Whether you're married or not, it's common knowledge that weddings can often be hectic - especially when planning long-distance. Which is why potential prospects will be extremely appreciative they don't have to visit a dozen venues all over the country just to find the right fit.
3. Inspire with virtual staging
No wedding venue is the same - and no engaged couple's vision of a wedding is the same, either.
This makes planning and prepping a venue somewhat of a puzzle when all you're providing is an empty room.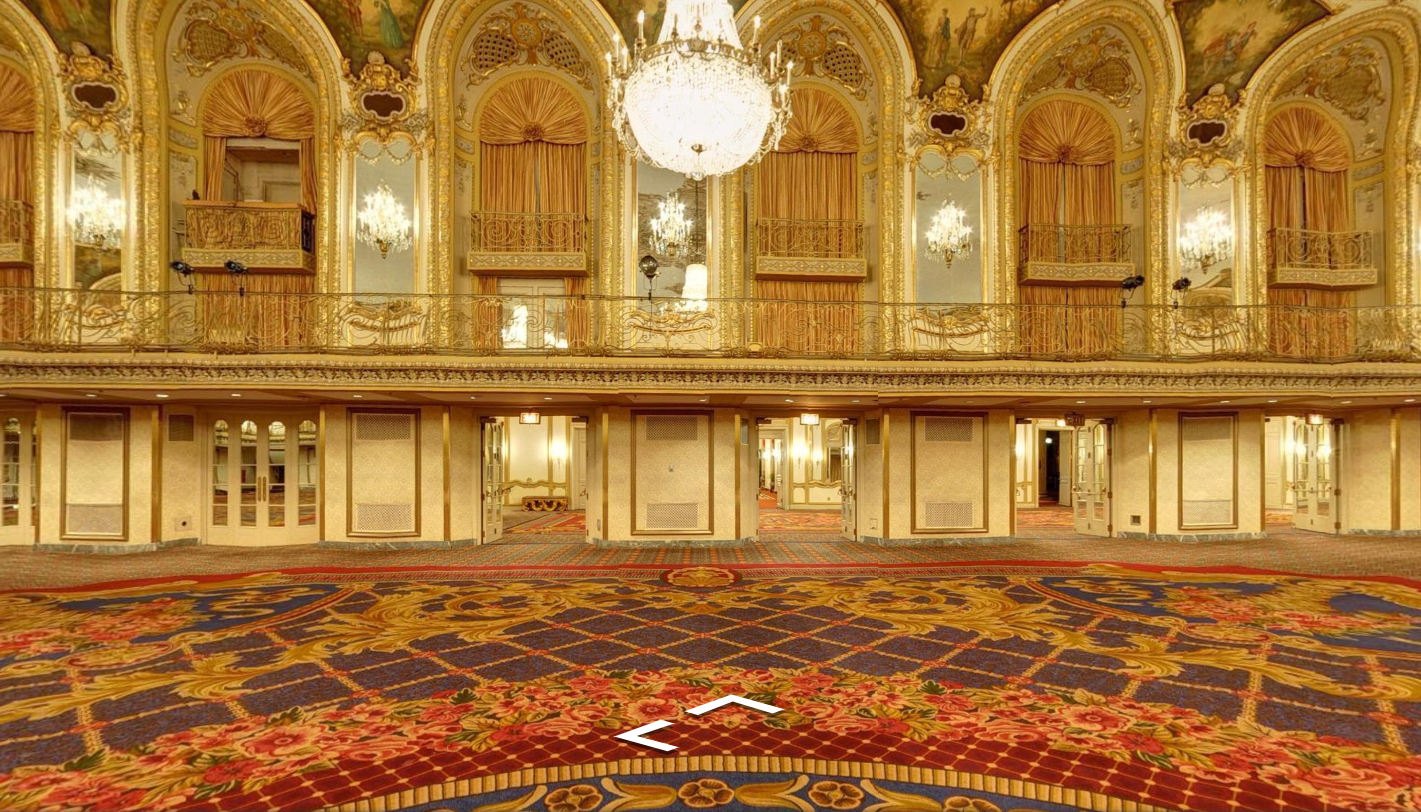 Which is why virtually staging a venue with furnishings and decor can help with the interest and conversion process, all for the average price of $75-300 per image.
Although more common in multifamily, staging has proven to reap outstanding ROI -around 586% to be exact- due to its ability to help prospects visualize themselves in a space.
And who knows, your venue's virtually staged aesthetic might even inspire some wedding ideas!
4. Eliminate competition with drone videography
For those of you that have seen Julianne Hough and her husband Brooks Laich 2017 wedding video, you'll understand when I say that drone videography for wedding venues looks otherworldly.
While we all can appreciate a good wedding video of someone else's big day, there's nothing more exciting than being able to visualize your own.
Queue drone videography.
While Jules and Brooks' entire wedding was filmed with drones, this aerial tool can also be leveraged by venues to showcase the building and grounds with which it is located from unique perspectives.
And if there's one thing we can be sure of in this world, it's that consumers love video content. In fact, statistics show that users spend 88% more time on websites that have videos.
Moreso, a whopping 97% of marketers report that video not only helps consumers understand products or services better, but it also helps increase sales.
Which makes drone videography the perfect wedding venue marketing idea.
So forget basic videography - go above and beyond to outrank local competition.
5. Utilize social media
Brides.com shares a 2018 study stating "the most popular sources brides used to plan their weddings were Pinterest and Instagram, with 87% of those surveyed turning to the former for inspiration, and 76% using the latter."
If that's not enough inspiration, the same study notes that 83% of brides vetted potential vendors through social media pages before hiring them.
So basically, social media is the new wedding venue search engine.
And with digital marketing tools like drone videography and high-quality photography, posting to social will help you stand out as well as provide one more channel for leading consumers back to your website.
Additional social media features for maximum visibility:
Paid advertisements
Encouraging wedding hashtags to increase visibility
Reposting wedding content to your page
Partner with different businesses, such as a wedding dress boutique
Post about local news, events, or unique finds within your community to personalize your business
With dozens of opportunities at hand, this wedding venue marketing idea can transform your brand in 2020.
6. Start a wedding blog
Similar to social media, creating a blog for your venues website can have endless benefits.
Not only do they have the potential to be social media worthy, they can provide in-depth information about your business, make your brand more personable, and even transform you into a thought leader within your industry.
With the right strategy and keywords, a blog can be an excellent source of lead generation.
Relevant wedding venue blog post ideas:
Local (noteworthy) attractions
Current events in the wedding business community
Photos of favorite wedding celebrations that your venue has hosted
Tips on planning or wedding strategies you've seen succeed
Your digital content
Personal stories from happy customers
There are many possibilities within the wedding venue world, but be sure to stray away from empty or commonly covered topics - the main point is to be authentic and helpful.
7. Prioritize testimonials
There are a handful of services in this world that reliability serves as the utmost important characteristic to uphold.
Businesses in the wedding planning industry are definitely one of those.
As a "once in a lifetime" celebration, brides and grooms alike expect the highest of standards for their big day - especially the venue hosting it.
Which is why requesting testimonials from happy customers can provide much needed reassurance that your venue will in fact deliver a dream experience.
If not a five star review on your Google Business listing, asking for a testimonial in person, via direct mail, through surveys, and even through social media can provide positive content to maintain a good reputation.
And, of course, sharing/posting quotes and referrals through all of your platforms will help your venue stand out.
Digital marketing is like the maid of honor you never had
There are so many wedding venue ideas that can be executed entirely online and with the most promising results.
Acquiring a reputation for being a venue that's trustworthy, informative, and helpful is no easy feat. By leveraging these result-driven tools and strategies, you can help catapult your business into the limelight to provide many memorable experiences to come.