Real Estate Staging Tips for the Holidays That Won't Date Your Photos
by LCP360, on Oct 15, 2020 9:00:00 AM
It seems that every year, October sparks the start of an ongoing marathon of holidays. Everything from Halloween and Thanksgiving to Christmas, Hanukkah, and New Year's celebrations seem to be all we can think about it. That only means decorations will inevitably fill your space.
However, while the holiday decorations go up, real estate marketing doesn't stop. Neither does real estate photography.
So what if you need real estate photos for the new year? What if you need to update some photos of a newly renovated amenity? What if you manage an apartment complex that sees beautiful weather year round, but you're just now scheduling photo shoots right in the midst of the holiday season?
Even with beautiful, photo shoot-ready weather, holiday decorations are sure to make an appearance.
There's only one problem: holiday decorations can date your photos. That's why photographers will encourage clients to get their photo shoots done during the summer, not only because the weather is optimal, but you'll avoid holiday decorations in your photos.
We're here to tell you that you can still stage for an upcoming property photo shoot and keep that same holiday-vibe going throughout your property… without dating your photos!
Use warm and inviting staging decor
The holidays don't necessarily mean you have to put out themed decorations. Instead, you can easily play to the theme of the holiday by changing out throw pillows, candles, and other small decor pieces. This allows you to still alter the decorations based on the season, but without having any decorations that are distracting in the photograph.
This also means that you don't have to move pieces of decor out of view if you simply play to the colors and style of the season. As long as you aren't drawing attention to these small details and they blend in with your property's everyday style, you won't date the photos.
Why stage differently during the holiday season?
Staging with subtle seasonal decor during the holidays can have a warm and inviting feeling. For renters specifically, this helps prospects feel comfortable and more at home.
Below are some examples of subtle fall/winter decor that align well with the season but don't draw too much attention away from the space.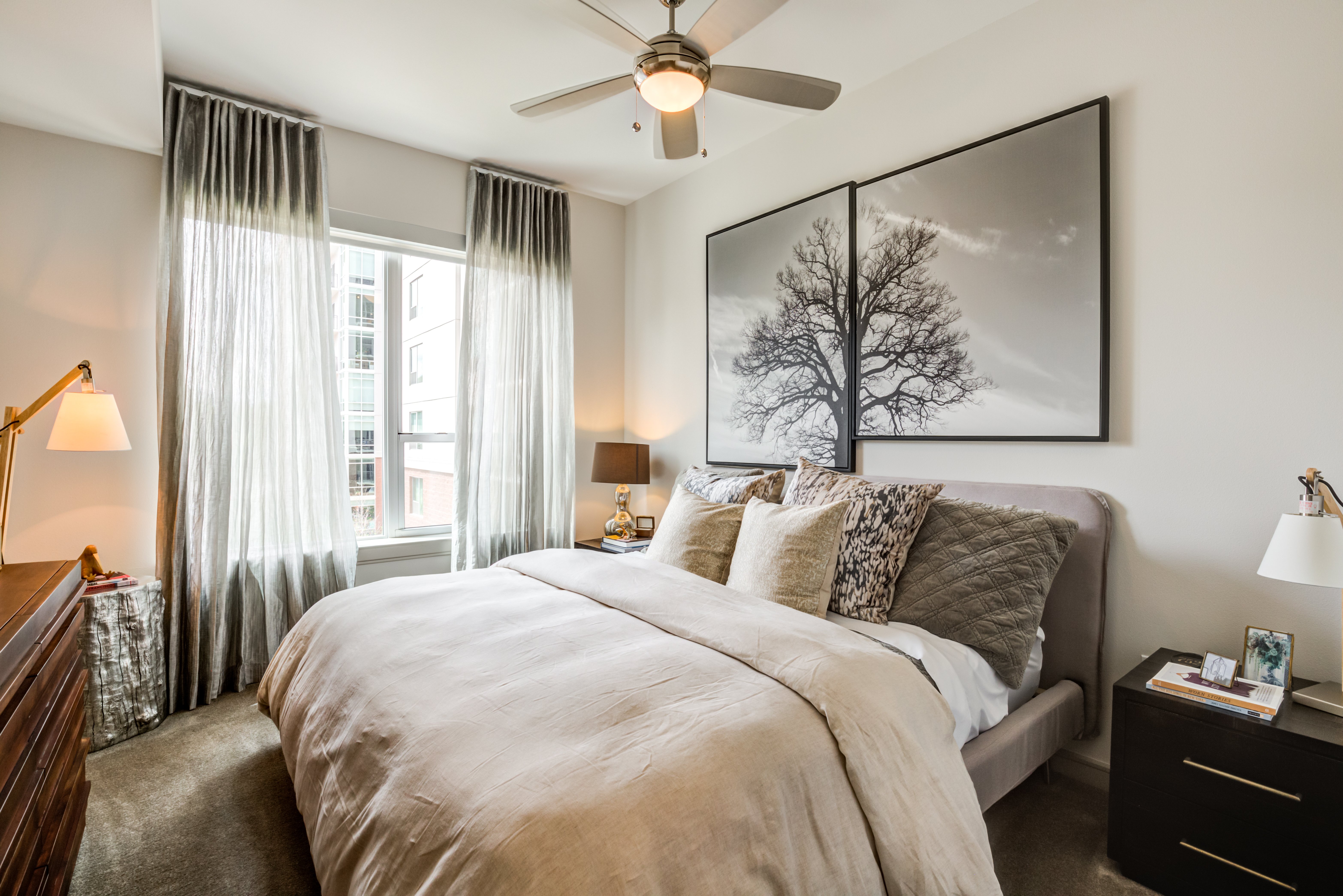 Make your decorations mobile
Easier said than done, but we understand the inevitable is going to happen and you're going to have decorations at your property.
The best piece of advice we can give is to make sure those decorations are mobile! Or at least, easy to move out of the way and out of sight to avoid capturing them in your photos.
Christmas trees are beautiful decorations, however, they take up a lot of floor space you could be showing to prospects. If possible, put the tree on wheels or some sort of mobile contraption so it can be easily moved out of view of a photographer's camera - perhaps into a storage area or temporarily out of view while the photographer captures that space.
Prepare, prepare, prepare
If you're going to have decorations throughout your property, create a game plan. Before your upcoming photo shoot, place any themed decorations into a storage area at least for the couple hours that the photographer is on site.
The good news: some real estate photographers only take a couple hours to capture photo stills and even a virtual tour, so you won't have to worry about hiding your decorations too long.
Looking to schedule a photo shoot of your property during the holidays? Talk with our team today to get started.