6 min read
Panoskin: What is it, How You Use it and Why You Need it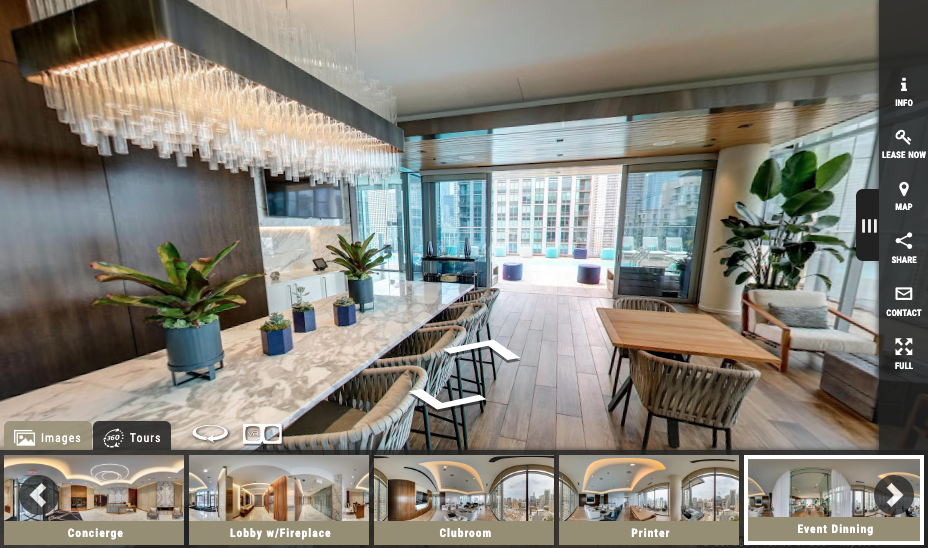 Virtual tours grew exponentially during the pandemic, and they are here to stay. Did you know that real estate listings with a virtual home tour get 87 percent more views? And more than half of U.S. adults who use the internet have taken a virtual tour.
LCP360 has their own custom technology for virtual tours called Panoskin. But what exactly does Panoskin do for your business and is it easy to use? In this article we will explain everything you need to know about Panoskin, how to use it, why you need it and everything it can include for your properties.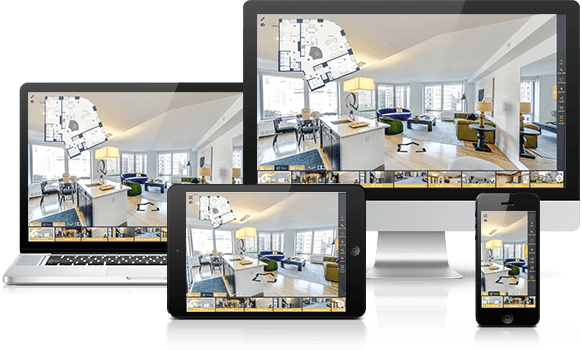 What Exactly Is Panoskin?
Panoskin is LCP360's custom virtual tour software that's designed with advanced capabilities to engage and drive conversions. It's a lightweight viewer that requires no programming or IT experience, all you need is one simple code to embed your virtual tour to your website.
Panoskin allows property managers to have all of their digital content in one place. We can store all of your photos and 360 scenes as well as PDFs, logos and more in your Panoskin account. The platform comes with many package options, but with every package, the first year "hosting" is included.
Hosting includes content storage, maintenance, basic edits and a dedicated training and support team to help you with everything you need along the way. Schedule one-on-one or team training and receive access to a dedicated support email with your Panoskin account.
Is Panoskin only 360 Images?
Simply put, no. While Panoskin is a virtual tour platform, you can also display other types of content including virtual staging, floor plans, site maps, info buttons and more to consolidate all essential information into one dashboard. It can simply just be 360 images stitched together to create an entirely panoramic view of the property, but it can also include multiple other types of digital content. Panoskin is a custom platform that can mold to whatever content your property needs to display to its prospects.

What's Included With Every Tour?
Complete Customization: Panoskin offers nearly unlimited customization features so that your tour aligns perfectly with your brand.
Lead Generation: Embed a Panoskin tour on your site to generate more web leads while providing an engaging experience.
Easy Sharing: With a dedicated shareable link, users can quickly share the tour with friends and family on social media or via email.
Powerful Analytics: Need to drive occupancy? Whether you're filling commercial office space or apartment model units, Panoskin's call-to-action links are designed to convert.
Virtual Meetings: With built-in virtual meeting technology, sales and leasing agents can host remote tours using the same content already present in the Panoskin tour.
Simple Integration: Panoskin is integrated with property systems and leading rental marketing places, including: Apartments.com Zumper, Zillow and more.
Photography: Still photos are included with every "package"
Hot Spots: 5 Hot Spots are included in every tour. Additional may incur a fee but we can add more throughout the tour. Hot Spots are buttons or links directly on the tour that a user can click on and "learn more" about whatever that item is. Properties may use this feature to talk about finishing's or share information about a particular room (like the size of a conference room). The Hot Spots open up a side window directly on the tour that can display text, images or videos.
Video Tab: Whether we create a video for the customer or use one they already have, we can always incorporate a video tab that displays a video directly embedded on the tour.
What Can You Do With a Virtual Tour From Panoskin?
Panoskin not only offers multiple features for the virtual tour itself, but there are a myriad of ways to use that tour for your digital marketing purposes. Between high-quality content and a seamless user experience Panoskin is designed to deliver.
1. Integrate your virtual tour with listing services
Like listing services, Panoskin aims to optimize the apartment search with high-quality content. Not only will this build visibility for you, but it will also increase lead generation.
Currently Panoskin is integrated with:

Zumper
Apartments.com
ApartmentSearch.com
Apartment List
Zillow
2. Host a Guided Tour
Sometimes in-person tours just aren't a possibility, and when COVID-19 happened it was proof that properties need to prepare for the unexpected. But taking away in-person touring also took away the human element. Using Panoskin, properties found that they could tour from a distance and keep that human element for their prospective tenants.
Panoskin virtual tours allow you to host guided tours with a virtual mirroring feature. The team member who is giving the tour can invite users by email or text message and then be able to guide the user through the property. Touring a property from the comfort of your home but also being able to ask questions along the way and get more detailed information is what Panoskin allows for.
Guided tours on Panoskin can host up to 25 individuals with high resolution and smooth navigation, and it can work on any computer or mobile device.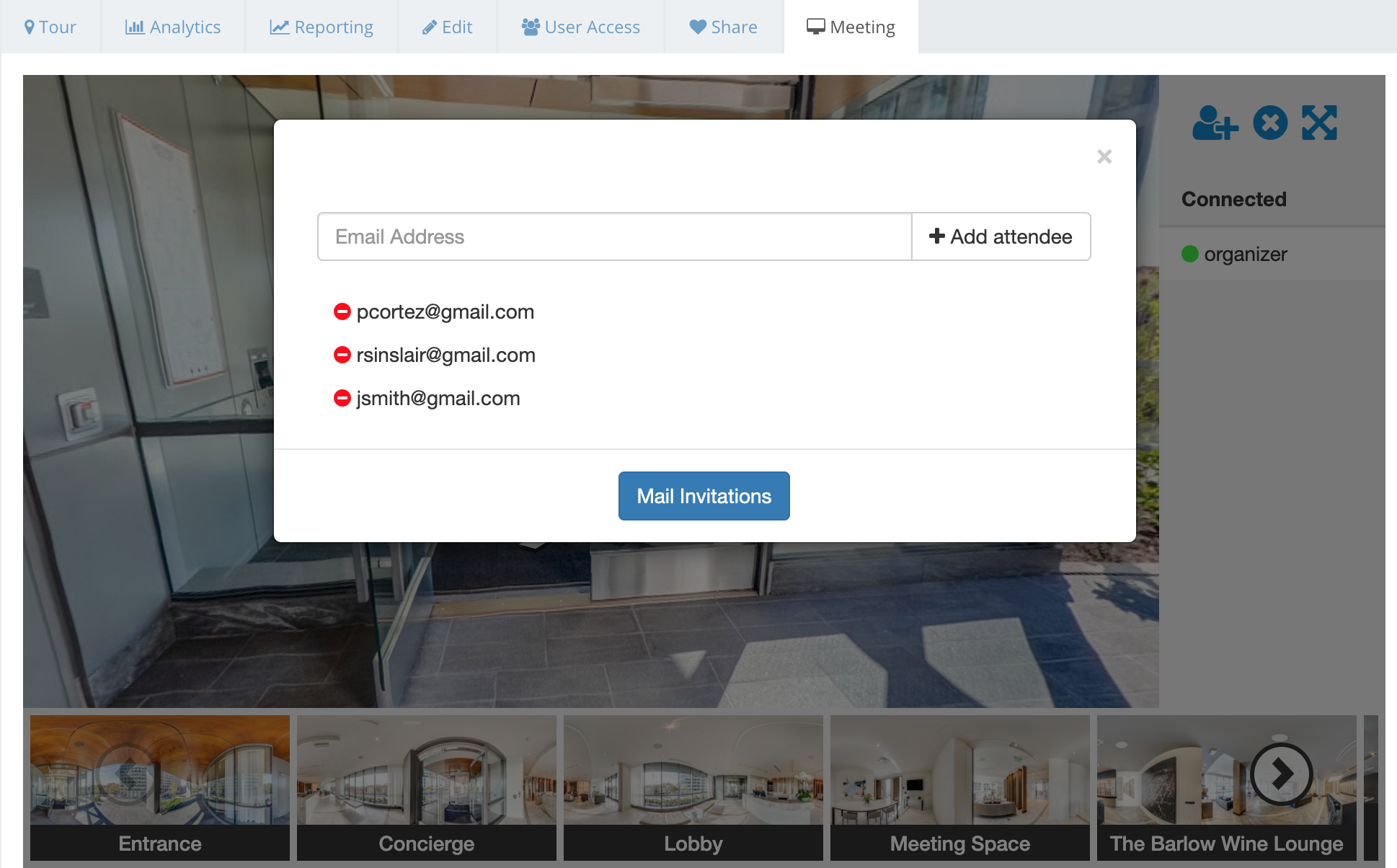 3. Embedding on Website
You can easily embed the tour onto your website. People spend 5-10x longer on websites that have embedded tours and we found that the effectiveness of Panoskin virtual tours on websites increased page views by 31 percent as well as conversions by 20 percent.
You can also embed the tour on your Facebook Page. In order to do so you have the ability to create a Custom Tab after you have hit 2,000 likes. Here are the steps to embed the tour onto Facebook.
4. Add Panoskin to a Chatbot
Chatbots provide 24/7 assistance to prospects and help make the virtual leasing process easier for real estate professionals. If your website is already in use of a chatbot integrating your virtual tour is just one more way to leverage your content.
This is another way to increase visibility and accessibility to your tour. You can easily customize both your chatbot and the way your virtual tour is presented in it.
Custom Add-Ons To Panoskin Virtual Tours
Floor Plan Menu

Add 2D or 3D floor plans for prospects to browse directly on the tour.

Flyer Menu

Add a flyer menu to your tour with PDF documents.

Hot Spots

Ping additional information throughout your tour (info, photos, video, etc.).

Local Neighborhood Map

A local campus map that is generated with every tour.

Local Amenity Map

Show local points of interest and nearby attractions on a detailed map.

Floor Selector

Let prospects select specific floors to walk through on your tour.

Slider Bar

Show before and after comparisons in your scenes. Perfect for virtual staging.

Custom Contact Page

Create an enhanced contact page with additional information.

Custom Pop-Up

Create a custom pop-up modal.

Custom Front Screen

Create a unique front screen with additional information and logos.

What Are The Benefits of Having a Panoskin Virtual Tour?
Panoskin virtual tours can benefit anyone wanting to view your property including: out of state prospects, working individuals, renters with physical obstacles and students. They are able to provide prospects with an extensive view of the property at any given time.
According to Google 67 percent of people want more virtual tours and the numbers are proof that virtual tours are an essential part of digital marketing strategy.
Below are some more stats regarding virtual tours that you need to know about.

Panoskin Virtual Tour Stats
Generally, on average we see a 20 percent increase in website conversions with a virtual tour after a period of at least 90 days.
Gallery pages with our virtual tours embedded on average see a 30 percent uptick in page views.
On average, bounce rate on gallery pages with virtual tours improves by 5 percent.
Session length on gallery pages also increases by nearly 24 percent with a virtual tour because users are spending more time engaging with the tour - a virtual tour pulls the user in, and requires them to navigate through the experience themselves.
On average, website visitors spend three minutes on Panoskin, which means more time spent on the website.
Average bounce rate is 15 percent with an embedded Panoskin tour.
General Virtual Tour Stats
Return on investment for virtual imaging is estimated at less than four weeks.
Virtual tours keep people on your website 5-10X longer.
Real estate listings with a virtual home tour get 87 percent more views.
Two-thirds of people want more virtual tours.
Virtual tours help double interest in a business listing.
Among 18-34 year old's, prospects are 130 percent more likely to book based on a virtual tour.
Google Virtual Tour Stats
Google favors virtual images with a 2:1 preference for thumbnail display on Google.
Google virtual tours influence a 16 percent growth in Google Search and Maps appearances.
There is a 12 percent increase in engagement with Map listings that have a Google virtual tour.
On average, properties with Google tours see a 22 percent increase in total Google searches.
23 percent increase in listing views on Google Search and Google Maps.
30 percent increase in actions taken on the listing.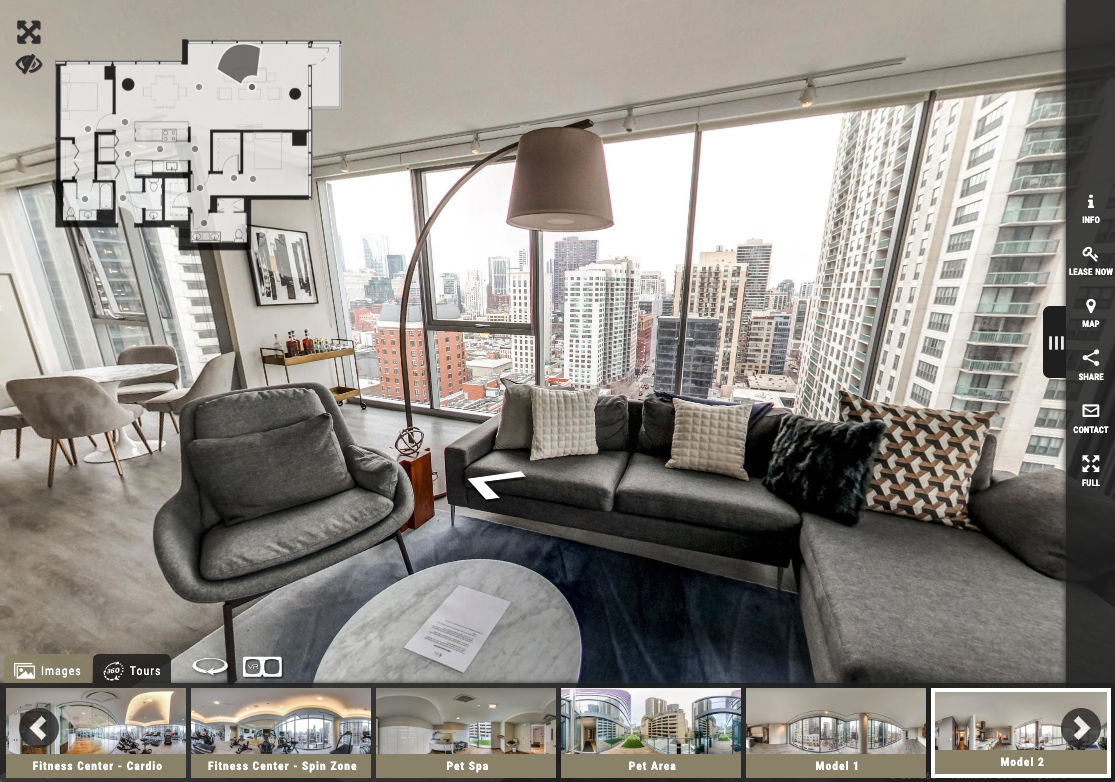 With numbers like these it's easy to understand why a Panoskin virtual tour has a significant impact on a business and their online presence. It's important to cut through the competition of other property's virtual tours by using unique digital content that Panoskin can offer your company to help you stand out from the rest.
LCP360 is a National Digital Marketing company located in Chicago specializing in photography, virtual tours, 3D renderings, video animations, virtual staging, and floor plans. LCP360 offers multifamily, senior living, and many other real estate industries a creative and innovative way to showcase space. By combining the best technologies from web marketing and panoramic photography, LCP360 has developed a best-in-class virtual tour web application that lets renters virtually tour a property from any location.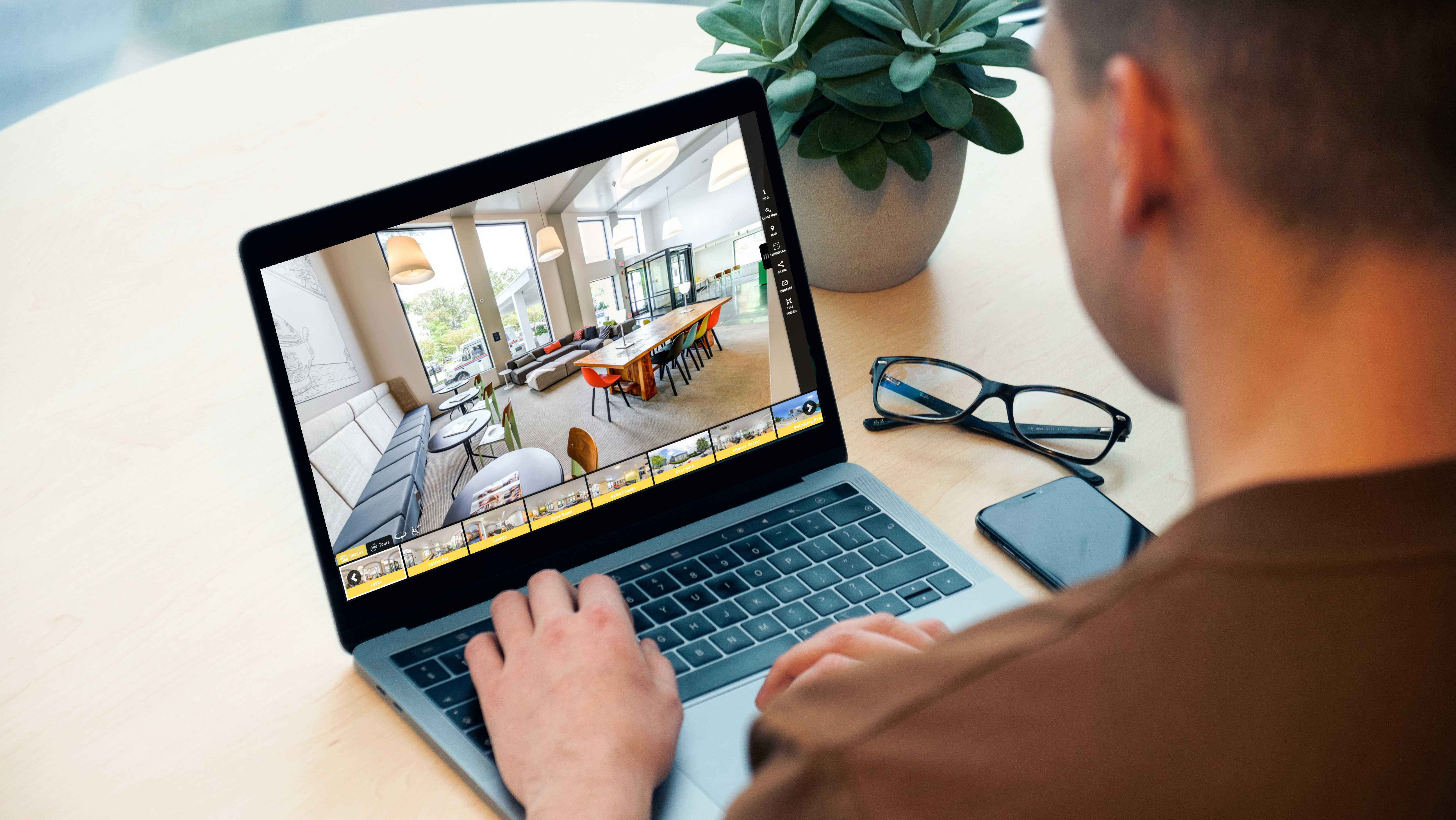 1 min read
LCP360 :

Sep 15, 2020 8:00:00 AM
We're pleased to share that Panoskin virtual tours from LCP360 consistently receive a 98-100% accessibility score from Google Lighthouse. Google...
Read More