Best Practices for Using Your New Virtual Staging Images
by McKenna Hogan, on May 11, 2020 8:30:00 AM
The most beautiful time of the year is currently underway: photography season. Which means it's time to start strategizing around new property photography.
Anyone investing in professional photos probably wants to make sure they're doing the most they can marketing-wise. The best way to do this? Virtual staging services.
Virtual staging in real estate has proved tried and true for yielding results. The kicker: real estate professionals need to know how to leverage them in order to benefit. Below we will cover best practices for using your new virtual staging images.
What are the benefits?
For those that aren't familiar with this technology, virtual staging takes an image of an empty unit and renders furniture and decor into it for a 100% photorealistic result.
Since all that is required are high-quality images and a 3D artist, commissioning a project can be a hassle-free experience.
Additionally, virtual staging can be customizable, which is extremely beneficial to establishing the right tone and style of the image.
Lastly, since in-person tours are no longer a viable option as a result of COVID-19, traditionally staging an apartment isn't really feasible. Virtually staged images are a safe and budget-friendly alternative to transforming your space into a home.
Virtual staging best practices
1. Stage the same unit two different ways
One of the many benefits of virtual staging is that it allows prospects to better understand your space, i.e. dimensions and measurements.
Having one staged image is a great start, but having before and after content including room alternatives can be super informative to renters that may or may not have furniture ready and want to visualize their home in your space.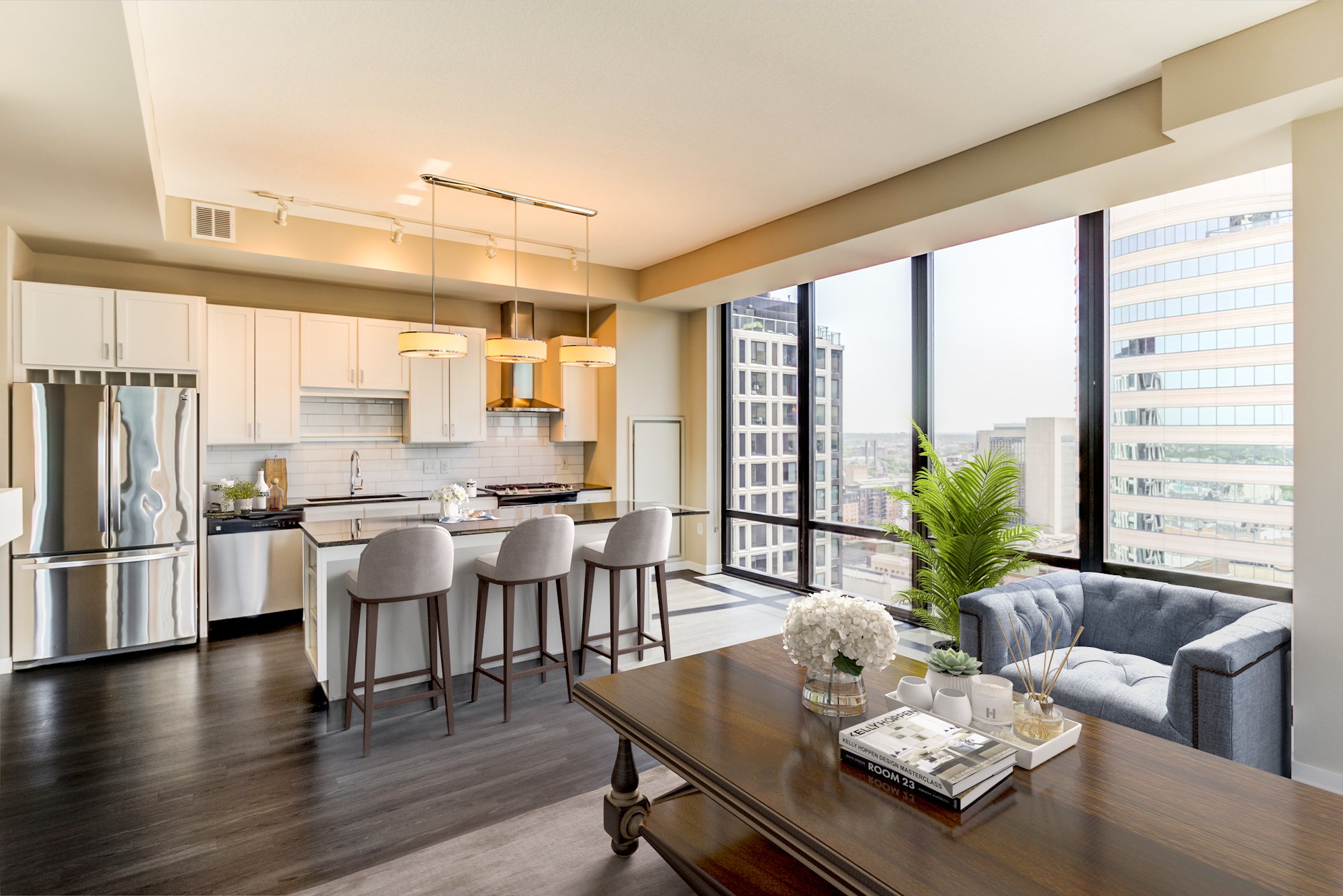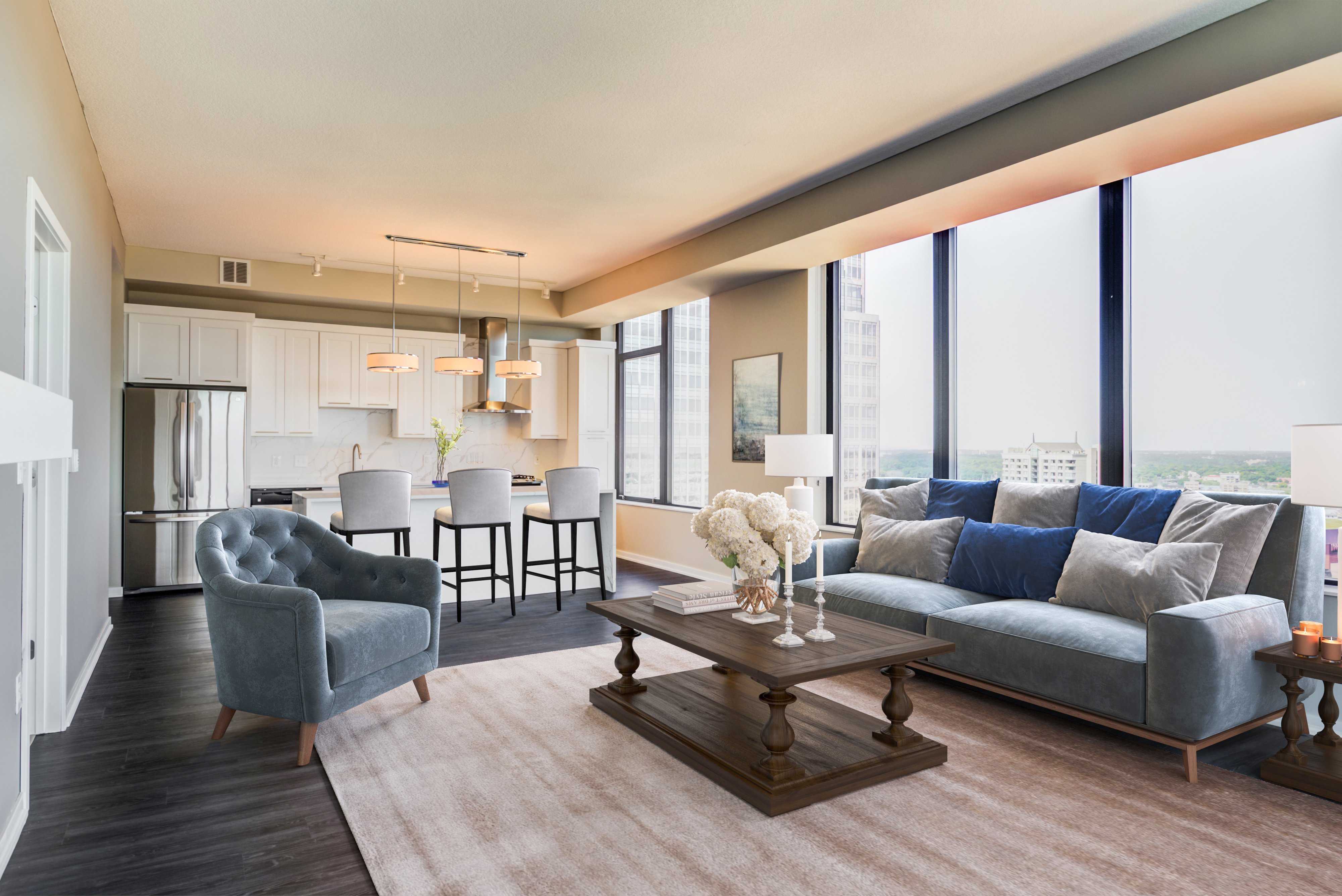 The actual ability to virtually stage the same room more than one way is an excellent opportunity to show prospects your community is multidimensional.
Traditional staging doesn't have the capacity to maneuver this, which means staging a unit right the first time is imperative to leasing success. This concept can become difficult as well as pricey.
By providing more than one staged image, multifamily marketers can appeal to more than one target market, therefore increasing the possibility of converting.
We suggest using before and after shots of all staged images using a slider bar feature that allows prospects to view both empty and full units instantly for full transparency.
2. Put them where they will be seen
Listen, virtual staging statistics show us that not only do staged images help homes sell for more money, but they also rent faster than unstaged properties.
The verdict: let people know you have them.
There are so many ways virtually staged images can be leveraged for maximum results. Below are a handful of mediums that will take your digital presence to the top.
Your portfolio
According to The Wall Street Journal, research looking at behavioral norms within real estate shows that prospects spend up to 60% of their time looking at listing photos, and only 20% of the time reading the listing description.
Our advice? Prioritize the content people are most interested in.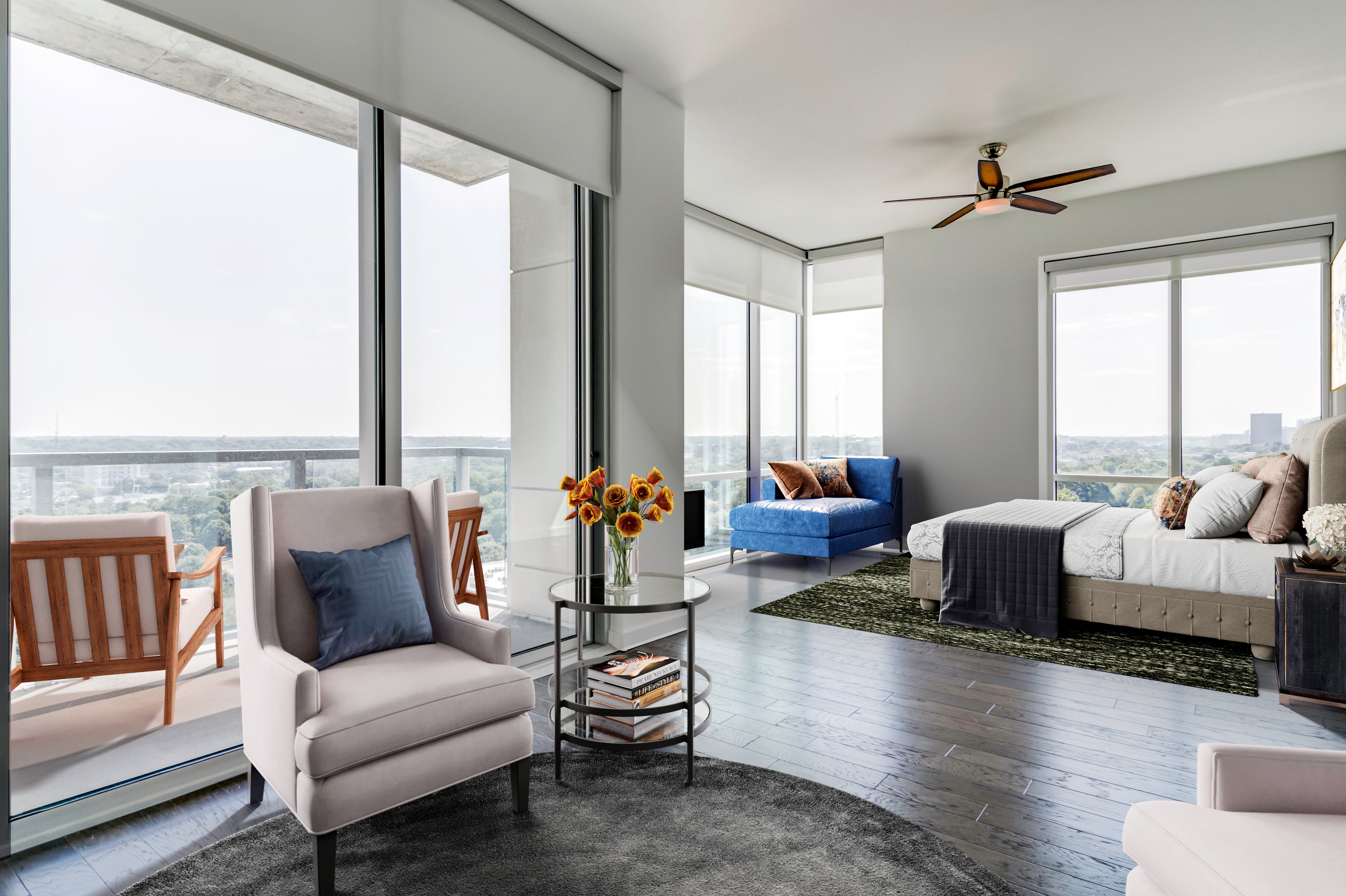 With high-quality photography being an absolute necessity for 2020 real estate marketing, providing a variety of multidimensional images will be the key to standing out against competition.
And since 80% of apartment residents say they visited a property website before renting, your virtually staged images are guaranteed to be sought after.
Your real estate listings
Consider this: most people make a judgement on your property within the first 7-10 seconds of viewing it. And where are prospects most likely to go first for renting inquiries?
That's right, your listing.
Since staging is highly influenced by target renter psychographics, having virtually staged images at the forefront of your listings (business or otherwise) will not only stand out, but it will also attract your ideal renters.
And prospects won't be the only ones drawn to it.
Google's algorithm is always seeking out unique and valuable content, so putting your multifaceted collection of photography on your listing -compared to properties without- will give your ranking a boost, increasingly your opportunity to be seen in the local pack.
Social media
Remember those before and after images we discussed earlier? Well social media will be where they shine.
Visually driven platforms like Instagram and Pinterest are perfect for this type of content. Throwing staged and unstaged images into the mix can incite interest as well as awe.
For maximum visibility, be sure to add highly searched keyword terms to posts such as #ApartmentDecor and #ApartmentDesign.
3. Make updates as needed
Unfortunately, digital content isn't a one and done kind of deal.
Due to advancements in technology as well as demographic and psychographic changes, your content will eventually need an upgrade.
Luckily, with virtual staging, the shelf life is considerably longer than other types of content.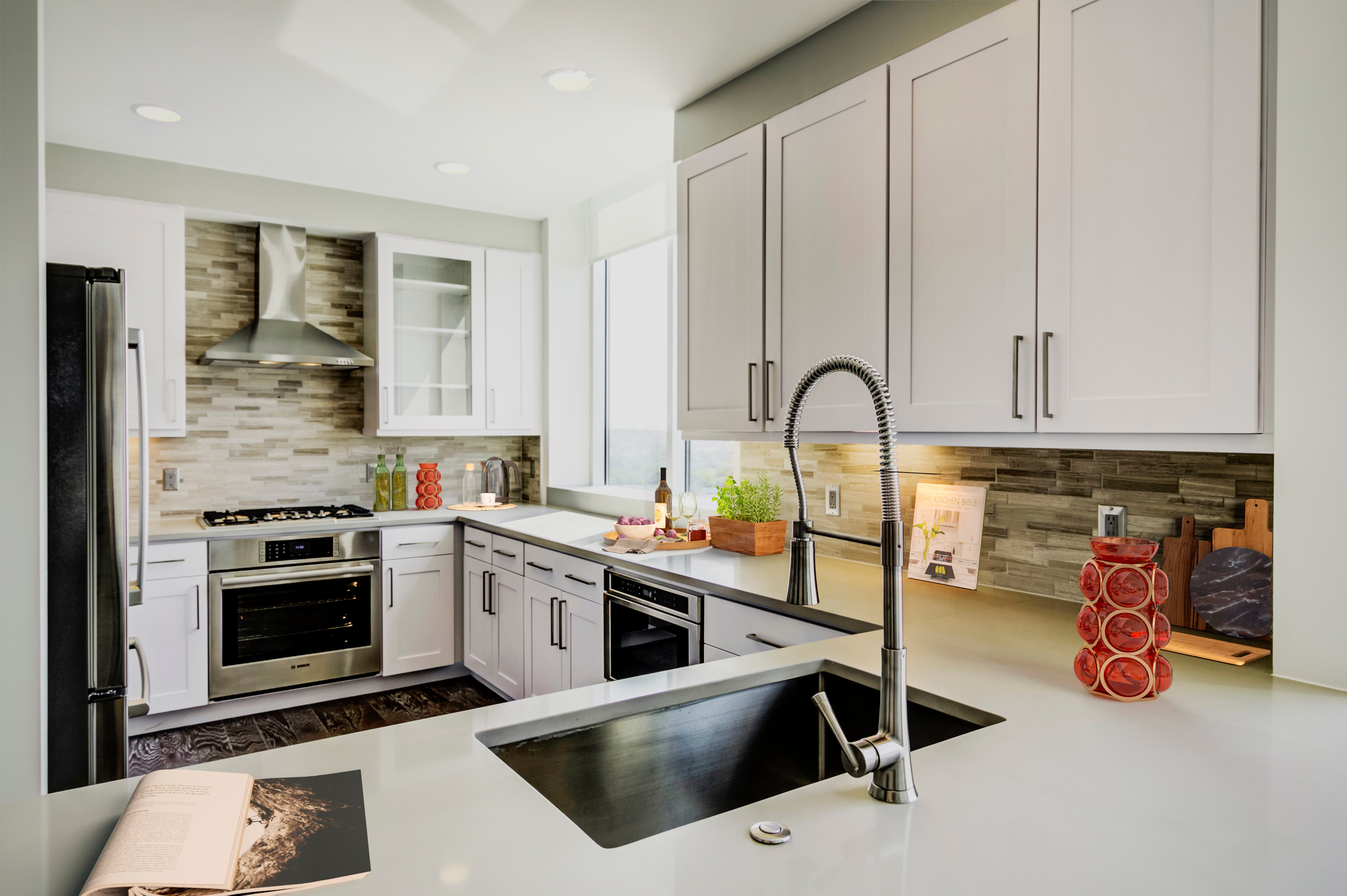 Because the actual unit in the image will most likely stay the same unless any renovations are done, the only thing you'll want to keep track of are behavioral changes within your target market and evolving furniture styles.
So if you feel like you've exhausted your virtual staging or you're noticing it's not as effective as you intended, commissioning an upgrade will be a quick and budget friendly solution.
Upgrades can be as small as changing the color of a kitchen table to actually updating the units to resemble your renovations—it will bode in your favor to make necessary adjustments when needed to reap full results of your virtually staged images.
And once you've received your brand new images, you can share them all over again for continued visibility.
Make the most out of your new virtually staged images
As we discussed, virtual staging is extremely beneficial as well as feasible. Knowing how to leverage your new digital content will be the difference between you and local competition.
For more information on virtual staging services, click here.