New Product Release: TourBuilder Connect (Meeting 2.0 Platform)
by Klaudia Marzec, on Apr 22, 2022 9:00:00 AM
We love to hear what new features our clients would like to see, and our newest update is one that was highly requested. We are super excited to announce the release of TourBuilder Connect, our Meeting 2.0 platform.
TourBuilder Connect is a major update to our previous meeting platform that allowed our clients to take their prospects on guided virtual meetings.
This new version not only received a complete redesign but also includes audio and video feeds for the presenter and the attendee. On top of that, you can now access the meeting from the dashboard and from the tour itself.
It's time to retire Facetime and Zoom virtual tours, take control of your virtual leasing strategy and show your community in the best light and in the highest video quality.
With this update, there is no need for any other systems or devices when inviting your prospects on a video tour. Just go to your LCP virtual tour, and you're all set to take someone on a virtual meeting.
With TourBuilder Connect, you have 2 different options for accessing the meeting platform, either from the dashboard the way it was in the past or from the virtual tour itself which is a new addition.
When accessing the meeting platform from the dashboard, follow these steps:
Login to the TourBuilder Insights dashboard
Navigate to My Tours from the left-side menu
Select the property you want to show
Go to the Meeting tab on the top
Once you're in the meeting tab, follow these 5 simple steps:
Click on Start Meeting
Select the person with the + icon
Choose how you would like to send the invitation (SMS, Email, or direct URL)
Type in your attendee's contact info (phone number or email address)
Click + send SMS/ + send Email
The second option allows you to start a virtual meeting with anyone directly from your virtual tour. With the meeting available on the tour, your prospects are able to take their family or friends on a virtual tour of your community at any time.
When you have your LCP tour embedded on your website, you are opening up the meeting platform for any of your prospects to use. This way, TourBuilder Connect works in your favor by bringing your community in front of more people without you doing any work!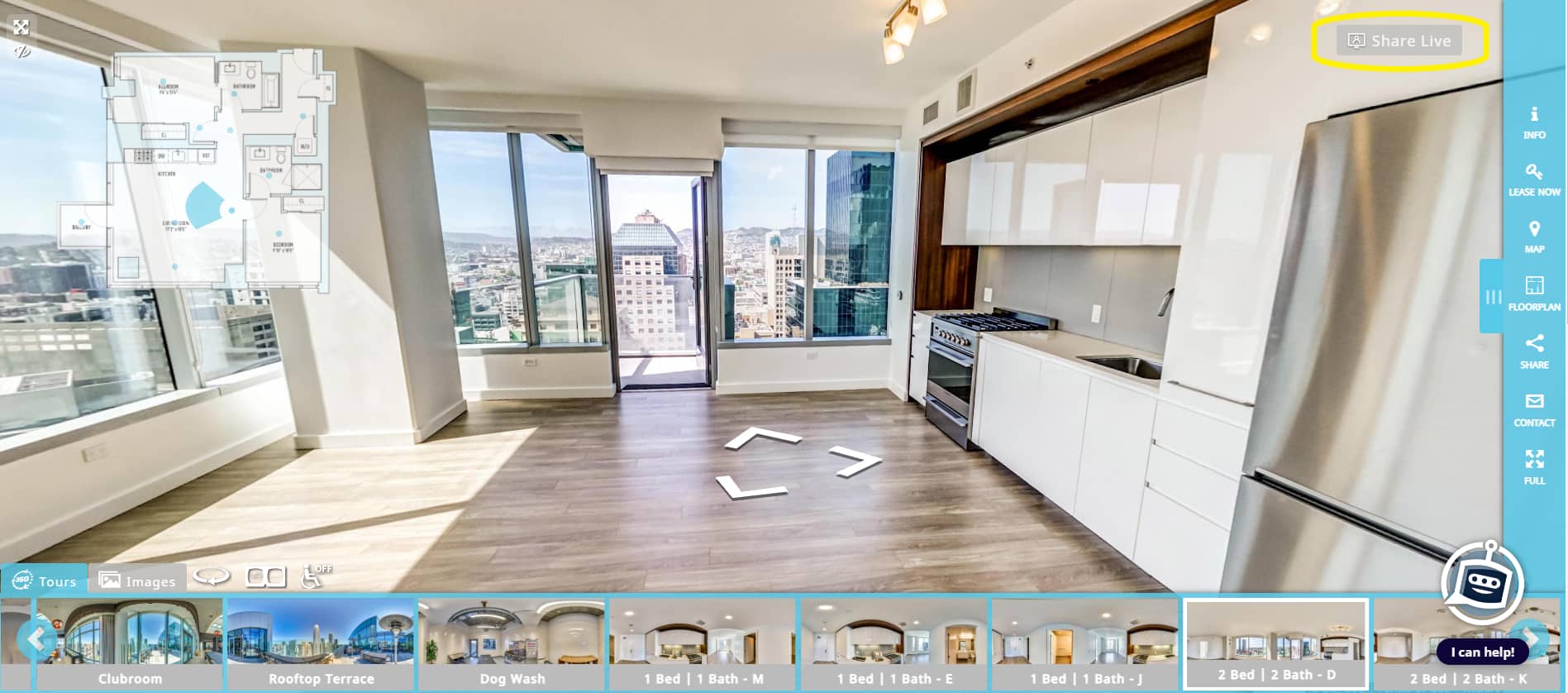 To start a meeting from the tour, follow the steps below:
Click on the Meet Now button in the upper-right corner of the tour
Then, click Get Started
Fill out your info and click Start Meeting
Once you are on the meeting platform, you would follow the same steps to invite someone to a virtual meeting as you would on the dashboard.
The leasing experience has changed over the last few years with virtual leasing becoming a must-have for prospects. With that shift, this meeting platform becomes a powerful tool for closing leases sight unseen.
TourBuilder Connect is also great to use for prospects calling in from out of state or out of town who can't make it to your location in person. You can bring the community to them virtually and still answer all of their questions as you would during an in-person tour.
TourBuilder Connect is already included with all LCP custom tours so using it to your advantage is a no-brainer. To learn more about how TourBuilder Connect can benefit you, reach out to our Client Success team at clientcare@lcpmedia.com.
LCP Media (Lights, Camera, Pixel) is a national visual media and technology
company located in Chicago. We provide a full menu of services including virtual
tours, professional and drone photography, 3D renderings, video animations,
virtual staging, site maps and floor plans. LCP Media is an innovative leader in
creating unforgettable virtual real estate experiences by combining unrivaled
class technology solutions with our unparalleled customer service.
Simply put, we deliver an unreal experience, start to finish. So real, it's Unreal!
For more information, please visit LCPMedia.com.