How TourBuilder Connect benefits your leasing strategy!
by Klaudia Marzec, on May 12, 2022 9:00:00 AM
TourBuilder Connect is an on-demand virtual tour conference call solution. Each TourBuilder virtual tour comes withTourBuilder Connect and can be accessed at all times. The platform is available on both the dashboard and from the front end of the virtual tour itself.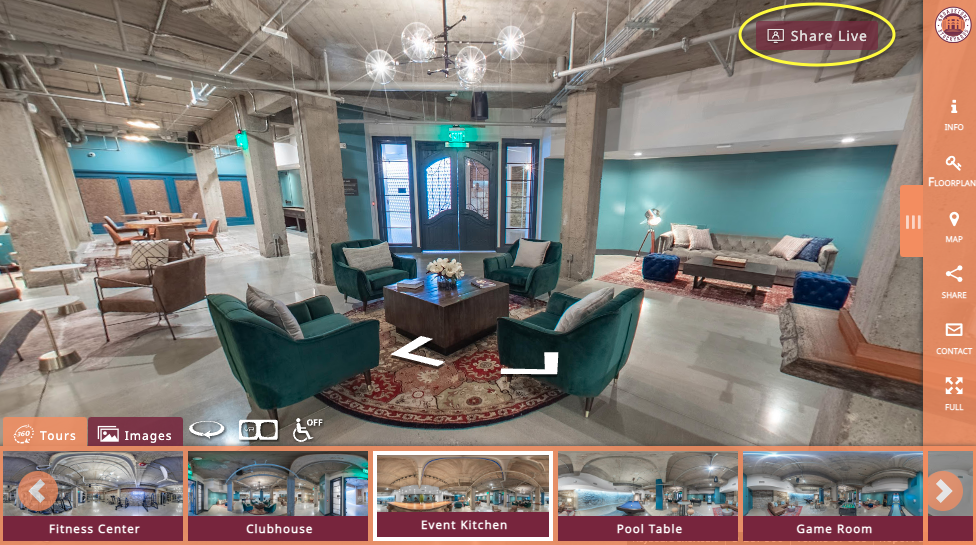 TourBuilder Connect is a great leasing tool to save time for the on-site team members and to help filter their potential leads. The platform is also very convenient for both the presenter and the attendee as it does not require any downloads or plugins.
No more FaceTime tours
Say goodbye to walking around the building, hoping you won't lose the wifi signal as you go down the hallway or take the elevator. With TourBuilder Connect you can stay at your desk and virtually show your community. Not only are you comfortably seated at your workspace, but you are also showing your community shot in the best light, that's a win-win!
With a FaceTime tour, you don't know what to expect. Maybe there's construction in one of your amenities at the moment, or it's trash day and there are garbage bags out in the hallway. There is only so much you can control, and with a Facetime tour, you are relying on your community to look its best at all times.
Your LCP virtual tour was shot on a scheduled day when you had time to prep all of your amenities and clear them of any residents. Your model unit was nicely staged, and your outdoor landscaping was just done. That is what the tour captured, your property in the best shape possible.
Giving a prospect a virtual tour through TourBuilder Connect versus a FaceTime tour gives you the benefit of showing all of the great photography that was shot and made to look great. This way, you can avoid anything unexpected and easily walk them through the spaces as you comfortably sit at your desk.
Connect with out-of-state and out-of-town prospects
Not everyone will be able to make it for an in-person tour, so offering a virtual option in today's world is a must. If a prospect is calling from out-of-state or out-of-town and is not ready to make a trip to see the community in person just yet, offer a guided virtual tour. This way you are still answering their questions and also getting them excited about coming out in person.
Follow up with individuals who visited your community in the past
Your prospects will likely be looking at multiple communities before they decide to lease. You can utilize TourBuilder Connect to stay top-of-mind for those people and give them a quick refresher on why they were looking at your community in the first place.
Did the prospect cancel an on-site tour? Offer a virtual one instead
Life is unexpected, and things come up all the time. If your potential prospect cancels an in-person tour, don't assume they are no longer interested. Take that as an opportunity to offer them a quicker and more convenient way to tour the space, virtually.
A prospect might have canceled because they simply don't have the time to dedicate an hour or so to travel and tour the community. A guided virtual tour through TourBuilder Connect can be anywhere from 10 minutes to 30 minutes, it all depends on how long your prospect wants to engage.
The other huge plus is that your prospect can join on the go or from the comfort of their couch. They don't have to download any apps or plugins and can conveniently join from their phone or tablet.
Imagine a single mom who works during the day and takes care of her 2 kids from the moment she leaves work. We can imagine how busy her life is. Think about how much easier you can make it for her to lease a new apartment by offering a quick and effortless way for her to see the space.
Inviting her to a guided virtual tour takes a few seconds and she can be on the call with you in minutes. She can join on her schedule, during a lunch break at work or when her kids are having screen time, and she can conveniently join from her phone while not having to leave her house.
Close more leases sight-unseen
In the beginning stages of an apartment search, many people will not see a community in person. They will most likely start their search online. Some will not schedule an in-person tour at all if they have the option of a virtual tour.
Take full advantage of the TourBuilder Connect platform to score more leases sight-unseen and give your prospects what they are looking for, a virtual experience that doesn't require them to even leave their house.
To learn more about TourBuilder Connect reach out to our Client Care Team at clientcare@LCPMedia.com
LCP Media (Lights, Camera, Pixel) is a national visual media and technology
company located in Chicago. We provide a full menu of services including virtual
tours, professional and drone photography, 3D renderings, video animations,
virtual staging, site maps and floor plans. LCP Media is an innovative leader in
creating unforgettable virtual real estate experiences by combining unrivaled
class technology solutions with our unparalleled customer service.
Simply put, we deliver an unreal experience, start to finish. So real, it's Unreal!
For more information, please visit LCPMedia.com.