Meet Jennifer, Director of Operations at LCP360
by Caitlin Golden, on Dec 17, 2021 9:00:00 AM
As the Director of Operations, Jennifer Alesse always has a hand in client projects from scheduling photo shoots to communicating with our photographers. She is always ready to take on our clients' questions or troubleshoot problems to find the best resolution to keep the team running smoothly. As a director though, she wears many other hats and has watched and helped the company grow into the business it is today.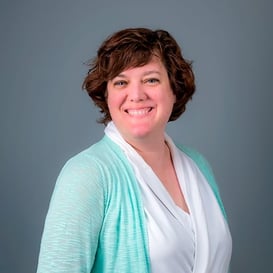 We sat down with Jennifer to really dive into her role, how she got into this industry and who she is outside of LCP360.
Q: How long have you been with LCP360 and where were you before your time here?
A: I started with LCP360 back in February 2017, so I've been here almost 5 years. Before joining LCP360, I was working for a home health agency in their billing department doing benefit checks and authorizations. If you have ever been on hold with an insurance company, imagine doing that as a full time job. Prior to that, I worked in numerous customer service positions throughout my life and really wanted to return to a similar role. When the opportunity to work at LCP360 came along, I was eager to learn something new and get back to working directly with clients.
Q: How did you get into the operations side of the company?
A: Originally I was hired to join the Operations Team and then the business started showing a lot more growth. I already had years of customer experience and I am a very organized and detailed-oriented person, so it was the perfect fit to help that department. The company started growing even more and we got to the point where we needed more help. Now, I am directing other project coordinators and working together as a team. I like to work with the clients and help do the scheduling, so I still do everything anyone else on the operations team does.
Q: What is a typical day like for you?
A: My days start with answering emails, then I move on to scheduling shoots or rescheduling anything that might need to be moved due to weather or unforeseen circumstances. I also deliver client photos and virtual tours along with the help from my team. I assign new projects to the team, answer questions from internal staff, assist with troubleshooting on projects and work with the management team to make sure all the departments are working efficiently together. Sometimes I will be on calls with new clients just to help them understand how we schedule and what to expect during the process.
Q: It sounds like you play a role in a lot of different areas for the business. What is the process for you when working with clients?
A: I always like to communicate through emails, even if we have a call because I like to have things written down. I can't just rely on my memory, so having everything in writing allows me to assist clients without making mistakes in what was originally discussed. I enjoy hosting calls with new clients as well to give them a chance to ask questions and go over anything they might not fully understand, before the process. Virtual tours are sometimes confused with videos so going over what to expect during the shoot is always helpful. I also believe it is incredibly important to respond quickly to clients. No one likes to be left wondering if their email went unnoticed. I always like to make sure to respond to all my emails by the end of the day, even if I don't have the answer just yet.
Q: You also scheduled the photoshoots with our photographers, what's that process like?
A: Most of our photographers have been working with us for years and many will just share their calendars with us so when we get new orders for photos, all we do is let the photographer know what we are shooting and where it is located. We use their calendar to coordinate a date with the client, because it just makes it easier for everyone involved. Our photographers know they can always call if they have any questions about what they should shoot. For any photographers that have not shared their calendar, they will usually let us know 5 or 6 dates that are coming up that can be used for scheduling. We are always looking for new talent so we ask them to send us a list of their equipment and samples of their work to make sure they can meet our expectations and capture great photos for our clients.
Q: Do you have a favorite project that you worked on, or a difficult project that turned out really great that you are particularly proud of?
A: I always feel proud whenever I work on a bulk order with a client. There are usually numerous locations to coordinate and it takes a lot of organizing. It is especially satisfying when the client is happy and feels like it was an easy process for them.
Q: What is your favorite part of working in Operations?
A: I love working with our clients and making the process as easy as possible for them. I get such a great feeling whenever I receive a comment about how much they love their photos or tour. I know I didn't shoot or edit it, but I helped to make it happen.
Q: Do you have a favorite LCP memory?
A: All my favorite LCP memories are of socializing with the teams, whether it is at a holiday party or during Friday stand up game time. We would play Family Feud or do a relay race, trivia or other team building activity. These are some of my favorite memories, I couldn't pick just one!
Q: What do you like to do when you aren't working?
A: When I am not working, I am usually spending time with my husband and my dog, Yumi, camping in our retro trailer. We bought our camper three years ago and our goal is to camp in the 48 states. We already have 15 states under our tires. I also enjoy hiking and biking, reading and sitting in the back yard with a nice roaring campfire.
Q: What is the biggest challenge you face from your job?
A: My biggest challenge would be staying organized and paying attention to what I am doing when there is a lot going on around me. Getting interrupted or distracted causes mistakes which can then turn into issues that frustrate our clients, our photographers or our teams.
Q: What advice would you give for the people already on your team or for someone who wants to work in this industry/department?
A: You have to be a bit of a perfectionist when it comes to working in operations, but you also can't take criticism too harshly. Learn from your mistakes but don't let mistakes get you down. Every day is a new day to try again.
Q: In your opinion, what is the best part about working at LCP360?
A: I think the best part about working here is watching it grow and change. I am still doing the same job I started in the beginning, but it has evolved along with the company. It is always expanding and I love learning and facing new challenges. It's exhilarating to see what the future could bring.
LCP360 is a National Digital Marketing company located in Chicago specializing in photography, virtual tours, 3D renderings, video animations, virtual staging and floor plans. LCP360 offers multifamily, seniors living and many other real estate industries a creative and innovative way to showcase space. By combining the best technologies from web marketing and panoramic photography, LCP360 has developed a best-in-class virtual tour web application that lets renters virtually tour a property from any location.