How to Build Your Real Estate Social Media Content Calendar
by McKenna Hogan, on Jun 14, 2021 8:30:00 AM
Some might argue that social media in real estate is currently one of the most effective ways to market to renters, thanks to visually inclined and tech savvy consumers.
In fact, 54% of social browsers use social media to research products, according to the Global Web Index, so it's definitely worth the effort to keep up with a social media calendar.
Since social media can be insanely effective - and easy once you get the hang of it - below we'll discuss the best and most effective ways to build your real estate social media calendar to gain visibility and generate qualified leads.
First off, what social media should you be using?
Real estate businesses have the luxury of being very popular on a wide range of social media platforms. Because of this, there are many options when it comes to deciding where to post.
Below are a few of the most common social media channels real estate professionals are utilizing to increase visibility and generate leads.
Facebook
Facebook for businesses should be a must, especially for real estate.
Between their listing services, liking and sharing features, and most importantly, the ability to find valuable information and open communication makes Facebook an easy and effective way to increase reach as well as visibility.
So, if you're going to choose just one social media platform, Facebook should be it.
Twitter
Before Twitter was flooded with memes and various types of entertainment, it was mainly used to share important information by means of posting, liking, and sharing.
Not that real estate professionals can't leverage humor or entertainment via their Twitter channel, but it is especially useful for sharing relevant information about the community, business, economy and much more.
Providing content for followers can be as easy as a simple retweet and bam, it's now information you can leverage as a second party resource.
Instagram
It goes without saying that real estate as an industry is extremely visually based—which makes Instagram perfect for boosting interest in potential prospects.
Instagram provides features to increase engagement with a company using stories or a LinkTree in your bio. The shopping services feature provides a quick and easy way of gaining more information almost instantly and it's trackable.
LinkedIn
Pretty much every business should have a LinkedIn, and that includes real estate.
Currently our world deems the validity of many things, including businesses, through the existence of social media—especially LinkedIn.
If you want to be found easily, provide important information quickly, or leverage a channel that increases your professional image, you should create a LinkedIn profile ASAP.
Not to mention, it helps during the hiring process.
Google My Business listings
Did you know that GMB listings have a posting option that acts a lot like regular social media?
If your company has an update, wants to add a product/service, has an event or just wants to put information out there, posting to your business listing is an easy and effective way to increase visibility in search results.
Most importantly, it tells consumers exactly what you offer.
YouTube
YouTube is currently the second largest search engine globally, right behind Google. So if you're not using it, you're seriously missing out on potential business opportunities.
YouTube remains so strong in real estate marketing because it's engaging, and allows a lot of information to be delivered in a short period of time.
The important part, however, is making sure you have the content to keep up with it.
What should you post?
Real estate businesses have plenty of content to work with that will help generate leads as well as build visibility.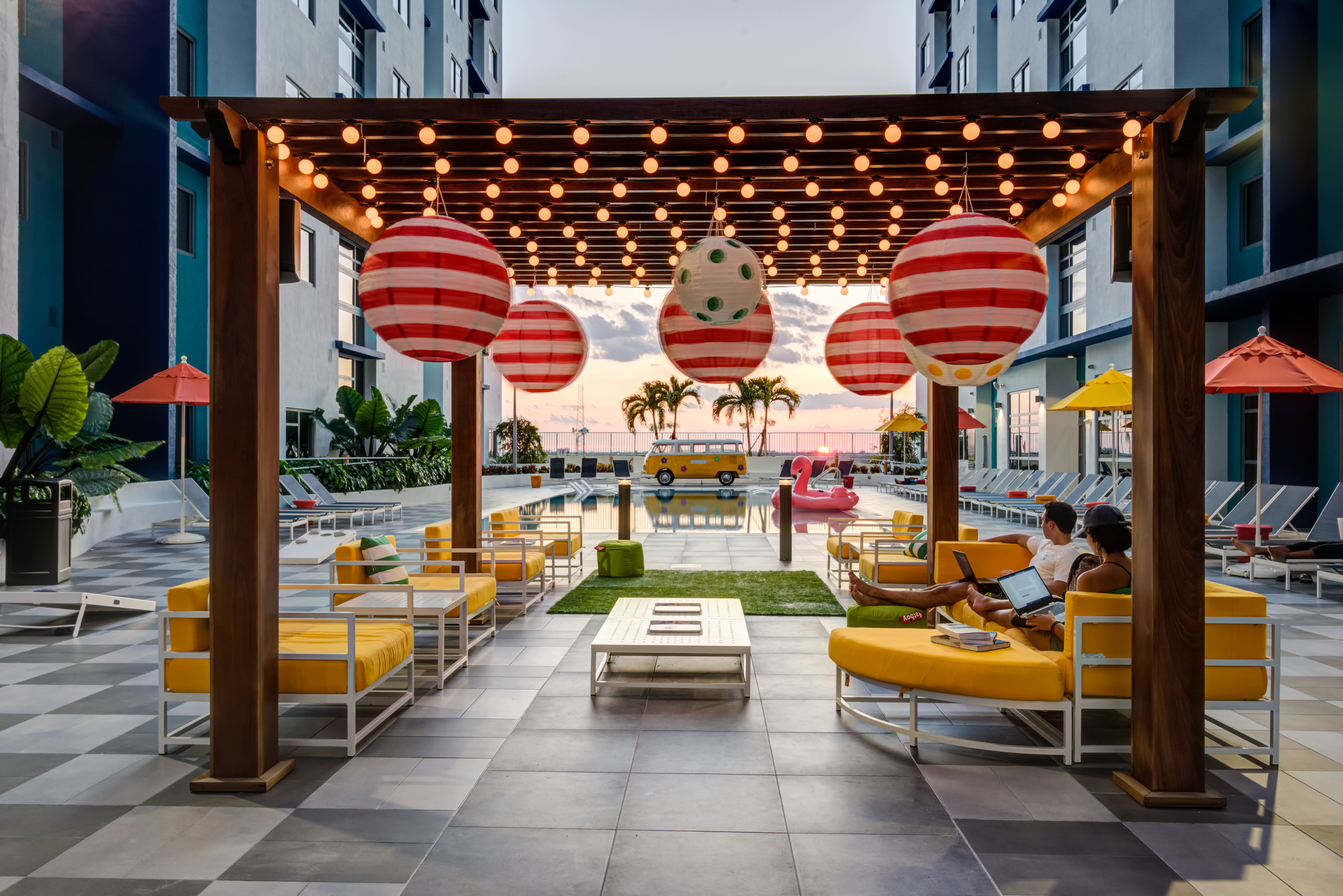 Take a look below at some tried and true content that renters love to see.
Campaigns
Testimonials
Local news and updates
Pet content
Giveaways or events
National Holiday posts
Repurposed content
Blog posts
Digital content
In addition to these types of content, posting pictures of the people in your community can allow renters to feel more included, and shows potential prospects that you're engaging and active within the community.
When should you post?
Unsurprisingly, experts have this down to a T.
In fact, there's literally a guide that lays out what day of the week and what time you should post based on user engagement for each social media platform.
Take a look at the graphic below for the best times to post to social.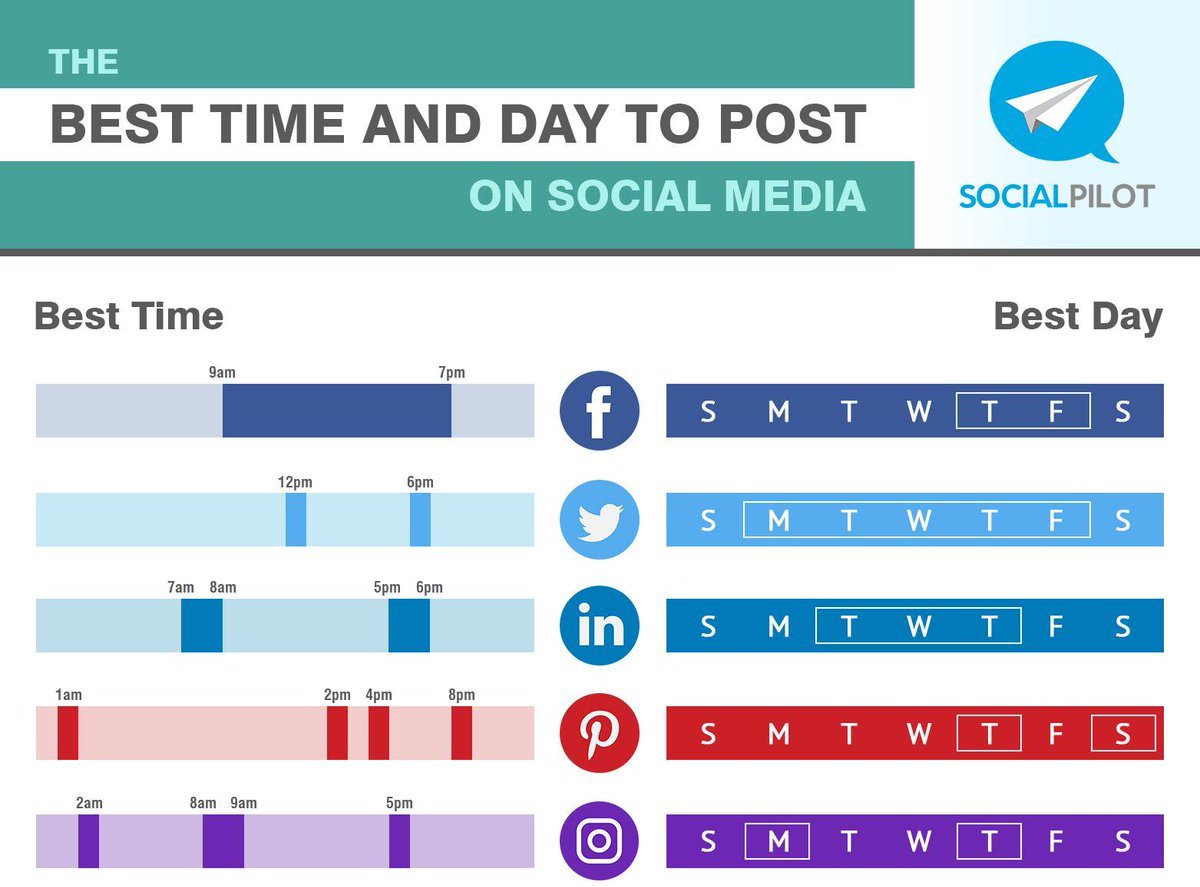 How should you engage?
There's been a lot of commotion on social media platforms like Twitter where professional businesses are acting unprofessional online to boost interest and gain "clout."
For industries such as fast food or video games, this may be an excellent marketing tactic to gain visibility. However, in real estate, that probably won't go over well.
The best way to play it safe is to be formal, yet educational when engaging with consumers online. Renting is not a cheap purchase, and renters want to feel safe and informed before making any big decisions.
By keeping it casual, engaging, and informational, you'll be able to relate to your audience in a positive way.
Be sure to also follow related accounts on a regular basis to engage as well as repost relevant information for your renters.
Useful tools for curating social media content
Need easy-to-use services to maximize your social content? We've got some for you.
Take a look below for some excellent (and free) tools to help curate functional content.
Canva
Canva is a user-friendly resource for creating content such as social media posts, motion graphics, blog banners, and much more.
If you're in charge of your real estate social media calendar, leveraging this platform will be extremely beneficial for the quality of your content, as well as shortening the amount of time it takes to create social media graphics.
Unsplash
It's always useful to have a free stock image generator on hand for creating content—and Unsplash consistently delivers quality images.
If you can't seem to find the appropriate images for a post, or just want to mix things up, go to Unsplash for a limitless collection of high-quality photographs, free of charge.
Pinterest
Also another great resource for images and creative ideas, Pinterest is an excellent resource for creating mood boards as well as inspiring creative projects.
Pinterest is another great platform to post content, too.
Mockup generators
Everyone loves a good Mockup—not to mention, they look very sharp when done well.
Mix up your content and show off your skills with a good mockup generator to personalize your images in an easy, but appealing way.
Gif creators
Just like videos, people love GIFs.
They are a great way to mix up your content and show more than just a still image, but less than an entire video. And they're extremely easy to create if you have the content!
Social media prevails
Once you get the hang of it, social media can be an easy, result-driven way to boost interest, engagement and visibility. By strategizing an optimized social media content calendar for your real estate business, you'll be able to seamlessly generate leads and quickly provide information to maximize results.
LCP360 is a National Digital Marketing company located in Chicago specializing in photography, virtual tours, 3D renderings, video animations, virtual staging and floor plans. LCP360 offers multifamily, senior living and many other real estate industries a creative and innovative way to showcase space. By combining the best technologies from web marketing and panoramic photography, LCP360 has developed a best-in-class virtual tour web application that lets renters virtually tour a property from any location.