5 Benefits of Drone Videography for Multifamily
by McKenna Hogan, on Dec 13, 2019 8:30:00 AM
The National Association of Realtors states that 80% of homeowners preferred to work with an agent who includes real estate aerial photography and walking tours with their listings.
In other words, consumers want drones.
Drones have been a hot topic ever since their fruition a few years ago, and there's a good reason for that: they're unlike any other digital marketing tool.
With all of the unique benefits they provide, we're here to talk about why multifamily marketers should absolutely leverage drone videography for their 2020 leasing strategy.
1. Exterior amenities - consumers want them, drones capture them
We're in a day and age that the real estate market likes to call the "amenities arms race."
Spacious rooms and renovated units don't seem to hold as much weight with renters as much as what kind of extra features an apartment community has.
The problem is, exterior amenities like pools, playgrounds, rooftops, balconies, etc. are pretty extensive in size, and would require loads of photography to capture everything.
Spoiler alert: that can be pricey, and difficult to deliver.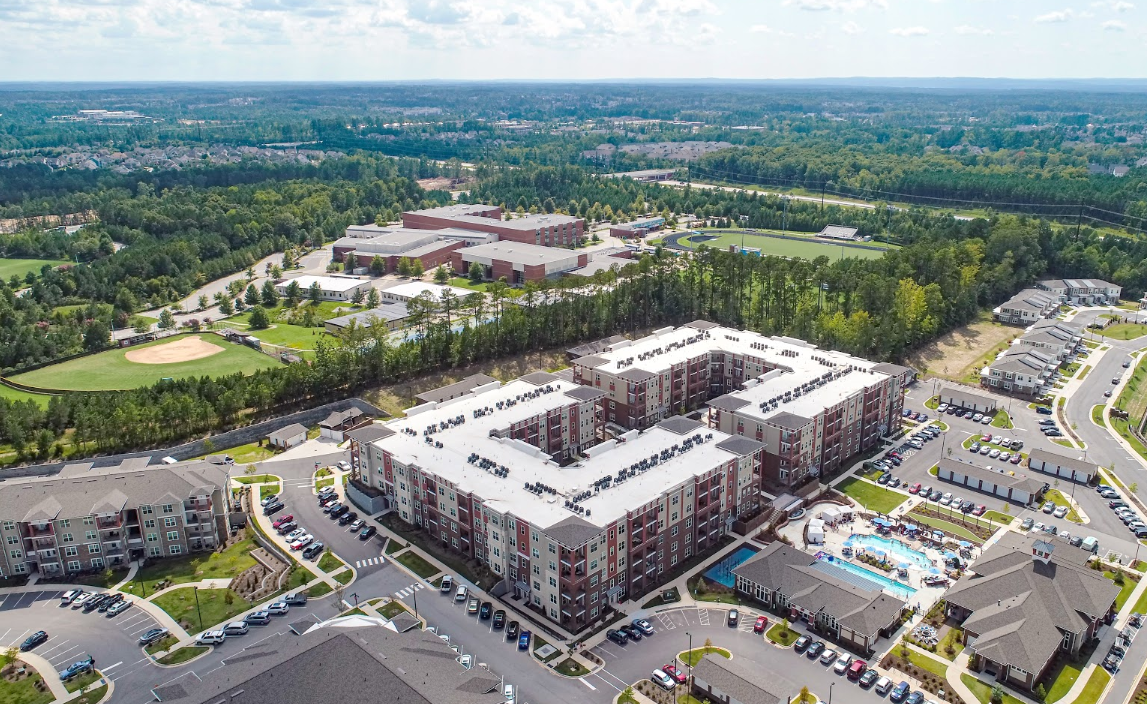 Instead of trying to piece together an exterior amenity puzzle in your portfolio, drone videography can literally take an in-depth tour of your outside community that will provide renters with an accurate depiction of look and layout.
And not just that, it's a simplified version of leveraging digital content to separate your business from the competition. (Below we'll tell you how a drone/video combo can really optimize your portfolio).
2. Quality ROI
Considering the global drone equipment market is estimated to grow to approximately $20.6 billion in the next five years, something tells us you may want to start budgeting for a shoot now.
Drone footage may not be as lucrative as a regular photo shoot, but the prices can be pretty attainable for most budget types.
Drone photography typically runs from $100 to $300 for 1-10 stills, whereas a short video could cost anywhere between $300 to $1,000 depending on length and quality.
But listen to this, statistics show that businesses featuring drone footage sell about 68% faster than properties without.
In addition, 73% of homeowners would be more likely to list with a realtor that uses video to market their home.
Overall, consumers appreciate the transparency and uniqueness of aerial footage, and the ROI definitely shows it.
3. It captures more area than regular footage
Sure, photos can be used for capturing your property's exterior.
But there are limitations. Ground photos can create an immersive and all-encompassing visualization of not just a community, but the surrounding neighborhoods and businesses as well.
Think of it as a map, or exterior virtual tour. Video footage that covers the layout of your location as compared to the world outside of your property gives renters the most accurate depiction of what living at your community will be like.
As we stated above, drone videography allows us to view amenities, but also parking lots, bus stops, grocery stores, highways, and much much more.
These are all aspects that are often of interest to renters that they wouldn't be able to attain unless visiting a property in person - and even that wouldn't provide the unique perspectives that drone videography can.
Drones are the only tool on the market that can capture such an extensive and necessary area of a community, and businesses that have it are successfully setting themselves apart from the competition.
4. Renters love video content
Studies show that videos on real estate listings receive 403% more inquiries than those without.
This is because videos provide the easiest and most effective channel to convey important information - especially when they provide an exterior tour of a community.
DesignBlendz highlights a joint report from Google and NAR, Digital House Hunt: Consumer and Market Trends in Real Estate, that reveals how much consumers rely on digital content to make decisions:
86% of consumers use video content to learn more about the community they're considering
54% watch real estate videos for general information about a home
44% of consumers use real estate videos to compare and contrast their choices
38% say they use videos to learn more about specific features of a home
Drone videography isn't just exciting - it's also an important tool for acquiring extensive information, so be sure you invest in the best drone services.
5. It can transform your reputation
All things considered, there's a bit more to loving videos when they're shot with a drone.
The emotional response isn't just gratitude - in fact, it circulates an awe.
Take a look at this video shot by a drone.
Professional drone videography in real estate has come so far over the years that even just a 3 minute video can garner the same reaction as a suspenseful movie trailer.
In fact, there's an entire culture of individuals that produce and watch drone footage solely because of the unique perspectives they produce, as well as their functionality.
This fascination with aerial content is sure to resonate well with renters and within the industry. In fact, nearby businesses may actually find it of use as well.
The end result, however, is a reputation of consideration for consumer needs as well as dedication to educating current and future renters.
It may also inspire envy among competition.
Treat exterior content the same as interior content
Communities can oftentimes be very large and tedious to shoot. It may be difficult to decide which digital content is best for your community. Which is why drone videography makes this choice easier, with the promise of complete coverage and an immersive experience.
And if that's not enough to convince you, remember that drone videography in multifamily is only becoming more popular. So which will you be - proactive, or reactive?
To start your journey with drone videography, click here.