3 Reasons to Add a Virtual Tour to Your Google My Business
by Kyna Garrett, on Jun 13, 2019 9:00:00 AM
Your company's Google My Business is easily one of the most important assets in your internet marketing mix. It's the first thing users when see they directly search your company's name on Google and it's a major ranking factor that contributes to the visibility of your website.
Missing or incorrect information and unclaimed listings can lead your business down a dark path of SEO disappointment. After all, Google wants to make everyone happy. They want users to find the exact information they're looking for - and Google virtual tours are just another piece to the Google My Business puzzle.
What follows is a complete breakdown of reasons why you should add a virtual tour to your Google My Business listing - including the benefits of doing so and the downfalls you may face if you neglect to add one.
Out rank your competitors and download our free step-by-step Google My Business checklist.
3 Reasons to Add a Virtual Tour to Your Google My Business
1. Rank Higher on Google
There has been a long debate on whether or not a Google virtual tour directly influences your website's position on Google. I'm here to tell you that it most certainly does.
First off, Google is pretty smart. It recognizes when content is helpful to a user, and when content is useful, Google bumps up that company's website and listing higher in search results. This is done by a number of ranking factors that recognize engagement and click-throughs.
Virtual tour stats tell us that 360 photos on your Google listing double the interest in your company and therefore produce higher engagement rates. That means you can expect a higher chance of appearing the Local Pack with a Google virtual tour.
Let's see it in action.
When I google "barber shop near me," I am presented with a Local Pack of three nearby options. We're always told that the more reviews a GMB has (and the better), the higher it will rank, but that isn't the case here.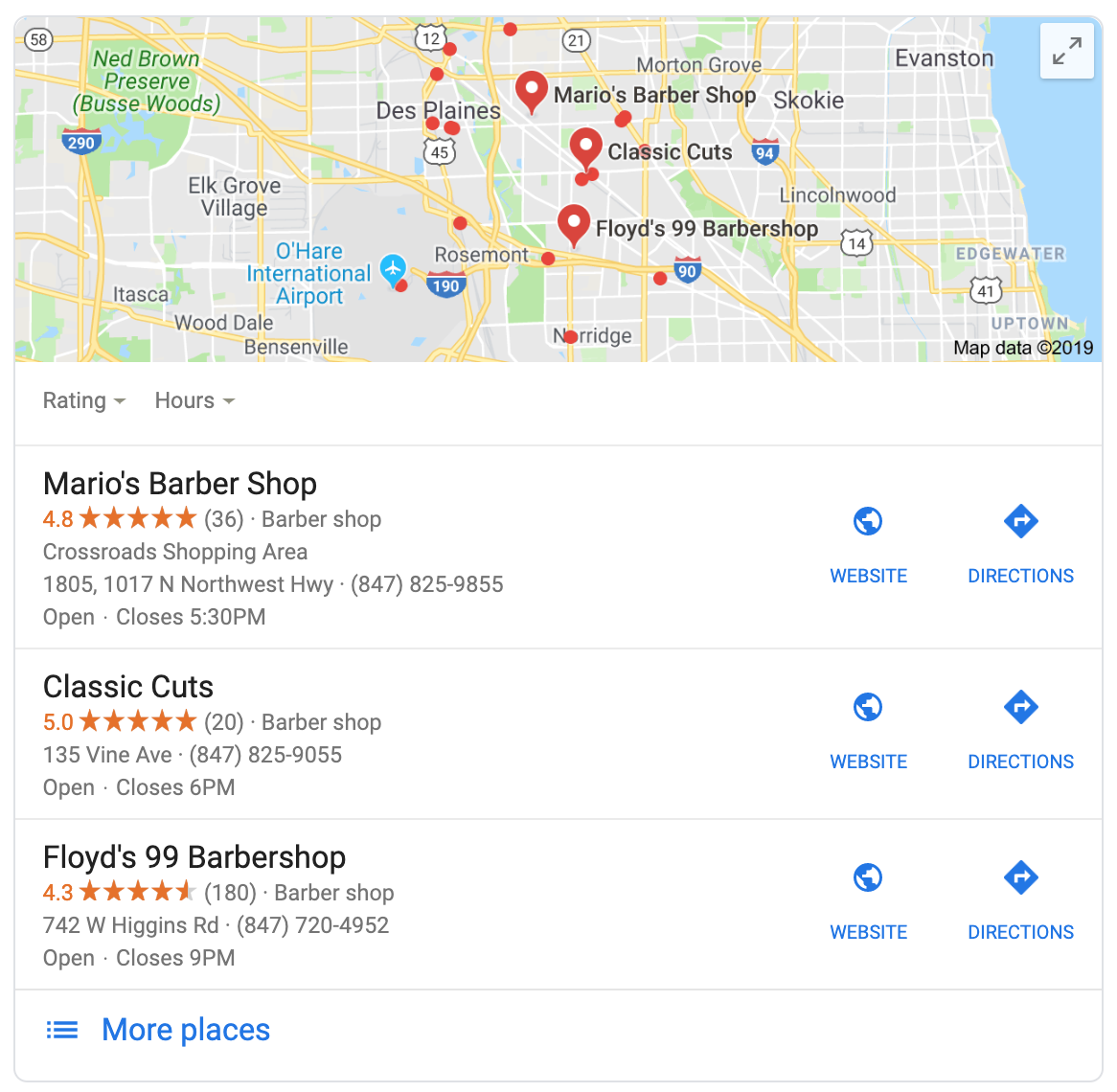 Out of the three options, Mario's is the only option with a 360 virtual tour. It has 36 reviews. Classic Cuts has 20 reviews, but sits at 5 stars. Floyd's has 180 reviews (impressive!) but sits at 4.3 stars. In a perfect world, you'd probably expect Classic Cuts to out-rank Mario's, or even Floyd's to outrank given it's impressive pool of Google reviews. Mario's is also further from my current location than the other two options.
The difference here is that Mario's is the only listing with both Google photos AND a 360 photos. The other two listings either simply have photos or Street View - but no inside view. That likely means their listings have lower engagement rates and less clicks.
I'm not saying the Google virtual tour tied to Mario's is the end-all-be-all for appearing in the Local Pack and outranking local competitors, but it certainly plays a role.
2. Make a Better First Impression
While a virtual tour on your GMB has some SEO value, it's also going to give your company some brownie points with users that happen to land on your listing.
Consumers rely on Google Maps and other map websites 44% of the time when beginning their search for a business. What's more: 41% of those searches result in an on-site visit. That's huge.
But that also means there's a lot of competition on Google Maps and GMB. Standing out is growing increasingly challenging for businesses online, especially locally.
Considering that many businesses have still evaded Google virtual tours, there's a lot of opportunity here to create a fully complete and accurate listing against competitors.
According to Google, 67% of people are looking for more virtual tours in their search today. Why not give the people what they want?
Adding your own 360 photos will also do more to improve reputation. What many business owners fail to realize is that GMB is an open forum. Anyone (and I mean anyone) can upload a photo or 360 photo of your business directly to your listing. Removing that content can be time-consuming and often impossible - the reason being that Google wants to depict accurate listings and businesses in their true form with authentic snapshots.
The issue is that sometimes these user-generated photos are simply bad; blurry, grainy, dark and just don't represent your company in the best light. With your own one shot professional 360 camera or DSLR, you can create your own Google virtual tour and upload to your listing. Google ranks the best quality images first, which means your content will push any low-quality photos to the bottom of your listing.
3. Build a Better Conversion Engine
A Google virtual tour doesn't have to sit on your listing to gather dust. It can be a conversion engine for your website visitors, too.
Not only can you embed a Google virtual tour on your website, you can also customize it inside a custom third-party virtual tour viewer (like Panoskin) with call to actions, photos and more.
This means you have more to work with on your website and more content to engage and entice users.
What's more astounding: virtual tours keep visitors on your website 5-10 times longer. We've also found in a 3-month case study of multifamily property websites, that embedding a Panoskin virtual tour across 11 websites proved a 20% increase in conversions on the site.
How to Add a Virtual Tour to Google My Business
Convinced? A Google virtual tour makes a major impact on your company's presence online. Without one, you risk falling below the Local Pack or having competitors outrank you in the results.
Consider hiring a professional photography company to shoot, build and upload your next Google virtual tour.