15 Reasons Your Business Needs a Google Virtual Tour
by Kyna Garrett, on Jul 3, 2019 9:00:00 AM
The world is now more connected than ever. Convenience is right at our fingertips. How people discover the world through their phones or laptops is changing rapidly with the need to experience, learn and connect on a virtual level.
As such, a Google virtual tour has quickly become a staple for businesses.
Before we begin, what is a Google virtual tour?
A Google virtual tour is an interactive 360 experience or simulation of your business attached to your Google My Business listing. Typically these connected 360 images are completed by a Trusted Google Photographer or Google Trusted Agency.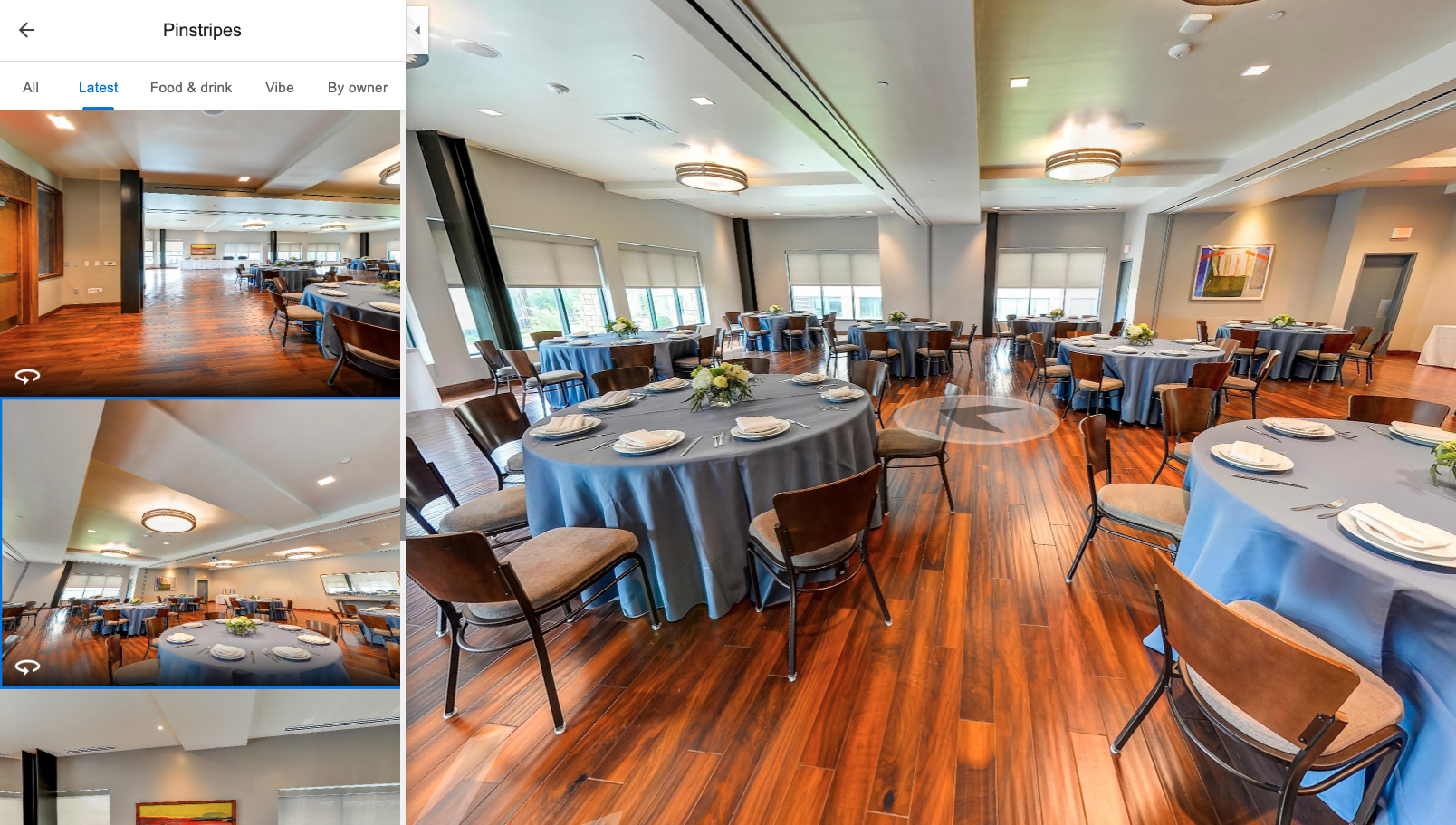 What is the process of creating a Google virtual tour?
To publish a Google virtual tour, first the images are captured, then edited and/or stitched together to produce high-res panoramic photos. Then, these photographs are connected together using a virtual tour software that then uploads the completed tour to the correct Google My Business listing.
How long does it take to create a Google tour?
Choosing a proper date, time and coordinating with the business can take minutes, a photo shoot will only take a few hours, and then editing and publishing is typically a two-week turn around for quality control and publishing to the listing.
It all seems so simple, right?
The truth is, yeah - creating a Google virtual tour is pretty straightforward. While the process may seem efficient and cost-effective, many businesses still omit virtual tours from their business listings. Why is that? Much of the explanation leads to minimal education around this kind of content and just exactly what it does for digital marketing.
That's why we're here - to clear the air around Google virtual tours and why businesses can't afford not to have them anymore.

15 Reasons Your Business Needs a Google Virtual Tour
1. Show off your business personality
One key feature of a Google virtual tour is that it's a great representation of your brand at first glance. Majority of direct searches looking for your business will be greeted with a virtual tour that immediately shows off your company's personality.
For instance, if you own a sports bar and have Chicago Cubs memorabilia hung around your place, people will know that your place is devoted to the Cubs. Or let's say you own a salon. Your virtual tour shows off your marble floors, pink fluffy chairs and chandeliers hung from the ceiling.
People immediately get a taste of your brand identity without having to read too much into it. This ultimately attracts customers that would identify with your business through an authentic, genuine channel.
2. Increase transparency and trust as a brand
Adding a virtual tour to your business says a lot more than just your personality. There's something to be said about showing, rather than just telling. It shows that your company is open, honest and transparent about its space without just saying so.
This is especially crucial for event spaces. A full 360 tour of an event venue let's potential customers get a glimpse into how large your event space is, and whether it's suitable for them. People know exactly what they're getting by choosing your business.
3. Give the people what they want
Generation Z and millennials make up majority of today's internet users. They learn about products mostly through social media and search. And as for Gen Z's attention span: it's 8 seconds. Scary, yes, but that short attention span is totally possible to grab - if you use the right content.
If content isn't engaging, informative and quick to access, they'll move on. Why do you think Vine was so popular and ad-blockers have become a staple for young people?
Today's internet users are more receptive to content that shows them what they're missing and allows them to interact. People are attracted to content they can touch, visualize and quickly understand. A Google virtual tour addresses these needs, so you'll see stronger results in your digital marketing.
4. Let out-of-state prospects experience your business
One key thing that virtual tours on Google do (and is often overlooked by businesses) is give long-distance prospects the ability to tour your property. This is also true for people who may have a harder time getting around, like seniors looking for a retirement community.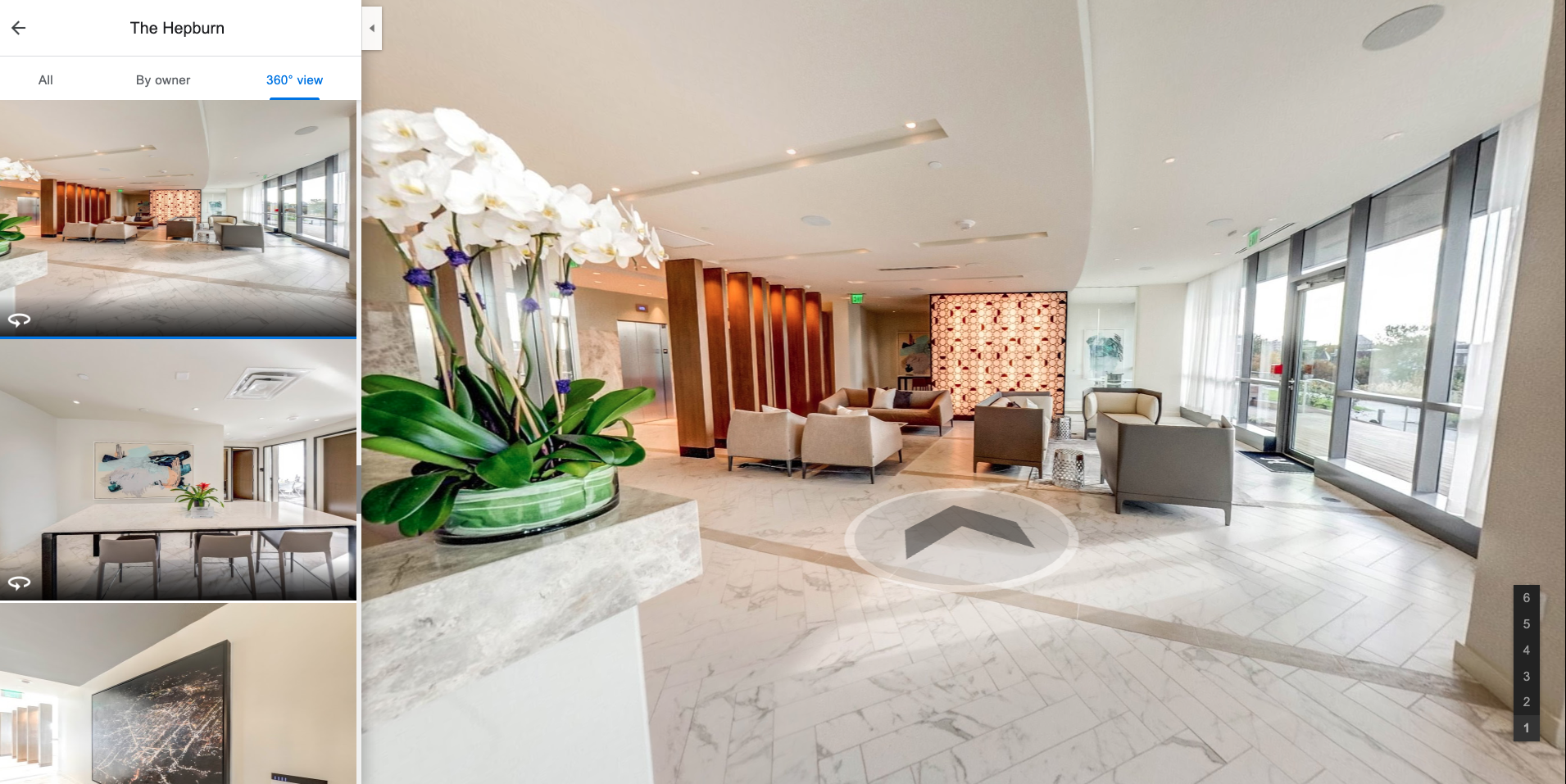 Giving out-of-state prospects the ability to tour your space refines their search and helps them feel more confident in the decision to visit in person.
5. Let people experience your development
Google virtual tours don't just have to be made up of photos. What many businesses don't realize is that Google also allows you to upload 3D virtual tours.


There are plenty of developments in senior living, multifamily and commercial real estate that can get a jump start on their marketing with 3D virtual tours on Google.
For real estate developments that need to sign contracts and leases during construction, a 3D virtual tour on Google lets people explore your space even before it's completed.
| Related: 3D Renderings Are Essential for Powerful Real Estate Experiences
6. Increase visibility and rank higher in the Local Pack
Research has shown that Google My Business listings for real estate with a virtual tour and photos tend to rank higher than local competitors. It also raises the possibility of ranking in the Local Pack.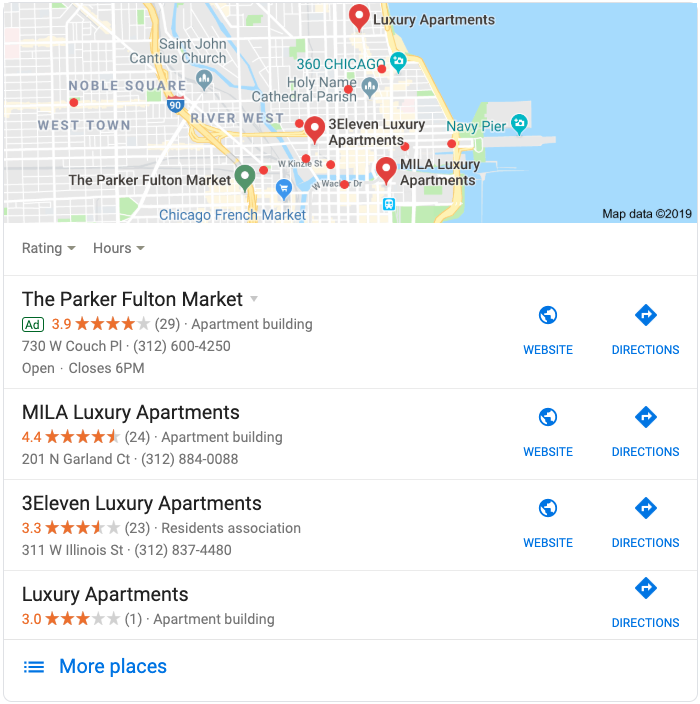 The reason for this is typically due to users spending more time on a Google listing browsing the 360 images, which tells Google that people are interested in the business, thus ranking the listing higher for others to see.
7. Boost interest in your business
According to Google, virtual tours on listings increase interest by 100%. That statistic pretty much speaks for itself. And it's not hard to see why - many of the reasons listed out in this article lead to increased interest in a business simply for having virtual content on the business listing.
Who wouldn't want to double interest in their business by publishing a virtual tour to Google just one time?
8. High quality content increases click-through rates
High quality photographs (including 360s) on a Google listing lead to 35% more click-throughs to the website than businesses that have no photos.
So adding a virtual tour not only increases traffic to your site, it's also giving you a leg up on the competition that has yet invested in photography and a virtual tour.
9. Help customers make informed decisions
A virtual tour is a key research tool for users. It ultimately allows them to refine their search and make an informed decision about your business.
If you own a restaurant, users are probably scouring a virtual tour to understand the atmosphere you have. Or if you own a wedding venue, a bride and groom may be browsing your space to determine if you have a sizable reception hall.
With a Google tour, you're truly giving people an inside look at your business during that crucial discovery phase.
10. Attract more customers
Nearly 100% of people search for a business before making a decision, and if you have a Google tour at their disposal, you're more likely to attract them to your business - even those people who aren't local.
There are no barriers for people who are immobile or across the globe. You offer a connection that reaches even more customers than just those people in your neighborhood.
11. Learn more about your business
What makes Google tours so powerful is that you can learn a lot about your business simply by seeing what most users engage with on the tour.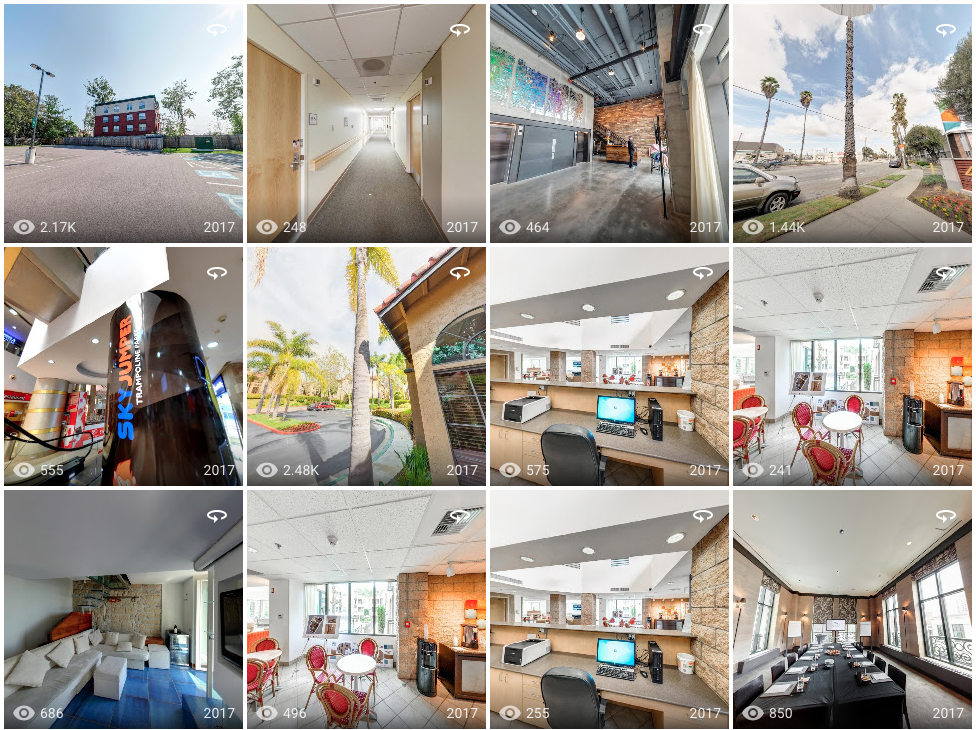 Google My Business insights give you a glimpse inside how your virtual tour is doing. You can track how many times your photos are clicked and how many views they've received. This not only gives you insight into how well your virtual tour is performing, but also what users are most receptive to. Maybe it's the lobby that gets more views, or your dining area that more people are interested in.
But be sure you've claimed your GMB listing. Claiming your listing gives you full access to your dashboard where you can view insights, including impressions, website clicks, calls and direction inquiries.
12. Google tours are cost effective
A Google virtual tour is a form of passive marketing. That means that it's a one and done deal. It's a one time cost that brings in many key benefits from a digital marketing standpoint. It remains on your Google listing to do the work of serving as an off-site tour while you can focus on other marketing needs.
It's also rare that you'd have to regularly update a Google tour unless you've renovated, changed key decor or updated your storefront.
13. A Google virtual tour can be used outside of Google
The beauty of a Google tour is that once it's live on your listing, you can embed it on your website as an additional piece of content or embed it inside a virtual tour viewer.
Google virtual tours are extremely powerful for your business listing and SEO as a whole, but by sprucing it up inside a virtual tour viewer, you can customize your tour with colors, links and even more content for people to explore while browsing your property.
14. Helps you have better control of your listing
Believe it or not, your Google My Business listing is an open forum. Anyone can publish to your Google listing. Scary, right?
There are ways to alleviate the effects from user-generated photos, which could be in poor taste or low quality. Of course you can flag them to Google, but to be completely transparent: that doesn't always work.
But what does work is adding high quality images and a virtual tour to your listing. Fresh, premium content on Google will appear first to users, burying low quality user-generated images that you'd rather not highlight to potential customers.
15. Keep people engaged longer
Naturally, a Google virtual tour is going to help boost engagement rates. It's an interactive tool that doesn't require a quick look. It requires that the user engages and clicks through the tour.
What's more, you'll likely to keep people on your website longer. Embedded virtual tours keep people on your website 5-10x longer than not having a virtual tour at all. As a result, you'll also lower bounce rate.
Why is this so important?
Lowering bounce rate and increasing time-on-site signals to Google that your business is popular among internet users. Dwell time on site increases and Google boosts your rankings to appear higher in search results simply because it recognizes your site as helpful to others. So naturally, it wants to show even more people.
| Related: 9 Virtual Tour Statistics Your Need to Know
Jump Starting Your Marketing with a Google Virtual Tour
If there's one thing to take away from these benefits, it's that a Google virtual tour will really jump start your online marketing.
Your business listing is one of the first things people will discover about your company, and you can pull them right in with an interactive tour that demonstrates your brand's personality and exactly what you offer.