5 Leasing Agent Training Tools You Need to Succeed
by McKenna Hogan, on Oct 29, 2020 8:30:00 AM
Leasing virtually can be a bit of an adjustment for experienced and new multifamily professionals. That's why we've put together a list of leasing agent training tools to help ensure your on-site team has the resources to succeed.
1. Virtual tours
Most commonly seen as prospect marketing tools, virtual tours can also be used as leasing agent training resources.
The entire concept of a virtual tour is to better understand the space and layout of a community—so it makes sense that they're extremely beneficial for training purposes.
To utilize this tool to the best of its ability, leasing agents should practice running through a virtual tour, mimicking an actual guided tour with a prospective renter.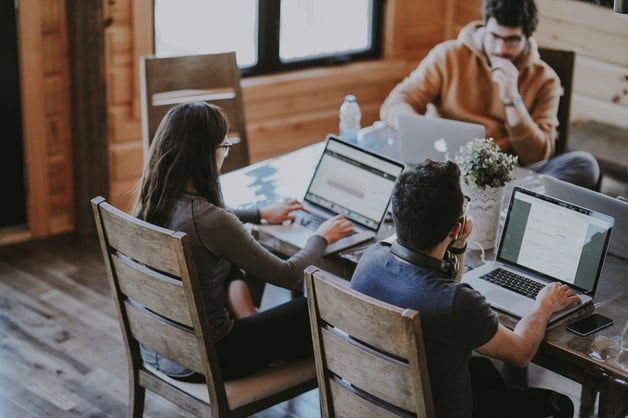 Training with a virtual tour during a time where almost every business has converted to digital is not only extremely beneficial for understanding a community, but also may be the only accurate way to visualize a space.
Not to mention, 3D virtual tours are also excellent for leasing agents working through lease-ups.
Since leasing agents working on a community currently under construction, they are at a disadvantage for where and how they pre-lease.
Luckily, for those developments that opted for 3D renderings for their marketing, utilizing a 3D tour for training can be an extremely beneficial - and possibly the only - way leasing agents can better understand what their future property will look like.
Learn more about interactive virtual tours.
2. Videos
Speaking of digital assets, another great marketing tool to utilize as a leasing agent training tool are videos.
These can include 3D animations, 360 videos, and more.
360 videos - commonly confused with virtual tours - are an excellent way to become familiar with a community in a short but concise manner.
These videos use a specific type of camera to record panoramic footage. These shots are then stitched together to create an entirely 360 view of a development.
Interactive videos allow users to navigate various perspectives of a room, but not all 360 videos have the ability to tour, and some only provide a few interactive features.
Regardless of whether or not it's interactive, leasing agents can still use these videos as a training tool resource to better understand how to communicate it to potential renters.
3. Virtual reality
During these unprecedented times, many leasing agents leveraged virtual reality from their offices in order to lease apartments.
Although great tools for prospects, they're also excellent for training agents.
For the same reason virtual tours allow an interactive, navigable experience, virtual reality takes that one step further and immerses renters and agents into a property.
While some might not feel comfortable going into an office right now, the ones that do can have access to an entire replica of a community - 3D or established - and walk through themselves while practicing giving a guided tour in a 100% realistic simulation.
4. Multifamily CRM
Connecting a CRM to your website has endless benefits in regards to lead generation. But did you know that it can also be used as a training tool?
Once leads have been engaged and captured, leasing agents will take over to try and get some signed leases. What makes multifamily CRM great for assisting agents is the features that consolidate customer relations.
As Multifamily Insiders states, "CRM is used to track interactions with customers, behavior, and trends to help businesses improve their customer service and customer appeal."
By tracking and analyzing the way renters interact with your property website, leasing agents can leverage that knowledge for outreach, communication, placement, and more.
Below are a few multifamily customer management services that will help build strong consumer relations.
As some of the top-rated CRM softwares on the market currently, leveraging their communication, automation, and data analysis features to help leasing agents track how prospects move through the sales pipeline will guarantee an improvement in virtual operations.
5. Marketing technology software
With the rise in digital operations for businesses everywhere, many new marketing technology softwares have been popping up in an attempt to help advance the virtual leasing process.
Although they vary in specialty and functionality, a good percentage of these technologies focus on the integration of digital content to websites with the goal of optimizing the online leasing process.
For example, Pynwheel, a marketing technology company specializing in leasing solutions, works to consolidate all digital tools into a single app that embeds content right to your website.
By effectively streamlining the virtual leasing process for renters, leasing agents can learn how digital content functions within a website, and how renters interact with your assets.
Not to mention it aids in knowing how to better market your online presence.
By knowing this information, agents can better communicate with prospects based on tracked interests, and better lead them to a signed lease completely virtually.
The key to success starts with leasing agents
As the world changed this year, so did the role of the leasing agent. With mostly virtual assets to rely on, real estate professionals needed to transition quickly, but may not have had the luxury of proper training—until now.
These 5 leasing agent training tools are most likely assets your business already has in its back pocket, and now's the time to use them to the best of their ability.