How to Ensure Accessibility in Virtual Leasing
by McKenna Hogan, on May 27, 2020 8:30:00 AM
According to Internet World Stats, the Internet World Penetration Rate in North America reached up to 94.6% in 2020. In addition, The U.S. Census Bureau states that nearly 1 in 5 individuals suffer from some type of disability.
With COVID-19 urging many real estate industries to pivot their strategies to virtual leasing, the prevalence of accessibility has become overwhelmingly important.
To guarantee your website and virtual leasing efforts operate efficiently for everyone, we've outlined several ways to help you focus on accessibility in virtual leasing for a successful home search experience.
Step 1: Follow WCAG and ADA guidelines
It is mandatory (partially by law) to have an accessible website.
The WCAG, or Website Content Accessibility Guidelines, works to develop a "single shared standard for web content accessibility that meets the needs of individuals, organizations, and governments internationally."
The guidelines are a means of establishing a coherent and functioning website, focusing on areas such as necessary information as well as code markup.
In addition, ADA guidelines, or Americans with Disabilities Act, states that accessible design components as well as construction of websites is mandatory and can be enforced by law.
These two guidelines are but a bare minimum standard for website accessibility and should be practiced and built upon, especially during a time of a rapid influx of internet usage.
Step 2: Cater to consumers with disabilities
According to The Census Bureau, almost 20% of the U.S. population is disabled in some way. Disabilities commonly include visual impairment, deafness and hearing loss, Alzheimers, depression and anxiety.
This makes website accessibility not only convenient, but paramount to all prospects ability to successfully navigate your content.
Consider this: if successful user experience is only available to 80% of the population, as a real estate business, you're losing out on a lot of potential signed leases. You're also not providing a great user experience to 100% of your prospects.
In today's current events, apartment websites are one of the only resources renters turn to. It's essential to ensure it's comprehendible and user friendly for every type of individual.
Below are more areas to focus on that go above and beyond just doing the bare minimum to ensure accessibility in your virtual leasing efforts.
Optimize your website
With virtual leasing, your main source of information is your website, so if individuals can't access it on certain devices or understand your content, you've automatically lost them.
An accessible website should focus on areas like SEO optimization and website functionality—in fact, doing this will also increase your chances of being discovered in general.
Best practices for website optimization:
Update information and content on your Google Business listing
Leverage informative visuals
Implement a chat bot for quick questions
Optimize web pages to work for all devices, especially mobile
Maintain an active blog and social media accounts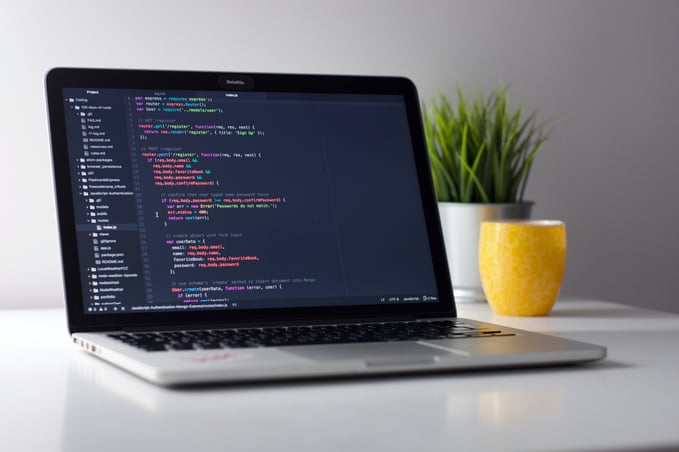 These tactics will not only aid in accessibility, but they will assist in delivering information conveniently and efficiently.
| Related: Senior Living SEO Strategies You Could Be Neglecting
Use alt-tags
In the same census report mentioned above, it has been found that 8.1 million people find it difficult seeing, with up to 2 million that were blind or unable to see.
One of the easiest ways to make your virtual leasing content accessible is by implementing the correct alternative text (or alt-tags) to images.
An alt-tag is typically a word or phrase connected to an HTML that describes an image. This allows the visually impaired to understand what's presented on your website.
In addition, alt-tags benefit website SEO by telling search engines exactly what is presented on your site—making it both easier to find as well as valuable to your property's search performance.
Make virtual tours accessible
When searching for a virtual tour provider, look for one with accessibility built in. There are many virtual tour solutions for apartments available, but not every one is accessible.
Panoskin, a virtual tour software that is accessible and has received a 100% score from Google's Lighthouse Accessibility Tool, was designed to bring the entire home search experience to consumers without them ever needing to leave the home. Disabled users are given the option to toggle on or off an accessibility feature that allows voice controls and tabbing controls on the keyboard.

This allows all users to engage with your virtual tour, click on call to actions, and ultimately feel confident in your apartment home during their search.
Each Panoskin viewer includes CTAs that encourage immediate action located directly on your virtual tour. This adds a layer of functionality to traditional tours as well as an improved user experience.
Below are CTAs designed to streamline the virtual leasing process and optimize the home search experience.
Property Info
Google Maps location
Request a virtual tour
Floor plans
Still images
Videos
A shareable link
Not only does Panoskin provide all of these additional features to your property tour, it also provides the option for real estate professionals to give prospects a guided virtual tour.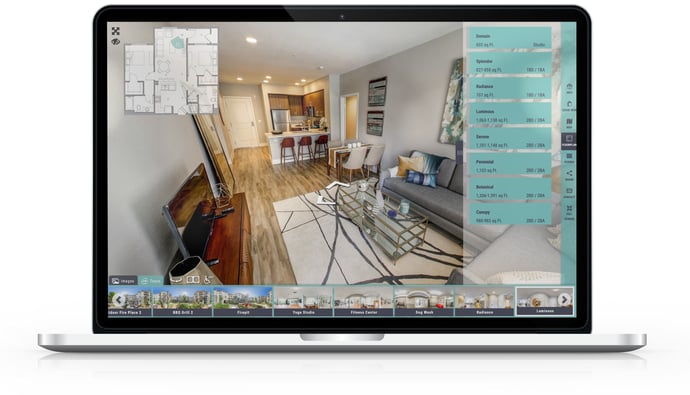 With COVID-19 encouraging stay at home orders as well as the prevalence of disabled individuals, hosting a virtual tour is an extremely accessible and informative leasing tool that caters to every type of consumer.
Provide content for every circumstance
Aside from virtual tours, there are a plethora of virtual leasing tools available that provide full transparency as well as extensive information about your property.
Between 3D floor plans, virtual staging, 360 videos, etc., choose the content best suited for your website and consumers.
Click here for 7 virtual leasing tools for a more accessible website.
Offering accessible solutions defines how you engage with your audience
If all renters have these days is a website to conduct research and make purchases, it's overwhelmingly important for real estate industries of all kinds to convert to accessible options.
If the current pandemic has taught us anything, it's that user friendly digital resources are an absolute necessity to successful leasing for every single type of renter. So take the time to prioritize accessibility for a seamless leasing experience.
Learn more about virtual leasing best practices.