How to Stage an Empty Apartment Unit for Less Than $1,000
by Kyna Garrett, on Apr 10, 2019 9:00:00 AM
Staging an apartment unit is one place where you don't want to cut costs. That's because for years, staging has helped prospects see their future home for what it could be, give a great impression of your community and ultimately fill units faster. But what if cutting costs not only saved you money, but also increased revenue?
The Good, The Bad, The Ugly
The good: staging is a powerful tool. It can strongly influence a prospect's decision to sign a lease and even speed up the sales process. It's no wonder why communities (especially those in oversaturated markets) turn to staging to improve appeal.
The bad: having a staged model unit, whether in your multifamily or senior housing, means taking one unit off the list of possible leases. In other words, you can't rent a staged unit.
The ugly: apartment staging can have quite the sticker shock. It can cost thousands of dollars per unit. This depends largely on location, square footage and design selection.
There are a few ways to stage an apartment home on a budget, and still see the same great results that come from interior staging.
Declutter and Rearrange Existing Furniture
With interior staging, remember that less is more. There are plenty of misconceptions about staging a home the traditional way. Home stagers may convince you that you need extra touches when there are plenty of things you can do on a budget with the same impact.
DIY staging can actually be pretty cost effective. To start, declutter your model units and keep them in top shape for tours. Rearrange existing furniture you already have throughout the community. Add coverings to pieces of furniture to keep with a theme of the room if necessary.
Keep in mind that saving money on staging doesn't have to be a negative thing. There's plenty you can do to bring life to your model units on a budget.
Explore Virtual Staging Opportunities
Another solution to staging on a budget is virtual staging.
Virtual staging may not be the best option for larger homes, but for multifamily or senior living communities, it can pay off big time. For example, staging an empty model unit at LCP360 can begin at $300. That is a price reduction of 96% from a traditionally-staged model unit in an upscale area.
Remember that staging a model unit the traditional way means not being able to rent out that unit. With virtual staging, you're still able to market the space and reap the benefits of staging while having all of your units available to lease.
What is virtual staging? It's the process of taking a photograph of an empty room and staging the photo with 3D rendered furniture and decor to produce a photo-realistic furnished space.
Here is an example of virtual staging in action: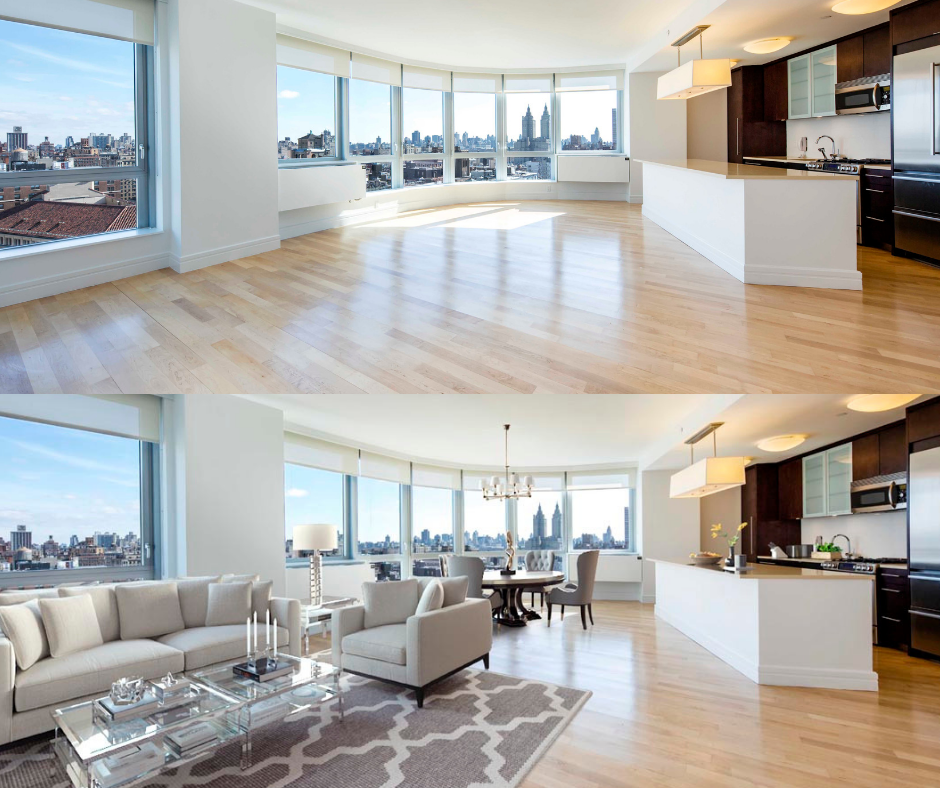 Typically, you'll work with a 3D rendering company to produce this product. You'll choose furniture design, colors and an overall scheme to help bring the room to life. You can have as little or as much creative freedom as you want, meaning you can leave the interior design aspects to the 3D artist or take complete control of the thematic approach to the design.
Either way, you work with 3D artists from start to finish to complete a fully-furnished room from a blank photo. You can even stage an empty 360 model unit to give your prospects a complete view of the space.
Finding the Best Staging Alternatives
DIY staging will minimize costs while virtual staging will have a great impact on your overall revenue. Virtual staging is also a powerful asset for your apartment content marketing efforts due its low cost and creative flexibility.
All in all, when on the search for apartment staging solutions, consider your goals. Whether you're trying to increase leads or boost awareness, know your audience and what will appeal to them most.
For more staging techniques, check out How to Stage an Apartment Home Like a Pro.