How Long is Real Estate Digital Content Good For?
by Klaudia Marzec, on Jan 13, 2020 9:00:00 AM
When scheduling a photographer for your community, do you think about the shelf life of that content?
There is, in fact, an "expiration" date for every kind of digital content at which point it can no longer be repurposed, whether that is photos, 360 tours or 3D renderings. This is pretty standard in any industry. Articles become outdated, images go obsolete. That's why it's important to always refresh and update your content when it's time to do so.
Don't let that discourage you from hiring a photographer or an architect. Even with a ticking clock on your content, it is still a must in real estate and you may find that several kinds of content are actually worth your while.
According to a 3M study, visuals are 43% more persuasive, which means that having photos, and other content present on your website will only help you in the long run.
So how long is your real estate digital content really good for?
What is the shelf life of photography?
The shelf life will depend on the type of content. Photography and virtual tours should be updated about every 5 years unless there were renovations or construction. In that case, new photos should be taken to represent the most recent appearance.
Photography is the backbone of your digital content. Having the most up to date photos will make you more reliable. Having the right professional photos will also build excitement and can even influence a buyer's decision.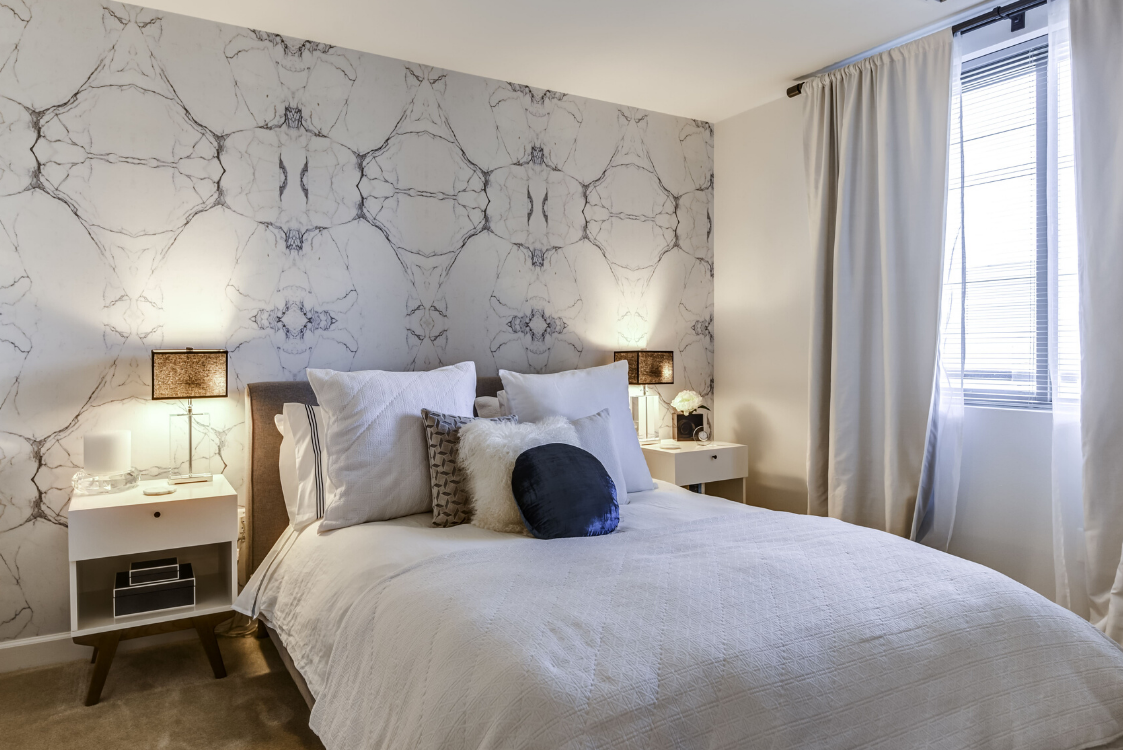 Photography tends to be the number one reason for a prospect to come and visit the property in person. This means that it could be the way that you stand out from your competition down the block.
An investment in photography once every couple of years is a well planned out decision. Not only does it make you stand out, but posting that content on your Google My Business will also help boost your SEO.
If a prospect looking online for their next home isn't sold on the images you have, then there is a high chance they will simply move on and not bother visiting in-person.
Professional photography helps sell homes faster and for more money. So, next time you are budgeting for your community, make sure to find out what it will cost to hire a professional photographer and incorporate that cost.
Are 3D renderings worth it?
This is an easy yes. You might be using this content only for a short period of time, but the benefits are too great to miss out on.
Your 3D renderings will most likely be used only for a few months during your pre-leasing stage. With that said, they can also be used after construction is complete, before you are ready to schedule your real photography.
For example, at LCP360, we've seen clients use their renderings in print material during grand opening events and we've even been credited to helping investment companies sell properties with photorealistic renderings.
Not convinced that the short life of 3D renderings is worth it? A 3D rendered image or a 360 tour can also help you lease space before opening your doors.
If you are in the pre-leasing stage now or have experienced it before, you know how hard it is to lease a space if there is nothing to show for it.
The challenge of a new development is that it is, in fact, new and unestablished within the community and people become hesitant to sign a lease sight-unseen.
A construction site really isn't the best selling factor, but a rendering of your future community allows your prospect to imagine themselves living there and that is already a huge plus.
A 3D rendering tour can become a sales tool, you can walk people through the community virtually and from any location. This is sure to make you stand out from your competition and make the prospect feel better about leasing something that is a construction site at the moment.
The six months that you might have for pre-leasing does not have to be spent waiting for the community to come to life, you can make it appear digitally and crush your pre-leasing goals.
And even after the property opens doors, using the 3D renderings can't hurt you. They are so photorealistic nowadays that people might have a hard time deciphering either way.
What's more, 3D renderings can go as far as cinematic animations to really generate interest and excitement around your new property.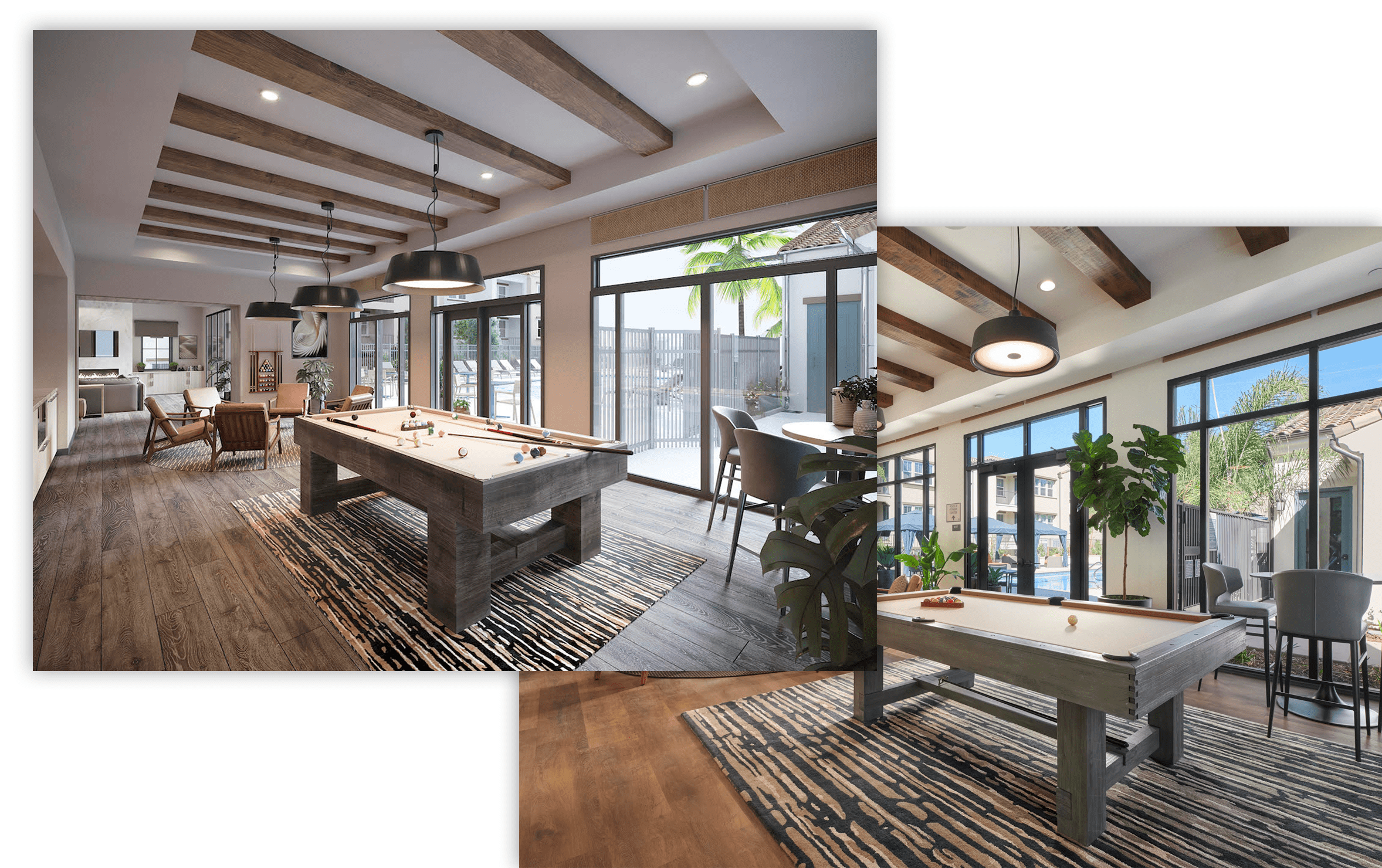 The investment will pay for itself once you notice that your units are going like hotcakes.
Another benefit of a 3D rendering is that it is rendered in the best light. This means that the sky is rendered blue, the units are rendered with the most modern furniture and the fitness center is rendered with brand new shining equipment. For your entire pre-leasing period you will have content that looks stunning at all times.
How long is the shelf life for virtual staging?
When considering virtual staging, shelf life is a big plus here. They don't really "expire" as fast as traditional photography. The model unit will most likely stay the same unless of course, you have renovated.
Because virtual staging involves furniture, the shelf life of this content tends to be much longer. Furniture styles don't change too often - typically about every 10 years is when we see a shift in trends.
Virtual staging is not only good when considering the timeline of your photos, but it is also a cheaper option when compared to real-life staging costs.
When trying to stage a unit in real-life, you need to take a unit off the market for that time as well as rent furniture that needs to be hauled in and out of the unit.
Virtually staged units save you the hustle of all of that, as well as bring your unit to life faster so you can focus on prospects when it matters the most.
Are interactive stacking plans a good investment?
An interactive stacking plan is a real-time availability tool that allows your prospects to learn more about your property as a whole directly on your property website. This is again a great investment when looking at shelf life, as it will be good for as long as you have vacant models.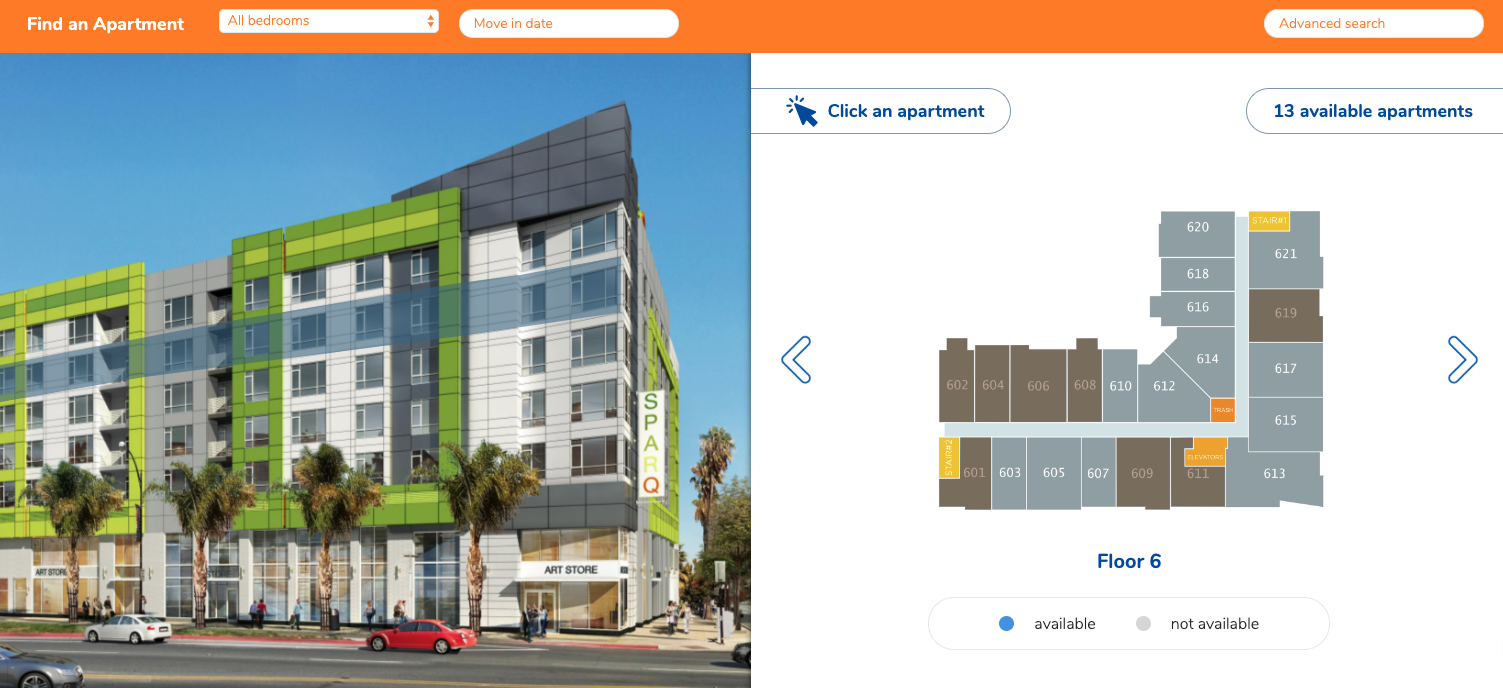 Stacking plans can be leveraged as both pre-leasing tools and tools for established communities. Ultimately, properties drive urgency with stacking plans by showing units that are available in real-time.
With that said, if there is construction at your community that alters the way that the models look, then this tool would expire as it would no longer show a true representation of the building. But in the majority of the cases where properties invest in stacking plans, they have these tools for life.
How long is drone photography good for?
Drone photography is a great way to show your community from a unique perspective that otherwise would not be seen.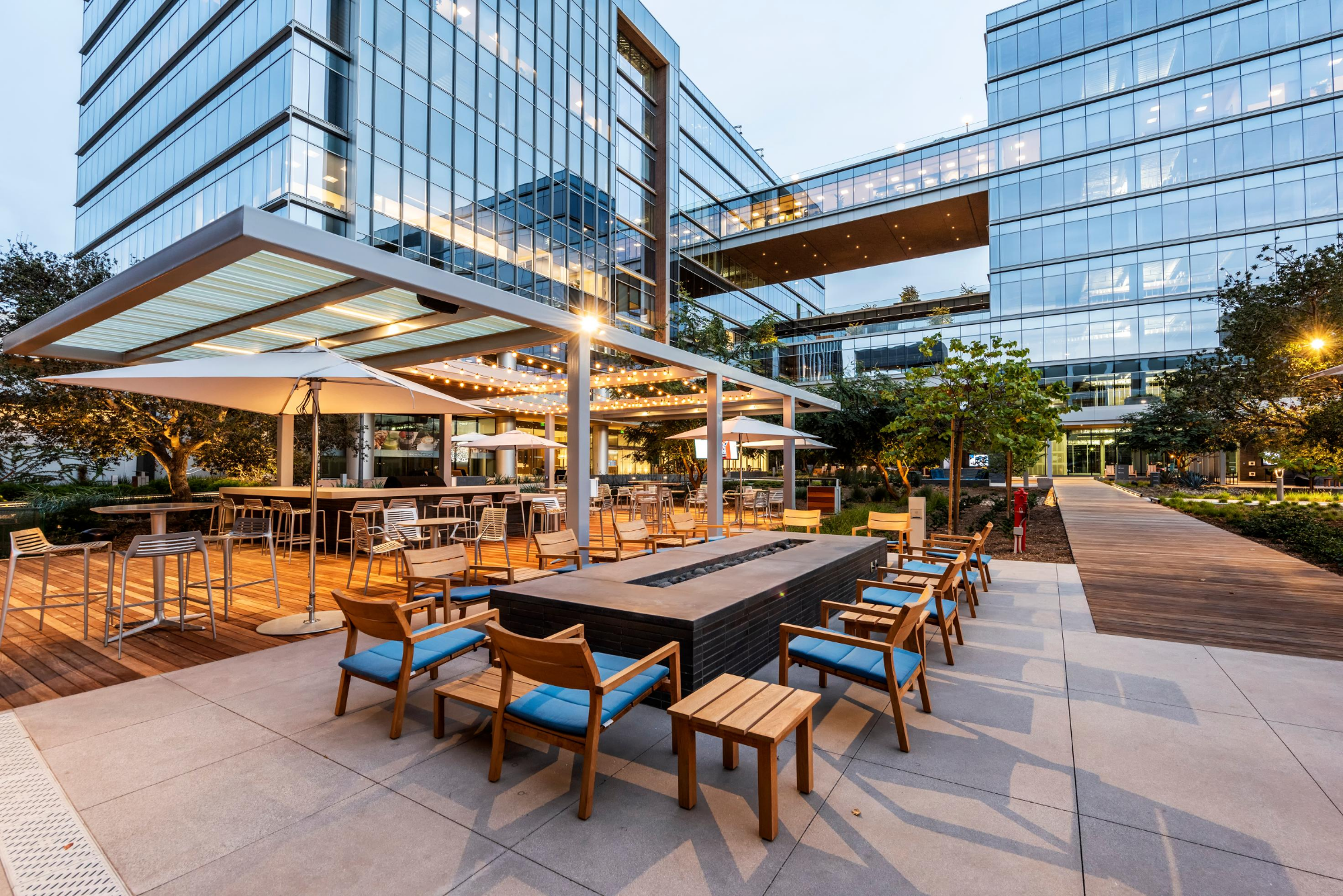 The shelf life of this type of content is good as long as there are no visible changes to the outside of the building and surrounding areas. The point of drone photography is to really help capture the surrounding neighborhood of your property and shed some light on the area it's located in. Drone can really help prospects find your property easier, understand parking lot and building structure, and even help people find and enter your property.
If you remodel the pool and it is visible in the drone shot, then it's probably worthwhile for an update. Or, let's say a property has surrounding fields around it, but a couple of years later, roadways and shopping centers go up in the area. Updating your drone photography will help new prospects understand your area as the area develops and changes around your property.
Find the content that is well worth your while
The key is to find content that is ideal for your budget and timeline. Be mindful of changes happening around you. If you're preparing for a drone photoshoot, but you know you have highway construction in the nearby area, hold off until construction completes so you can get longer use out of your content.
If you're in the early stages of preparing for a new apartment community, get renderings on the books as soon as possible - as these can take quite a bit of time to create and you want to get the full use out of them for pre-leasing.
Or, if you're looking for a long-term staging solution, virtual staging may be the answer you need.
As long as the images and digital tools show a true representation of your property, they are good to be used. At the point where things change within your property and are not reflected in the content, then it is time for an update.
Is it time for your property to get updated content? Contact us today!