Your Guide to Commercial Real Estate Photography: Costs, Planning and Production
by McKenna Hogan, on May 16, 2019 9:00:00 AM
Multifamily does it, hospitality does it, and now commercial real estate is doing it. Commercial real estate photography - like all development projects - has a lot of moving variables, so it's in everyone's best interest to stay informed on at least the bare minimum before making any plans for a commissioning project.


Although CRE is a generalized term for numerous amounts of businesses, a handful of criteria remain consistent that property owners should consider before, during, and after a successful photo shoot. Between the aesthetic quality of the photos, to monetary and legal aspects, there's quite a lot to prep for.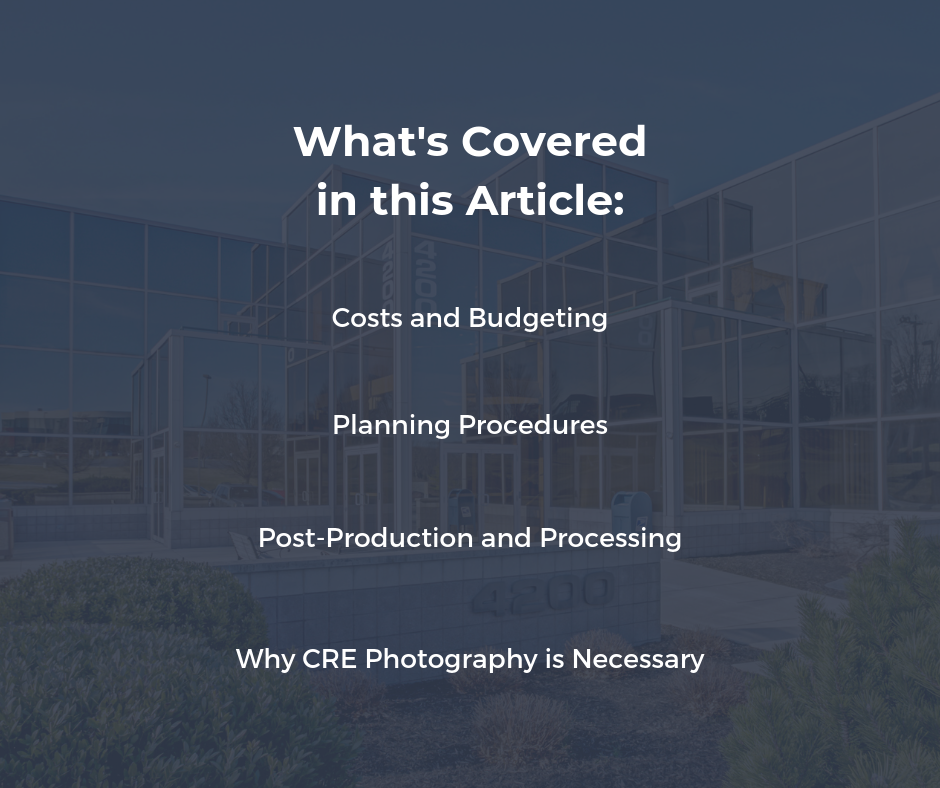 Here is a guide to the utmost essential topics to think about before investing in commercial real estate photography.
First and foremost: Cost
Prices for CRE photography vary depending on a few characteristics. Depending on the chosen provider, costs could be directed by one of two things:
Amount of photographs required
Time it takes to complete a shoot
As for the first option, you could be charged per photograph, which averages about $50-$100. On the other hand, payment may depend on the amount of time it takes to photograph a space due to complex architecture or a higher square footage. This price ranges from about $200-$800 per day depending on what time the photos are taken, (i.e. day or night).
For an average pricing seen in 2019, businesses should expect to throw down around $650-1,500 for a professional photoshoot. This would include not only the photos themselves, but costs for production, photographer, and digital fees.
When deciding on a photographer, some thought should go into whether or not local is the best option. The benefit of local includes no travel fee for the photographer, so if your budget is on the lower side this may be the best route. However, if you absolutely can't find anyone in the same area that will give the results you need, there are a few businesses that work with photographers globally, so there's no need to travel.
But it doesn't stop there. Of course clients and providers will want a return on their investment, which is why photographers often charge post production fees. However, some companies, such as LCP360, will actually include those fees in the price for quality control, ensuring a quality check, editing, and distribution all in-house. This guarantees that all LCP360 photography is created with consistent quality every time.
In addition, licensing fees is a big factor when deciding on a provider.
Some companies will actually charge a fee for licensing, which in short gives the client the right to market and distribute these photographs in an agreed upon way. This is done due to photographers wanting sole rights to their hard earned work and the safety of knowing exactly how their photos will be marketed, which would give them ultimate ownership to any and all photos.
If this is something that sounds like a deal breaker, make sure it's inquired about before signing any contracts. And don't fret, there are also providers out there as well that have 100% license-free content for clients that desire creative freedom for their photographs.
If you're not sure why you may not want a license, but it sounds like the better option, consider this: a license can be great for defining the terms of which the photographer would like their commissioned work to be utilized. It aids in the creation of a marketable portfolio with professional help and guarantees quality work. On the contrary, license-free providers let you use photos in whatever way you please, on websites, blogs, social media, you name it. It's yours.
So if you're looking for a hassle-free commissioning project, do some research to find an all around start-to-finish provider. Otherwise, expect to sign an agreement with specific terms and conditions as to how content may be marketed.
Related: Staging Techniques to Boost Your Property Sales
Second on the list: Planning
Sorry to say, it's not all about signing contracts and looking at pictures.
A few pertinent things to consider before a CRE photoshoot would include the following:
Weather:

typically, the best time to have a shoot is in late spring or early summer so that locations receive the best scenery and outdoor conditions. In addition, the time of day photos are shot is important to consider when creating an ideal image for viewers

Timing:

time of year is an important factor to consider- aside from weather purposes - when planning a shoot because businesses have quotas they need to reach, and it'll be more difficult to find a decently priced photographer during the busy season if you wait until the last minute

Preparation:

most photographers will have an idea of how they'd like things to look, but be sure that the exterior and interior contain positioning and spacing that appeals to target viewers and highlights the important areas of the building
We've all heard the saying "the camera adds 20 pounds," which can and should be applied to shooting a marketable space. Do yourself a favor and overthink the details; clean everything, even "unseen" corners, position furniture in an honest and appealing way, and if it's the last thing you do, hide insignificant cords and accessories.
Essentially, don't waste money on something you're not prepared to go over the top for.
For a concise checklist, check out How To Stage Your Venue for a Successful Photoshoot.
Next in the process: Production
The best results can be attained by photographers and clients working as a team. Often times photographers will scope out a location before a shoot to better understand what they're working with. This also helps direct questions towards the client as to how they would like their property to appear.
CRE can have a bit of a different atmosphere to it due to its architectural purpose. Some businesses may have people within the property in their shots, or might choose to shoot at dusk. It all depends on what type of presence you're going for. Be open and honest about what particular goals and ideas one has for the outcome of the shots; remember, money is being spent to increase ROI.
Once decisions have been made, the process typically takes around a day or two depending on the size of the property and number of photographs.
Clients can typically - and should - expect anywhere from 50 to 100 examples after edits to choose from before deciding on a final route. A balance between cost and quality will be the ultimate goal here.
So, how long before these photos can be put to use?
Before actually getting the process off the ground, clients must search for a provider that fits their needs. From freelance photographers to digital content businesses, budgets and size of portfolio will be the determining factors.
Depending on which provider is chosen, clients can expect around 2-3 weeks from receiving a quote to actually getting a professional to the location. However, some companies offer a rush fee that typically gets someone out there within a week if absolutely necessary (but take note, this fee could require a couple hundred dollars).
Clients can expect a much shorter waiting period to receive the photos post shoot.
As stated previously, quality and quantity largely affect the timespan of photos being taken all the way to them being ready for marketing. Rule of thumb: don't count on getting them the next day. With proper production, this usually takes longer than 24 hours.
Between editing, processing, and delivery, many providers can get them out within a week of them being taken.
Lastly, the big question:
As a CRE company, why is photography necessary?
Take this example: you're a newly developed salon located in a well established strip-mall surrounded by multitudes of urban businesses. How would you market yourself so that you stand out to potential clients? Commercial real estate photography - especially great photography - has the ability to give viewers a better idea of quality and the ability for that business to deliver desired services.
Even if you're a development company for established businesses, how would you successfully change the dynamic in a constantly evolving technology-driven society?
Whether it's an event space for your child or a Michelin starred restaurant, photography has the ability to give that extra push for result-led marketing.
So if you're on the verge of pulling the trigger or just sticking to what you know, here is some information about why photography is becoming a necessity: Why Photography Matters in Marketing
Research leads to success: don't risk an impulsive investment
It's easy to hear a pitch and dive head first into a presumably great idea; but be sure to be prepared with the facts for no unwanted surprises.
First and foremost, know what you want. You're the busy type and don't have time to sweat the details? Go for a full-service provider. Want the creative freedom to market your pictures as desired? Find a license-free business. And lastly, whatever you do, don't sign a contract until you're prepared to put in some work as well.
For those interested in full-service providers, click the link to learn more.