Stunning Virtual Staging Examples Designed to Fill Apartment Vacancies
by Kyna Garrett, on Apr 15, 2019 9:00:00 AM
Virtual staging services have proven to save companies time and money. With zero cost for consultation and a quick turnaround, multifamily and senior living providers are turning to this technology to address high-cost and marketing challenges.
As you'll see with the virtual staging examples below, the before and after photos have vastly different effects. A room with shelves, plants, nice furniture and accessories is much warmer and appealing than an empty unit.
Additionally, virtually staging helps renters visualize themselves in your community. Without furniture and accessories, it's much more difficult to envision the flow and use of space.
Discover how virtual staging services can have an impact on your community's bottom line.
To help you visualize how impactful virtual staging can be, below are five virtual staging examples designed to fill vacancies fast.
High-Rise Apartment Living Room (Before and After)
The living room and kitchen are the places that bring a home together. Below is a before and after virtual staging example that brings to life an otherwise bland image of an empty apartment home.
With virtual staging, 3D artists have truly brought the space to life with photo-realistc elements to help prospects see themselves living in this unit.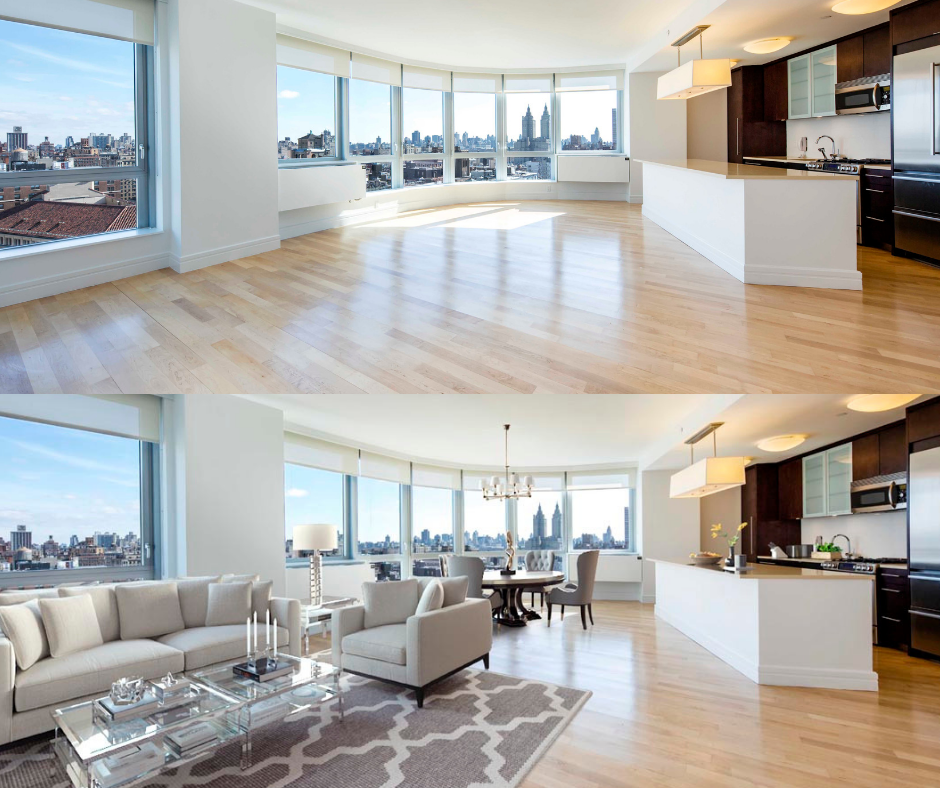 High-Rise Apartment Bedroom
When prospects view empty model units, they are often left with questions about how furniture may fit into the space. Typically with bedrooms, they're concerned about how much space a bed may take up.
A virtual staged bedroom not only saves you the time and money that it takes to actually stage, but prospects still get a sense of space.
Using the same theme and mood as the living room above, our 3D artists maintained neutral tones with splashes of color to get prospects excited about living at this community.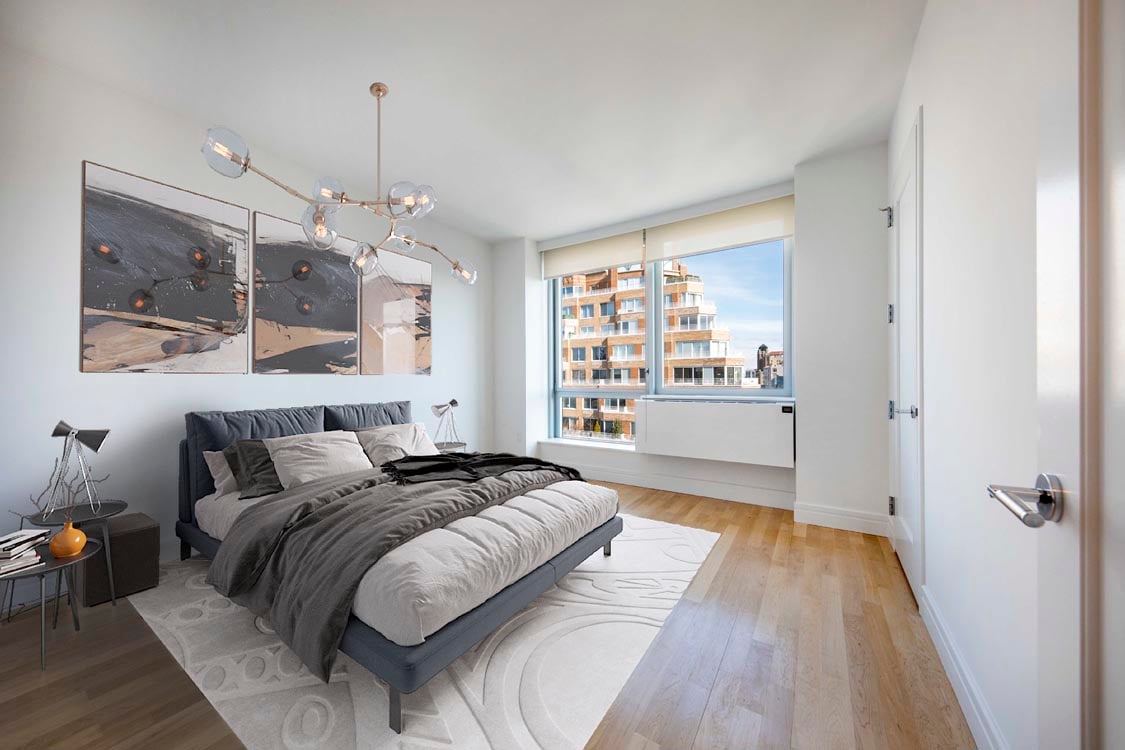 Apartment Bedroom
Similar to the bedroom above, this once lifeless room is now an apartment hunter's dream. Virtual staging elements give the space personality and help prospects truly understand the size proportions of the room.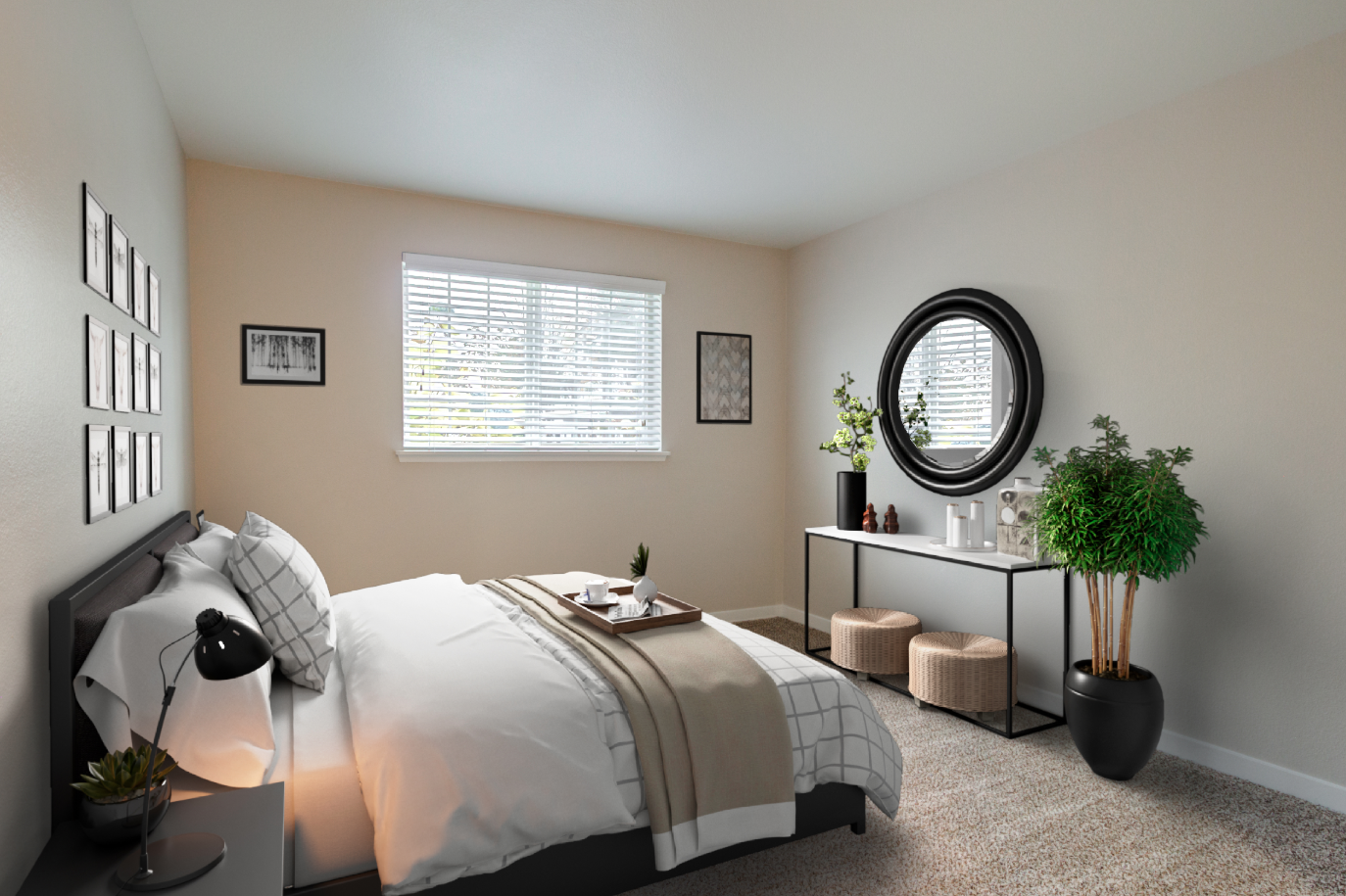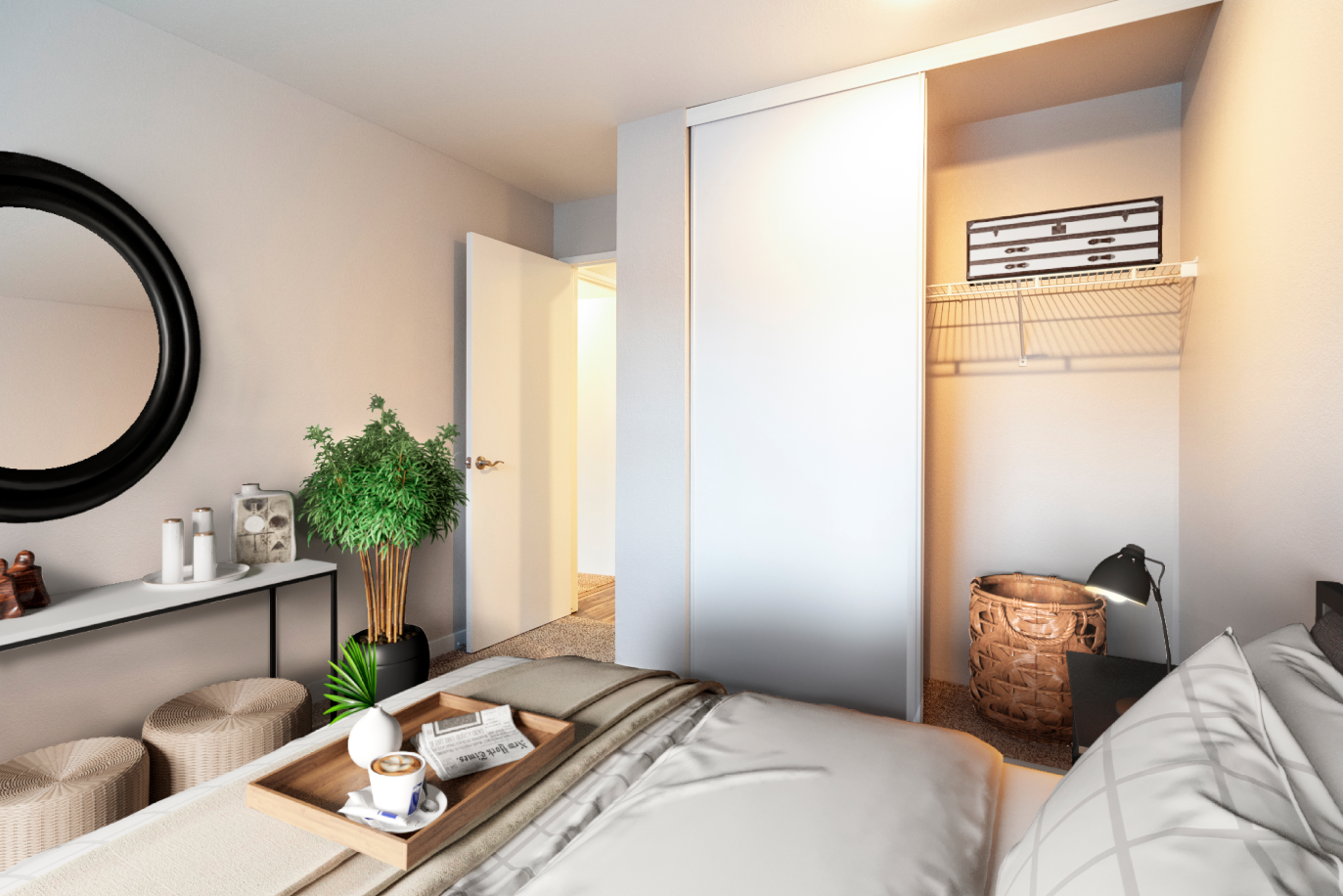 360 Virtual Staged Bedroom
Much of the real estate, multifamily and senior living industries invest in still virtual staging images, but virtual staging can get even more augmented with 360 virtual staging. This kind of content really sets the viewer in the space and lets them drive the experience.
Below is an example of a virtually-staged apartment bedroom in a 360-degree environment.

This kind of technology brings new life to virtual tours. For example, if you have a completed virtual tour of empty model units, 3D artists can enhance that environment with 3D furniture and accessories.
Related: Explore how multifamily, senior living and real estate renderings breathe life into new property developments.
360 Virtual Staged Living Room
Below is an example of a virtual staged living room in a 360 view. Like the bedroom, the user has the ability to drive their own experience.

Virtual staging can also exist in a 360 virtual tour, which gives viewers a much more complete experience of your community.
The Importance of a Finished Product
A photo of an empty model unit can feel incomplete, cold and lacking something special on that prospect's first touch. Marketing apartment communities or your senior housing space is the chance to really make a great first impression. And you have a small window to make that lasting impression.
Most apartment hunters are excited about their apartment search. So, be sure to meet that same tone with them. After all, 46% of apartment hunters are excited about their apartment search, while 40% are optimistic. If prospects are excited, keep that excitement going with a beautifully-staged apartment home that helps them truly envision themselves in your community.
Apartment hunters care about aesthetic. Price and location may be at the top of a prospect's apartment home checklist, but square footage and aesthetic features can really drive the decision. Thirty-three percent of renters care about square footage while 29% of renters care strongly about aesthetics.
With virtual staging in real estate, you're able to help prospects understand the best use of space and flow of the model unit.
Whether it's adding specific elements or furnishing a completely empty room, adding virtual details to a lifeless space can do wonders on your digital marketing efforts.
Want to upgrade your empty model units or community spaces? Let our team help you bring your space to life from concept to creation.