The Evolution of Leasing Agents: Are On-Site Leasing Agents Becoming Extinct?
by Caitlin Golden, on May 25, 2023 10:13:00 AM
The real estate industry continuously evolves, and technological advancements have significantly changed how properties are leased. One of the most notable transformations is the rise of virtual tours as an essential tool for apartment communities.
With the increasing popularity of virtual tours, some may question whether on-site leasing agents are becoming obsolete. In this blog post, we will explore this topic and how virtual tours, specifically LCP Media TourBuilder Pro Virtual tours, can help apartment communities maintain the crucial human connection with prospects while embracing the benefits of technology.

The Power of Virtual Tours:
Virtual tours have revolutionized the way people explore and experience properties. They provide a convenient and immersive experience for potential tenants, allowing them to visualize the space and amenities without physically being there. Here are some reasons why virtual tours have become a must-have for all apartment communities:
1. Convenience and Accessibility:
Virtual tours eliminate physical visits, enabling prospects to view properties from the comfort of their homes. This convenience appeals to busy individuals and those residing in different locations, increasing the pool of potential tenants.
2.

Time and Cost Efficiency:
Virtual tours save leasing agents and prospects time and resources. Instead of scheduling multiple in-person visits, prospects can virtually tour several properties in less time, helping them make more informed decisions. Additionally, leasing agents can focus their efforts on serious prospects, optimizing their workflow.
3. Enhanced Engagement:
Virtual tours offer an immersive experience that engages prospects on a deeper level than traditional listings. They allow viewers to explore every nook and cranny of a property, creating a sense of connection and familiarity before physically stepping inside.
LCP Media TourBuilder Pro Virtual Tours:
LCP Media's TourBuilder Pro Virtual Tours provides a comprehensive solution for apartment communities looking to leverage the power of virtual tours while maintaining a personal touch. Here's how TourBuilder Pro Virtual tours, along with LCP Media's TourBuilder Connect tool, can benefit communities: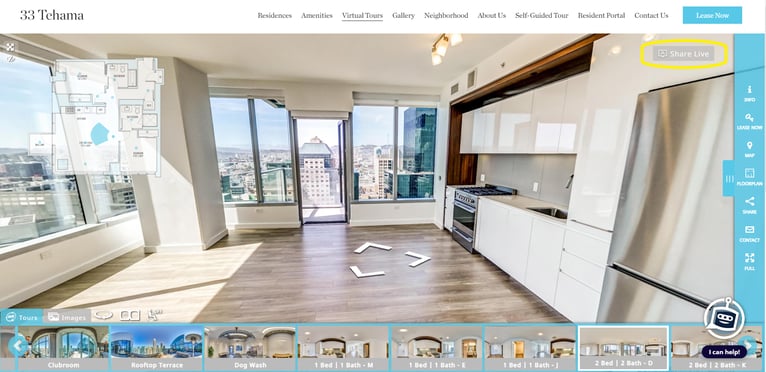 1.

Seamless Virtual Experience:
TourBuilder Pro Virtual tours offer high-quality visuals, 360-degree views, and interactive elements, ensuring prospects have an immersive and realistic experience of the property. This level of detail fosters trust and transparency between the community and the prospect.
2.

Human Connection:
Despite the virtual nature of the tours, it's essential to preserve the human connection that on-site leasing agents provide. TourBuilder Connect allows leasing agents and prospects to interact in real time during the virtual tour, providing an opportunity for personalized guidance, answering questions, and addressing concerns.
3.

Anytime, Anywhere, Anyone:
TourBuilder Connect allows leasing agents and prospects to share virtual tours anytime, anywhere, and with anyone they desire. This flexibility enables prospects to involve friends, family, or roommates in decision-making, ensuring a comprehensive property assessment.
While the rise of virtual tours has undoubtedly transformed the leasing process, on-site leasing agents are far from becoming extinct. Instead, the integration of virtual tours, such as LCP Media's TourBuilder Pro Virtual tours, enhances the leasing agent's role by providing a more efficient, accessible, and engaging experience for prospects.
About LCP Media
LCP Media (Lights Camera, Pixel) is a national visual media and technology company in Chicago. We provide a full menu of services, including virtual tours, professional and drone photography, 3D renderings, video animations, virtual staging, site maps, and floor plans. LCP Media is an innovative leader in forgetting unforgettable virtual real estate experiences by combining unrivaled-class technology solutions with our unparalleled customer service.