Virtual Tours: 4 Tips to Introduce Your Senior Living Community
by LCP360, on May 5, 2021 8:30:00 AM
The National Center for Assisted Living reports that there are about 28,900 assisted living communities with almost one million beds in the U.S. today. Seniors have more choices than ever when deciding where to live.
How can you market your senior living community to stand out from the rest?
Easy. Include a virtual tour. Here are some ways a virtual tour can help your senior living community stand out from the crowd.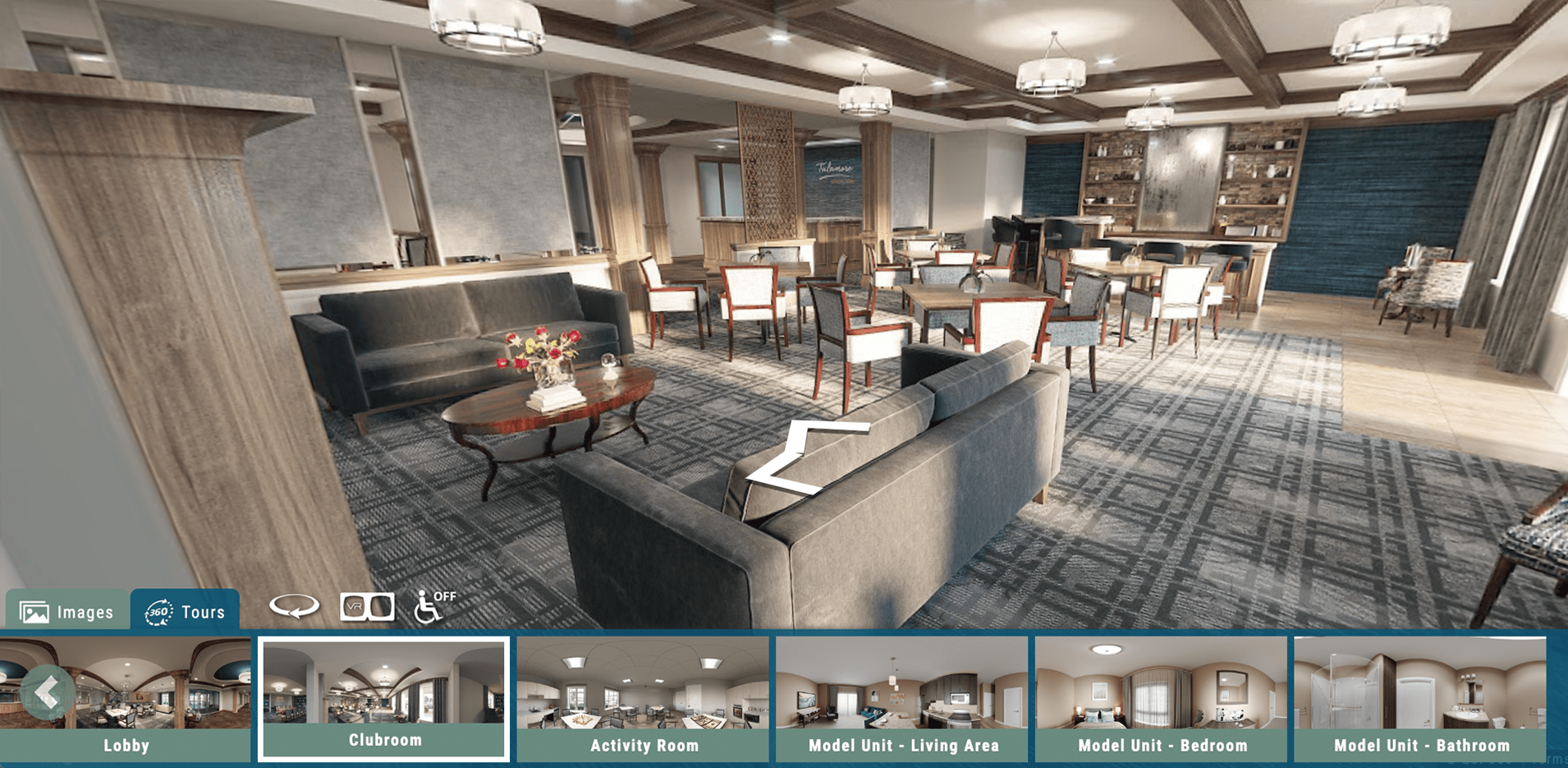 1. Change Everything With a Virtual Tour
In-person touring may come back, but virtual tours have taken off and are here to stay. With a virtual tour your prospective tenants can see every angle of the place as opposed to photos or brochures.
At a senior living community a virtual tour can make the process easier and help future residents to learn what is available at your community.
2. Save Time and Energy
Virtual tours are a huge time saver, for the obvious reason there is no transportation necessary. For seniors who may not be in the best health or have a hard time with mobility a virtual tour is an easy way for them or their family to visit a senior living community.
Making your virtual tour available on your website can save seniors the hassle of visiting a community that may not be right for them and it gives you the opportunity to be transparent about what you can offer them.
3. Give Them Confidence
Transitioning from a home to a senior living community can be a tough process for families. Make it easy on them and make them feel comfortable about the decision to live in your community.
With virtual touring, seniors can feel confident about their decision. They can ask questions and learn everything your property offers and about the community. If someone is interested in viewing your senior living community a virtual tour can solidify their choice.
4. Bring Transparency
The best part of a virtual tour is it captures the whole community at any given time. If you don't have an available unit at the moment or if there is construction or the future resident isn't able to easily move around you can give an alternative for them to see your property.
Senior living virtual tours not only can make your community stand about, but it makes your prospects appreciate the transparency you are providing and the accommodations it gives them to be confident in their search and final decision.
Contact our sales team today to learn more about our virtual tours and how we can help your senior living community stand out.
LCP360 is a National Digital Marketing company located in Chicago specializing in photography, virtual tours, 3D renderings, video animations, virtual staging and floor plans. LCP360 offers multifamily, senior living and many other real estate industries a creative and innovative way to showcase space. By combining the best technologies from web marketing and panoramic photography, LCP360 has developed a best-in-class virtual tour web application that lets renters virtually tour a property from any location.