Senior Living Marketing Ideas to Meet Lease Up Expectations
by Kyna Garrett, on May 1, 2019 9:00:00 AM
Senior living developments are on the rise — literally — and with that increase, comes even more senior living sales. Senior living high-rises, assisted living communities and much more more are breaking ground as over 50% of America plans to retire over the next 30 years.
But with so many developments on the way (and so much competition), senior living providers need to address occupancy challenges head on.
According to the CBRE Senior Housing Marketing Insight Report for Q2 of 2018, assisted living, memory care and skilled nursing occupancy rates have all been on a steady decline for five years.
Low occupancy rates are a result of a few factors:
More seniors are opting for independent living or multigenerational housing.
Among adults 65 or older, 87% want to stay in their current home, while people ages 50 to 64 want to age in place.
With the retirement rate on the incline, senior living developers are trying to keep up with the demand. This can result in too many units/beds than seniors moving in.
All these new options are great for seniors, but with the surge in developments comes challenges for senior living providers. In the next couple of years, there's going to be more units than residents and a lot more competition.
Generating leads is going to require innovation, so it's time to get creative with marketing senior living communities — even before breaking ground.
What follows is a comprehensive breakdown of today's technology designed to meet lease up expectations in senior living.
Unique Senior Living Marketing Ideas to Increase Lease Ups
Let Seniors Experience Your Community Before It's Complete
What if you could shorten your sales cycle and secure more lease ups before your senior living community opened its doors? That may seem like a tall ask, but it's a reality that many senior living developers are investing in.
Senior living providers no longer have to wait for community completion for photography or virtual tours. Marketing can take place in the early stages of development planning with 3D renderings.
3D is changing the landscape for senior housing developments by taking the place of traditional photography and allowing senior living providers to market their community from the very outset.
Not to be confused with standard 3D architectural renderings, which are used for design, layout and development purposes — 3D renderings for marketing purposes are much more advanced, attractive and appealing. For example, here's a look at a 3D architectural rendering of a senior living community next to a photorealistic 3D version.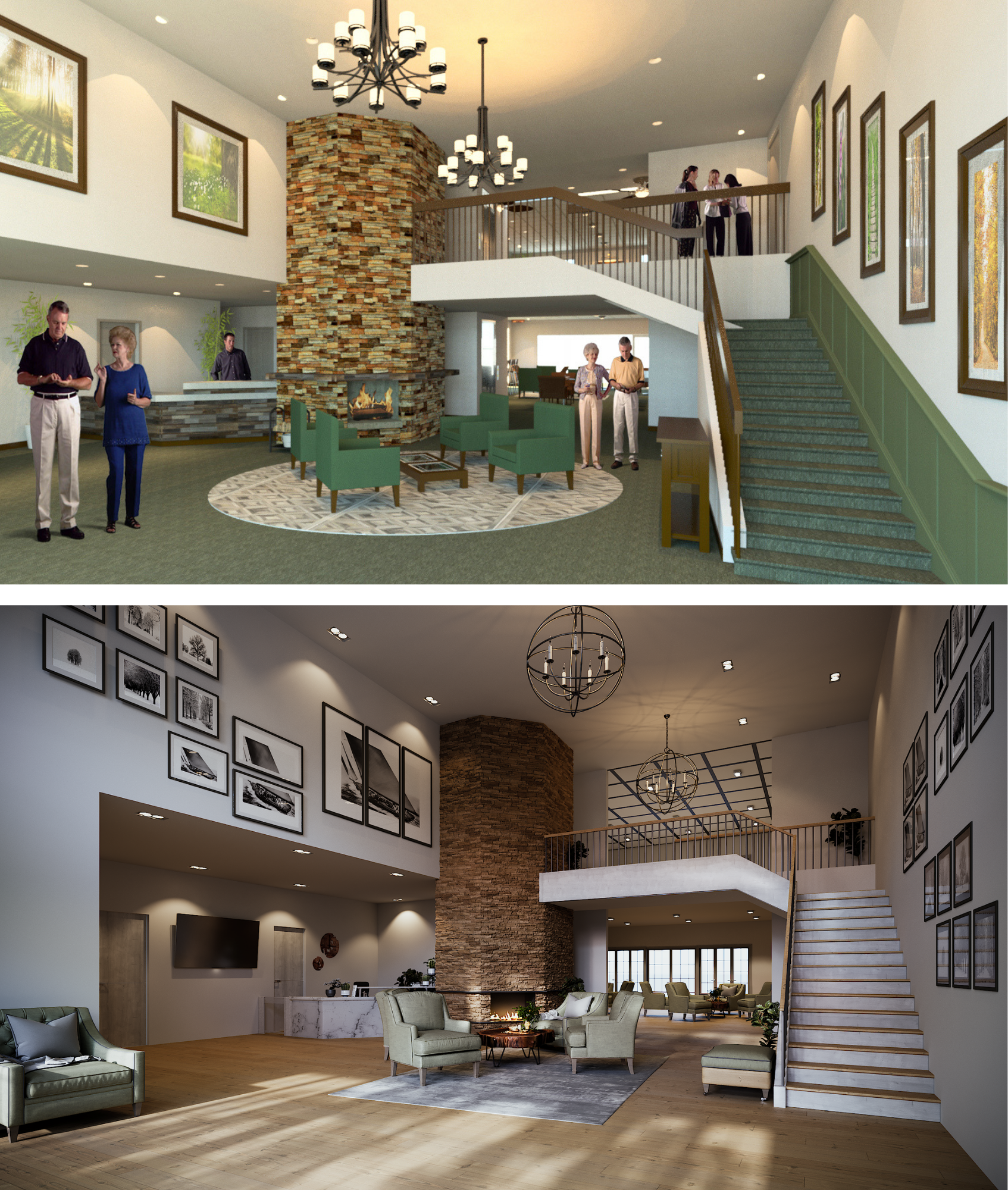 And here are some more examples of photorealistic 3D renderings designed specifically for senior living: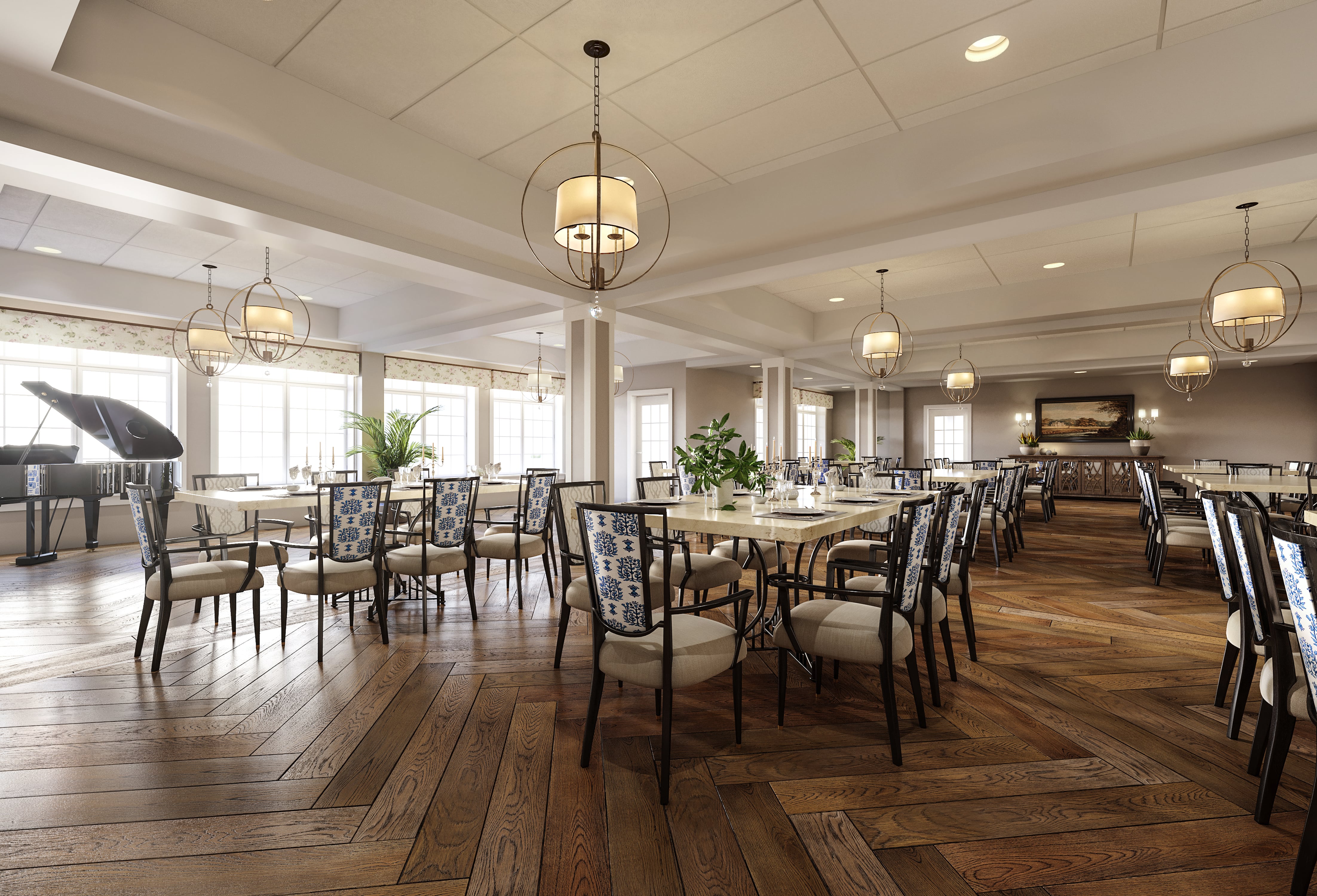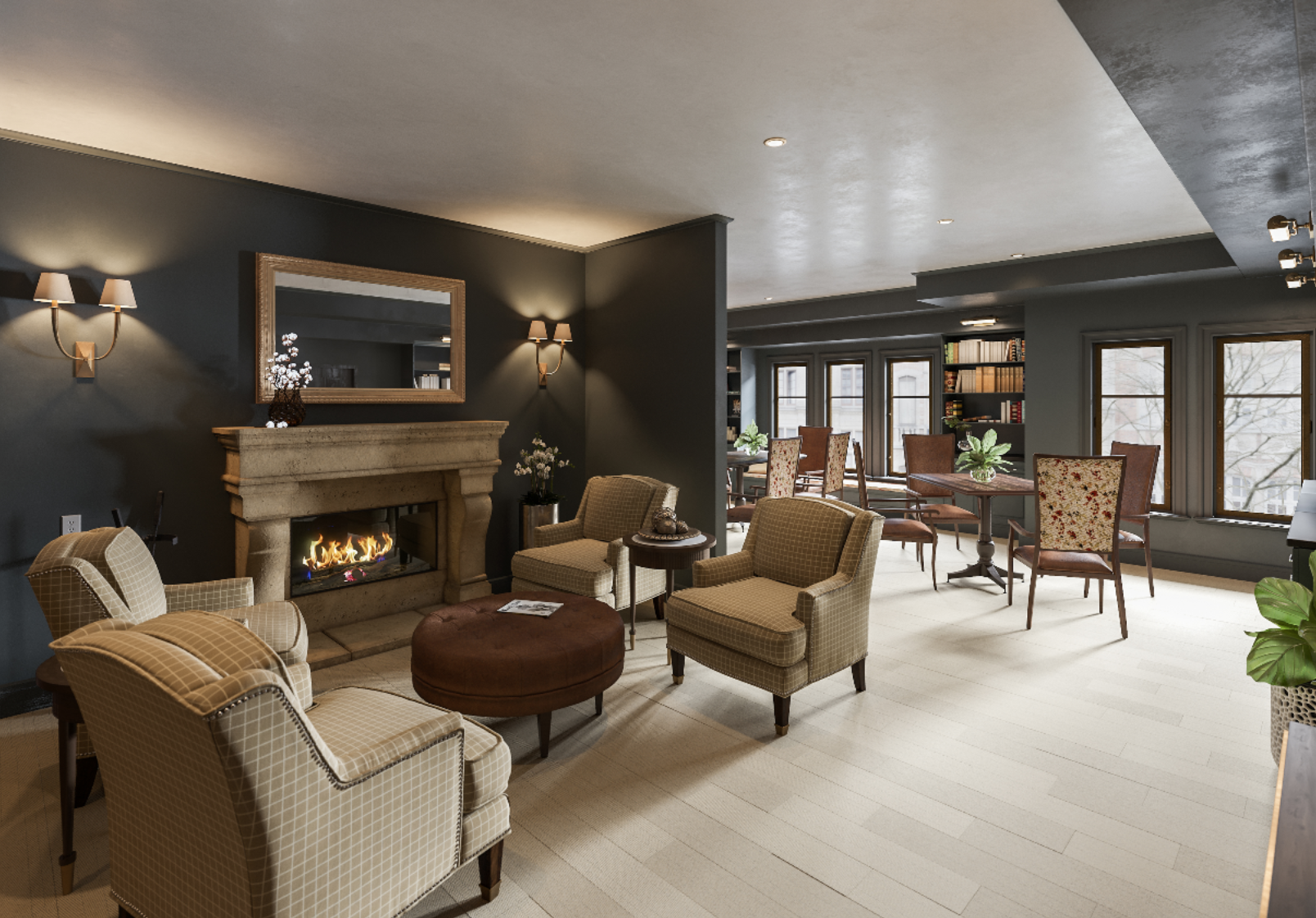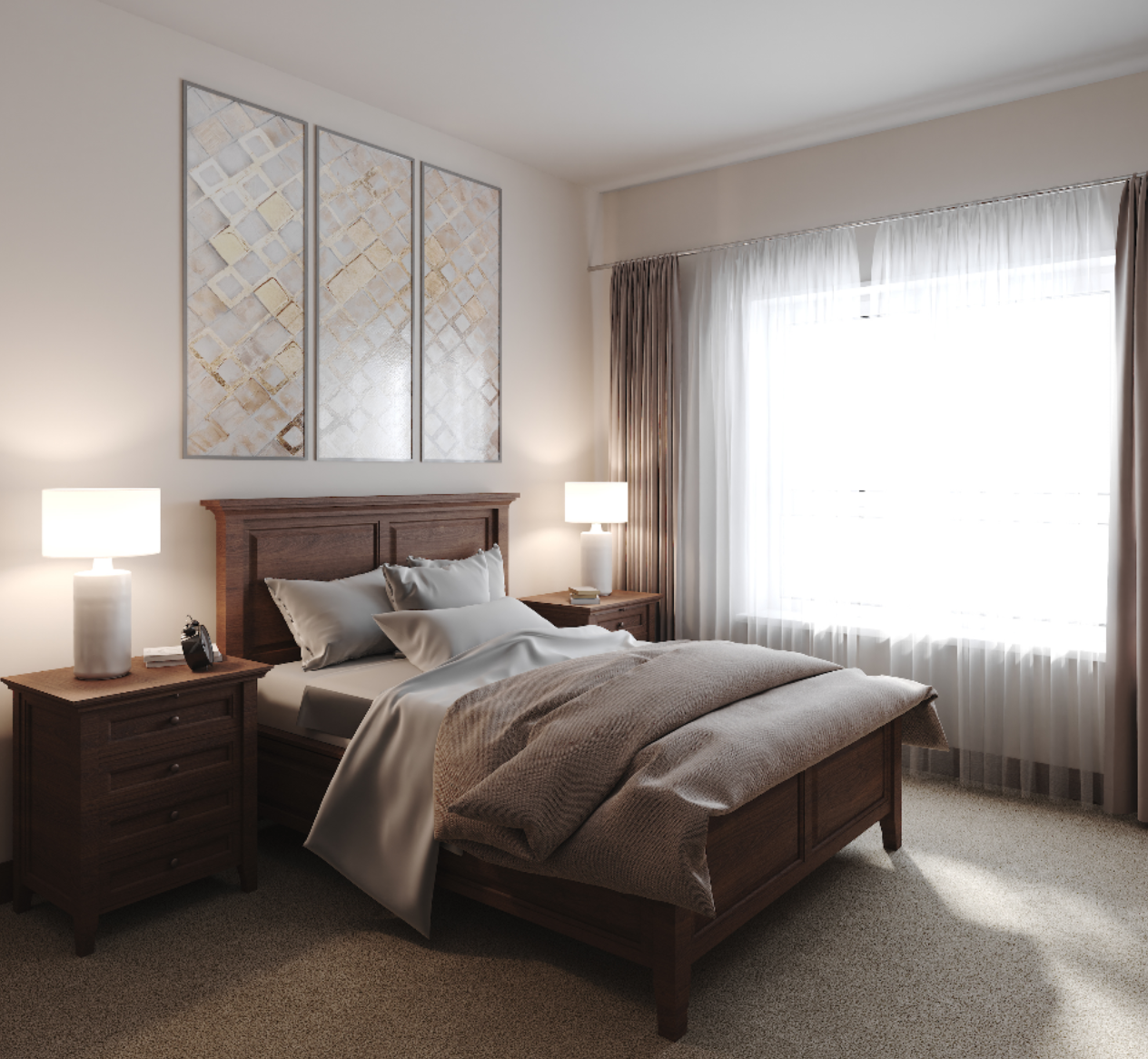 3D Renderings let people experience your community before it's completed. The construction period is a crucial time to increase exposure and secure senior living deposits so that your community isn't left with too many empty units when it's ready for move-in.
And for those seniors and relatives that want a full experience, virtual reality headsets can really immerse prospects into the 3D virtual tour of your community.
Whether it's 3D still renderings or a complete 3D virtual tour, prospects will feel much more comfortable being able to navigate and understand what their future senior living home will look like.
Invest in Interactive Floor Plans
Like 3D renderings, floor plans have also progressed to give prospects distinct views of model units. When we compare 3D floor plans to 2D floor plans, there is not only a vast difference in quality, but also interactivity. Prospects are much more receptive to 3D floor plans staged with furniture than a 2-dimensional top view.
Below is a side-by-side example of a 3D senior living floor plan compared to a 2D example.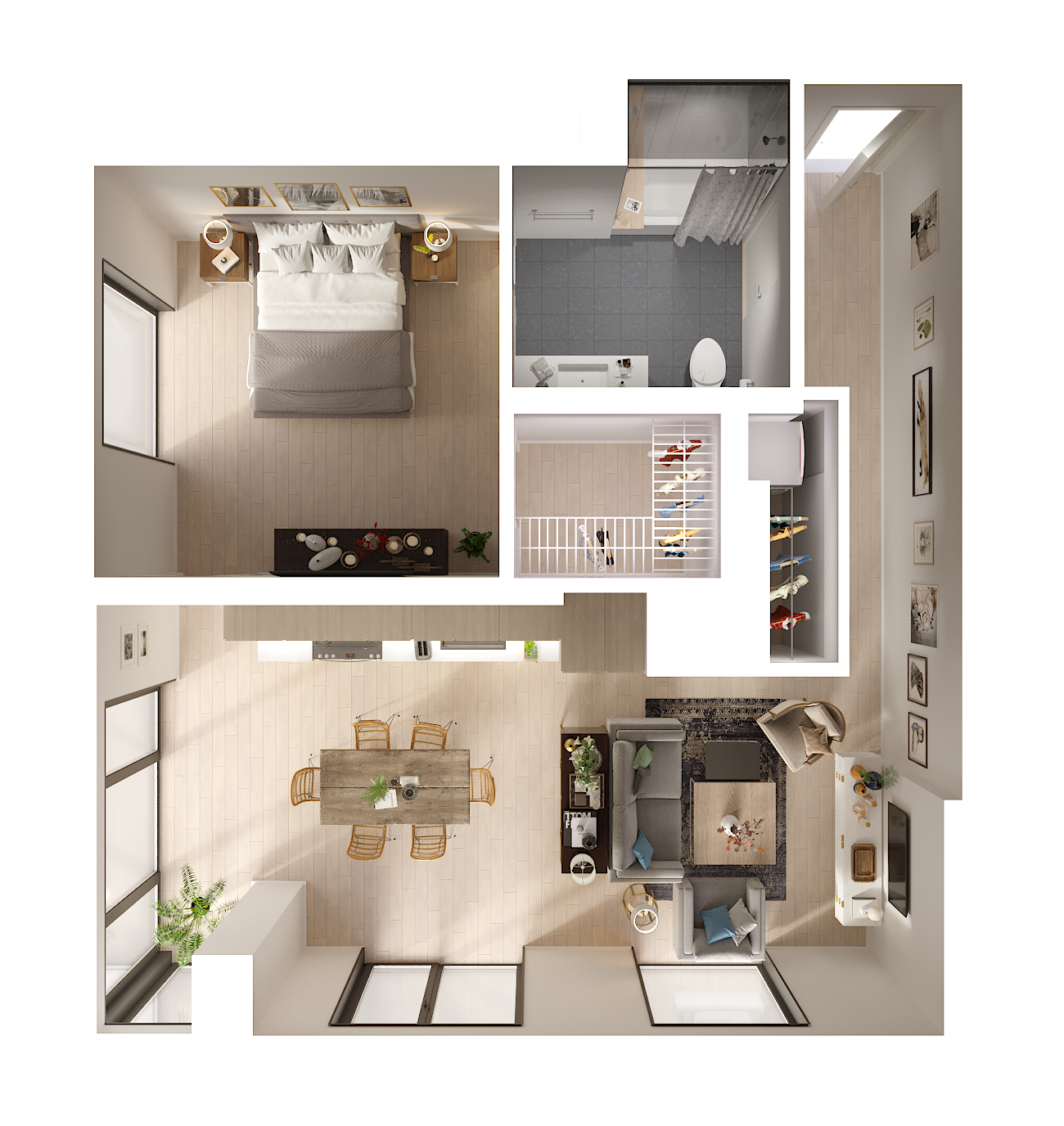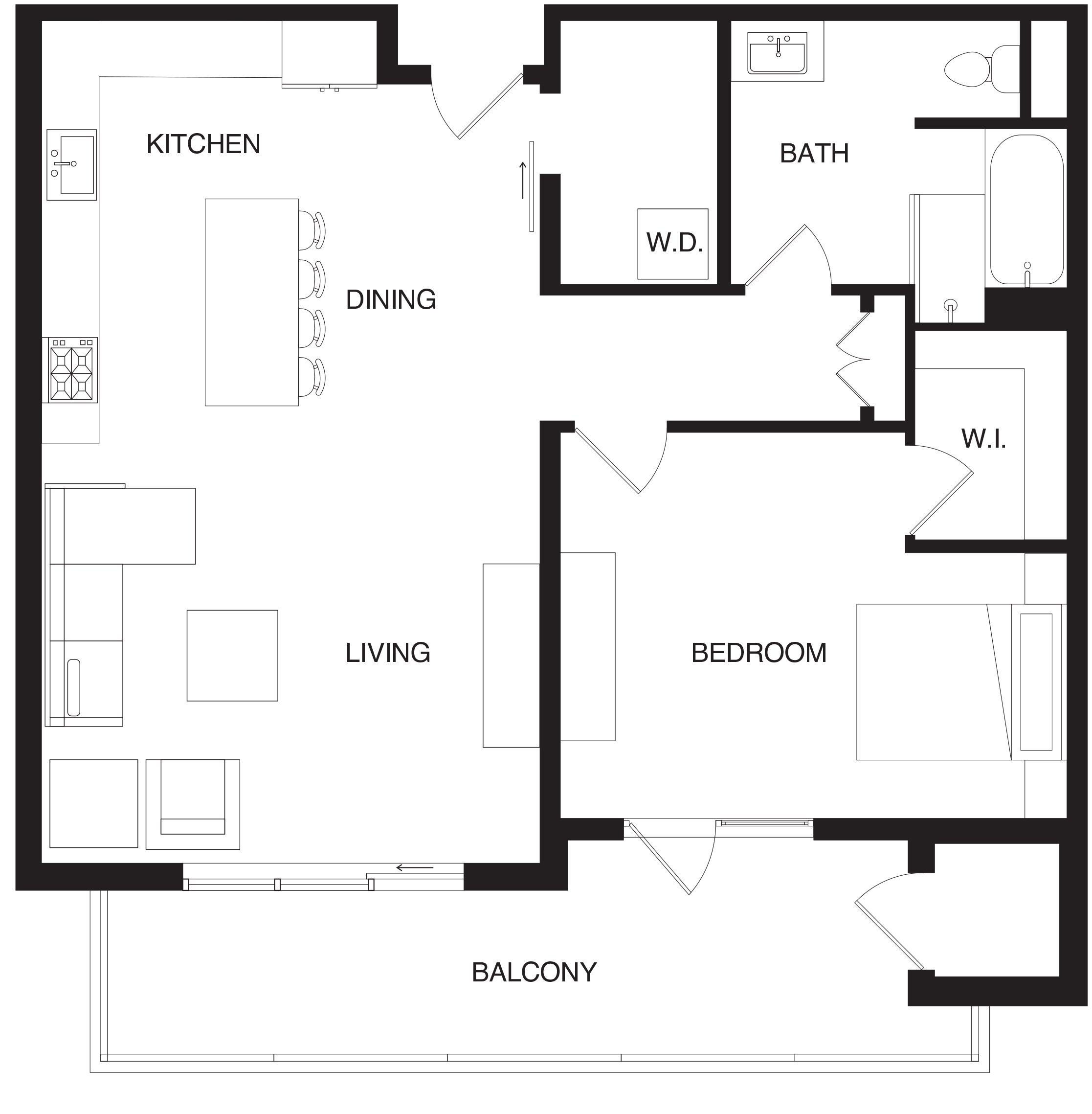 Immediately, it's easy to see that the 3D floor plan does the model unit a lot more justice than the 2D floor plan, not to mention, this augmented view is a lot more user friendly and engaging.
Floor plans don't have to be just floor plans, though. Interactive floor plans (or interactive site plans) add another dimension to the leasing experience. Users can get a 3D view of your community's exterior, select a floor and navigate through floor plates to select a desired floor plan. Below is an example of an interactive site plan in action:

Interactive site plans offer a range of benefits, including:
The ability to shorten your sales cycle with a more engaging floor plan experience
Higher conversion rates during the lease up process
A transparent view of your entire community's layout
A real-time look at availability during lease up
Give Prospects That Much-Desired Human Connection
Given that the majority of the senior population is immobile, 3D virtual tours of a senior living development can be incredibly useful. The problem? Seniors still want that human connection.
In fact, having an agent or case worker involved is one of the most important components of the senior living transition. To put that into perspective:
Let's not forget that the senior housing transition can be daunting for older adults and even their adult children.
That's why investing in a virtual lease up solution that also adds a human component is vital to aging seniors in this digitally-connected world.
At LCP360, our virtual tour platform incorporates screen mirroring, which is the ability to have an agent guide a senior and their family through the tour from any location — that means holding virtual tour meetings with those who are immobile or distant, too.
Given that your community will be in development, screen mirroring also solves for the inability to provide physical tours. The prospect can watch along from a smartphone, tablet or desktop computer and see exactly what the agent sees.
Not only is a virtual tour meeting helpful to the prospect and his or her family during lease up, you can still establish those relationships with your prospects and shorten your sales cycle.
It's Ultimately About the Experience
Whether you're trying to fill all of your units before move-in or simply trying to increase awareness, your senior living lease up strategy needs to address challenges that seniors are currently facing.
To secure more lease ups, catering to their needs and desires during their research will help your community development stand out even among some of the most well-established communities.