8 Creative Multifamily SEO Strategies to Generate More Leases
by Kyna Garrett, on Apr 22, 2019 9:00:00 AM
Today, 90% of millennials access the internet. Of those who go online, 55% use search engines to learn about companies or products.
In multifamily, millennials are the key target audience. After all, they make up the majority of American renters and are choosing to wait before buying a home.
Reaching these hyper-engaged renters in such a saturated market, however, is a challenge for multifamily providers.
Strategizing multifamily marketing ideas that reach, engage and convert is one place to start, but it's your multifamily SEO efforts that are sure to make an impact on rankings.
After all, more than half of all website clicks come from the top three search results. That certainly says something about the significance of your website's SEO and driving relevant traffic to your site.
On-Site and Off-Site Strategies to Increase Multifamily SEO
On-Site Multifamily SEO Strategies
Your on-site multifamily SEO stretches from the beginning of keyword research to the depths of your specific community pages. In general, on-site SEO (also referred to as on-page SEO) is the practice of optimizing individual webpages to obtain a higher ranking and earn relevant organic traffic.
In this section, we'll break down the top three on-site SEO strategies for your multifamily website.
1. Create a Keyword Map
Some marketers treat SEO as a tool to boost rankings from time to time, but the key with your multifamily SEO is sticking to a keyword strategy and following through. A keyword map is a solid start to your SEO venture.
What is keyword mapping? Keyword mapping is the practice of assigning relevant keywords to each of your web pages. You assign unique keywords to each page, with the intention to have each page rank for a specific keyword or two — it's best to stick to 1-2 target keywords per page.
There are two main steps to keyword mapping your community's website:
Keyword Research: Begin by mapping out all of your apartment pages. Use keyword tools like Google Keyword Planner to get an idea of keyword search volume and competitiveness of each keyword. It's important to find low-competition keywords with high search volumes. You may even discover keyword opportunities to build out new web pages to rank for.
Assigning Keywords: Once you've mapped out all the keywords that you want to target, start assigning unique search terms to your pages. Ideally, your homepage will be the most broad and as you go deeper into your website, keywords will get more specific.
Keep in mind that results will take time to see, but the key here is consistency. Regularly audit your web pages and keyword rankings using a tool like Google Search Console or SEMRush and reassign new keywords if current keywords seem too competitive.
2. Offer Experiences That Keep Visitors On-Site
Millennials today are multitaskers. They're also more likely to become distracted, and keeping them on a website longer than three minutes is a challenge.
Typically visitors will navigate away quickly if they aren't impressed or having a highly-interactive experience with your brand.
Thanks to virtual tours, you meet that self-service demand millennials today are craving.

Not only can show your community to future residents, you'll keep them on your website longer which increases dwell time. Google detects the length of time a visitor is on a webpage, and the longer they remain on your content, the more helpful Google sees it.
As you can imagine, this improves your Google ranking. You'll also see bounce rate improved, as websites with embedded virtual tours see higher engagement rates, too.
3. Invest the Time in Content
Your apartment content marketing plays into SEO in so many ways, from your on-page SEO to posting frequent and high-quality blog content.
According to Blue Corona, adding a blog to your website can increase its chances of ranking in search engines by 434%.
But remember: don't just post to post. Post helpful, unique and engaging content for your prospects. You never know, a future resident may be researching the local area and your apartment's blog about local events pops up in their search.
Here are some ideas to get you thinking about unique blog content:
Local restaurants in the area with patios
Pizzerias in the area for the ultimate pizza lover
Top boutiques to visit in the area
Local events happening every month
Why your neighborhood is the best place for your audience
The best thing about creating blog content for your apartment community is that ideas are infinite. Start with a keyword map to see where you can easily outrank competitors and start brainstorming content that will help you stand out and keep visitors engaged longer.
4. Get Your Website Up to Speed
Google's out to get people answers, so the search engine wastes no time penalizing slow websites. Google has confirmed that page speed is a ranking signal, so it should be one of your top priorities. Of course, it's even more important if you have digital content on your sites like video or virtual tours. These should load quickly with no delay, or users will bounce.
In 2019, focus on a page speed of no more than two seconds.
Source: ThinkWithGoogle
What are the common on-site SEO mistakes I could make?
While there are many best practices to increase your ranking through on-site strategies, there are a few tactics you'll want to avoid, like:
Keyword stuffing
Scraping content
Writing thin, and irrelevant content
Not having a scheme markup (for local apartment websites)
Not optimizing your web images
The important takeaway about your on-site SEO: content on your website should offer value. Meaningful and memorable experiences are more likely to fill vacancies.
Off-Site Multifamily SEO Strategies
Off-site (or off-page) SEO refers to actions taken outside of your multifamily website that may impact your rankings. Your off-site multifamily SEO needs just as much attention as on-page. Much of the trustworthiness, relevancy and authority rankings of your website come from off-site SEO.
Here are some ways you can improve your multifamily SEO outside of your website.
1. Give your Google Listing Some TLC
If your Google My Business listing has gathered some dust, it may need some tender loving care.
Google takes into account 200+ ranking factors for websites, and your Google listing is one of the most important. Having a complete and accurate Google listing with the proper keywords, description and high-quality photography will set you apart from other listings appearing in prospects' search results.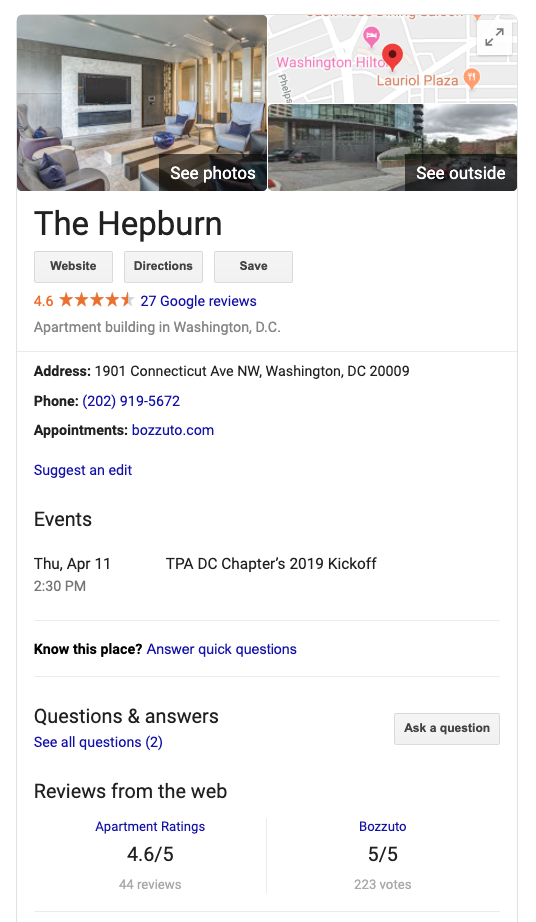 What's more, virtual tours on Google listing also promote higher views and click-through rates than listings without.
→ Get your free copy of the Google My Business checklist to begin an audit of your apartment listing.
2. Add Multimedia to Your Apartment Listings
Directories in general are powerful off-site tools to boost authority and relevance, but as an apartment community, you should prioritize listing websites like apartments.com or apartmentlist.com in your internet marketing. These are go-to websites for prospects.
When it comes to your apartment listings, investing efforts in multimedia will achieve the most impressive results. Visuals are a vital component to your web marketing efforts. They increase clicks and keep visitors engaged longer. In fact, listings with photography receive 94% more views than listings without photos.
Apartment listing websites today also allow you to incorporate other media, such as video and virtual tours. By 2022, online videos will make up more than 82% of all consumer internet traffic (that's 15 times higher than in 2017).
Capturing video and virtual tours of your community, whether that's with drone services or panoramic photography will result in higher click-through rates and improved brand recall.
3. Get Social With Your Website
There's a huge debate about whether or not Google detects social signals and attributes them to your SEO. But here's the kicker: social sites are search engines, too. While they may not have a direct impact on your rankings, social media channels do play a vital role in your online presence and there is at least some evidence pointing to its impact online. After all, social media is a natural extension of your brand online.
While an all-encompassing multifamily website needs a social presence, it's important that each of your individual communities that need the social attention.
Social media is a great way for prospects (and current residents) to connect with your community, too. Through your apartment social channels, you can pump blog content out into the world, increase engagement, gather effective email lists and much more. The broader your social presence, the further the reach.
Lastly, Facebook, Instagram and Pinterest are musts for any community, as these platforms can really show off your community events, what's happening around the neighborhood and much more.
Facebook will also be a powerful review machine for your website. While Google hasn't been clear about their detection of social signals, the search engine does take into account reviews. What's more effective, you can even share virtual tours and videos of your community on a regular basis as residents comb through your social channels during their apartment search.
4. Have a Strong YouTube Presence
It's 2019, and video is everywhere. The thing is, not many apartment communities are leveraging the power of video, which leaves plenty of opportunity to be an early adopter in the industry.
Whether it's a video walk-through of your property, a drone shoot or perhaps resident interviews, the possibilities for video content are endless.
And thanks to platforms like YouTube, you have a pretty solid opportunity to increase SEO through social reach. Again, there's no official proof that social media has a major impact on your website rankings, but as far as pointing relevant traffic to your website, online video is a must.
YouTube (and let's not forget, it's owned by Google) generates more than 30 million visitors a day, and that number is only growing. Three-sixty video on YouTube is also growing in popularity, which is yet another compelling tool to show off model units and your community.
Take a look at a 360-video from LCP360. Click and drag to interact.

With a keyword-rich description on each video, relevant hashtags and high-quality content, visitors are more likely to click through to your website to learn more (especially if that content is engaging enough).
What are the common off-site SEO mistakes I could make?
Avoid the following off-site SEO to maintain relevancy:
Spammy backlinks
Irrelevant emails
Irrelevant paid ads
Not having diverse links
Having broken links pointing to your site
The important takeaway about your off-site SEO: know your audience to stay relevant. Think about where your audience is most active online and how they're using the internet to discover new apartment homes.
Generate Relevant Traffic, Sign More Leases
While these eight off-site and on-site multifamily SEO tips only skim the surface of what you can do to upgrade your internet marketing, remember that packing creative and unique content into your marketing is going to be the most lucrative.
The more relevant and engaging your content is, the more powerful the results.
Did we miss any unique multifamily SEO tips? Let us know in the comments or contact us to learn how you can power your SEO with interactive web marketing technologies.