Hotel Marketing: Can a Virtual Tour Increase Direct Bookings?
by McKenna Hogan, on Apr 29, 2019 9:00:00 AM
In the era of digital marketing, hotels and online travel agencies have been in tight competition. For instance, last year direct bookings account for around 49% of U.S. hotel and lodging online gross bookings, versus OTAs at 51%. Although direct bookings are projected to reach 50% by 2022, one advancement in technology could overwhelm the competition.
Virtual tours are more than capable to increase hotel occupancy by catering to the most valuable consumer needs. Among benefits like convenience and being user friendly, consumers are citing personal research as their highest demand.
Booking.com found that 80% of customers prefer to self-serve in order to get the information they need.
In fact, data shows that many of these same consumers utilize their very own mobile device as the sole tool in planning an entire trip. So where do virtual tours come in?
Hotels Aren't Just Places For Lodging
They're honeymoon getaways, bucket list excursions, places to stay during trips you've been saving your entire life for.
People crave meaningful experiences, memorable moments and fantastic customer service from their stay at a hotel.
In short, hotels demand trust. And what better way to deliver that kind of trust than an exact virtual replica of the entire vicinity from the very onset of the hotel research? Data has shown that hotel virtual tours build trust in consumers due to raw transparency and no unwanted surprises.
Expanding on this concept of loyalty, OTAs are denied the same benefits of direct booking, such as discounts and other perks. Hilton CEO Christopher Nassetta told investors that over the past year, direct web bookings grew three times faster than other channels. This is due to intense focus on marketing and building loyal members.
To get more people to discover these perks, virtual tours — which increase engagement and interest — can boost visibility and create/maintain loyalty.
A Deeper Look Into How Virtual Tours Increase Direct Bookings
While a virtual tour of a hotel lays the foundation of trust and loyalty for its guests, at the end of the day, increasing direct bookings is the ultimate challenge for hotels today.
There are a myriad of ways that a virtual tour can push a future guest further down the hotel conversion funnel. Here's how you can leverage your own hotel virtual tour to increase direct bookings:
Embed a custom branded virtual tour directly on the hotel property's homepage to keep users engaged longer, improves bounce rate and ultimately enhance SEO efforts to
Add multiple easy calls to action directly within the virtual tour lead to a booking page on the hotel website
Leveraging for event and wedding venue marketing for out-of-state prospects
Guide out-of-state guests or event prospects through a virtual meeting
An excellent example of a successful hotel-virtual tour relationship can be seen from Hilton Chicago. Click on the virtual tour below to navigate and experience it yourself.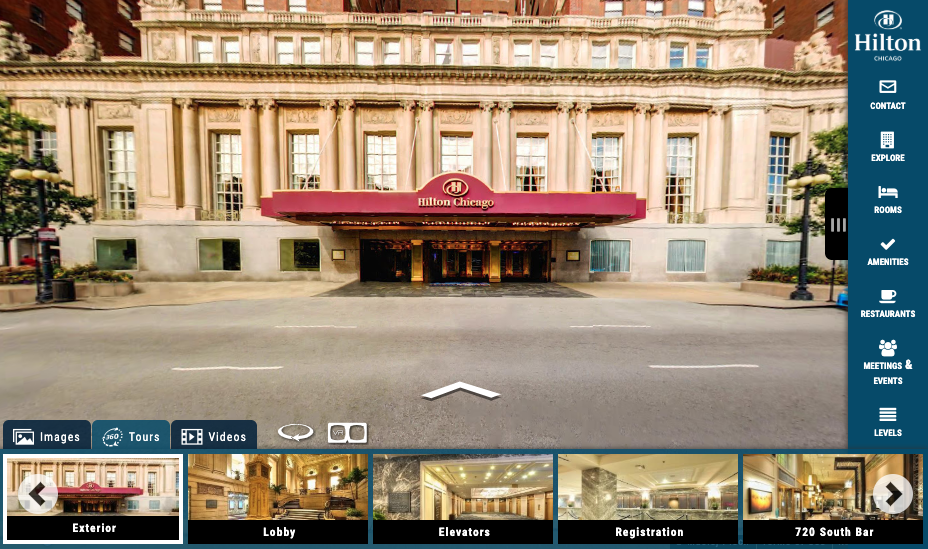 As mentioned previously, the Hilton is a trailblazer in digital marketing. Knowing that search engines account for the highest resource in gathering information - as much as 84% - virtual tours for this hotel were designed specifically to increase direct bookings.
Taking a look at their virtual tour you can see that there's an emphasis on "walking" the consumer throughout the hotel. Floor plans can be seen throughout the interior and the exterior through drone shots and 3D renderings so that the consumer has access to entrances, various amenities, restaurants, etc.
Once the consumer has taken themselves through the entire hotel at their own convenience- or just points of interest- they're faced with a call to action. At the bottom of every portal there's a convenient "book a room" link that takes you right to the hotels website making it clear and easy to make an immediate decision.
As you can see the Hilton and many other hotels have found great success in digital marketing and virtual tours.
To Summarize, Virtual Tours Are Like the Missing Puzzle Pieces
Circling back to consumer demands for self-research and dependence on mobile devices, nearly 50% (about 42 million Hilton Honors members) are considered engaged. And the program is set to expand to more than 100 million members by the end of 2019. So utilizing virtual tours for marketing purposes has the potential to cater to hotel consumers and beat out OTA online gross bookings, as seen with Hilton's recent efforts.
Make Direct Bookings a Go-To Outlet
Whether it's for a big event or just a spur of the moment stay, there's a logic to the way consumers find hotels, and that logic is exceptionally compatible with virtual tours.
So hotels, utilize your best marketing techniques along with this digital tool to make direct bookings the main source of gross online bookings.
Contact us for information regarding your virtual tours.